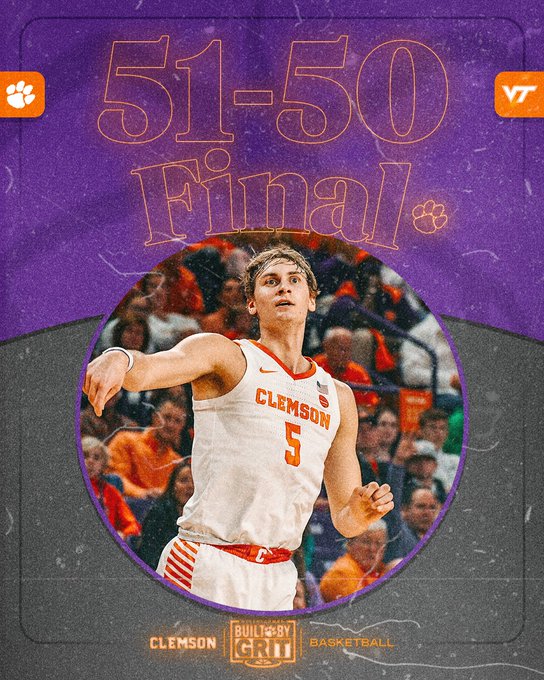 Tyson's Late Three Lifts Tigers Over Hokies 51-50 on Saturday Night
PJ Hall finishes with 20 points for the third straight game; Tyson Nets 11th Double-Double

CLEMSON, S.C. – Hunter Tyson (Monroe, N.C./Piedmont) poured in a go-ahead 3-pointer with 10.8 seconds left in the contest to lift Clemson University men's basketball over Virginia Tech, 51-50. Tyson finished with his 11th double-double of the season with 12 points and 10 rebounds.
The Tigers (16-4, 8-1 ACC) earned a hard-fought victory in a low scoring battle in Littlejohn Coliseum on Saturday night. Clemson trailed by five at the break but would win the second half by six and hold the Hokies (11-8, 1-7 ACC) to just 19 points.
Clemson was led by PJ Hall (Spartanburg, S.C./Dorman) who recorded his third-straight 20-point performance. Hall led all scorers, finishing 7-for-15 from the field and collecting eight rebounds. He set a new career high with three steals in the contest.
Dillon Hunter (Atlanta, Ga./Westlake) provided a major spark off the Tiger bench, playing 23 minutes and adding six points, three rebounds, one assist and one steal. Hunter has now played nearly 118 minutes in ACC action and committed just one turnover.
The Tigers return to the court on Tuesday, Jan. 24 when they host Georgia Tech at 9 p.m.
Get the latest news on all things Clemson men's basketball by following us on Twitter (@ClemsonMBB), Facebook (/ClemsonMBB) and Instagram (@clemsonmbb).

Notes: Clemson improved to 16-4 with the win over Virginia Tech … the Tigers improved to 8-1 in the ACC … Clemson has now won 12 out of their last 13 regular season conference games … with the win over the Hokies, the Tigers extended its home winning streak to 14 – eighth longest in program history … Clemson earned its first regular season sweep of the Hokies in program history … the win marked the sixth this season overcoming a halftime deficit to win … Hunter Tyson notched his 11th double-double of the season and 12th of his career with 12 points and 10 boards … Tyson matched his younger brother Çade with a game-winning 3-pointer in the final seconds of a game this season … PJ Hall totaled his third 20-point game in a row and seventh of the season with 20 points and eight rebounds