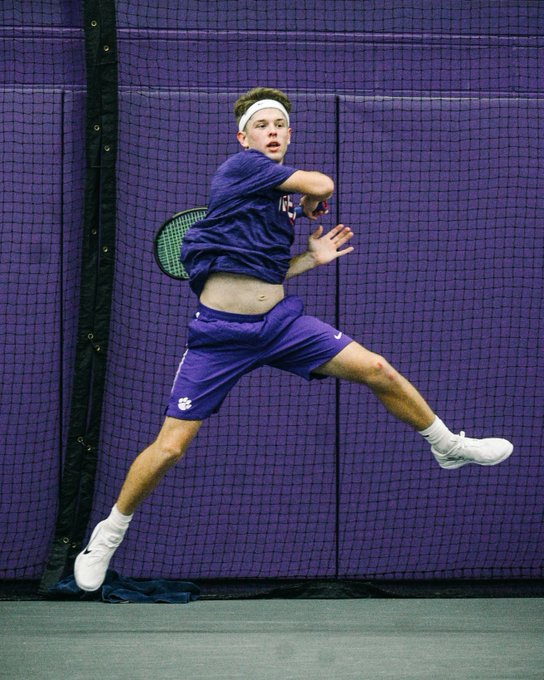 CLEMSON, S.C. – The Clemson men's tennis team (4-0) defeated the ETSU Bucs (0-3) and The Citadel (1-5) on Saturday at the Duckworth Family Tennis Facility with two 7-0 sweeps to extend their winning streak to four. The day was highlighted by the first career win at line 1 for Matt Pitts and a doubles win from brothers M. Pitts and Tim Pitts.
"We had an exceptional day," said Head Coach Robbie Weiss. "To go 14-0 on the day and not lose a set is something the boys should be very proud of. I am so happy with their focus, determination and level of play. It was a long day, and the boys stayed locked in for both matches and got stronger as the day progressed. We have a fantastic culture, and you can sense how close the team is and how hard they play for each other. I am so proud of them and can't wait to battle next weekend against South Alabama and Nebraska."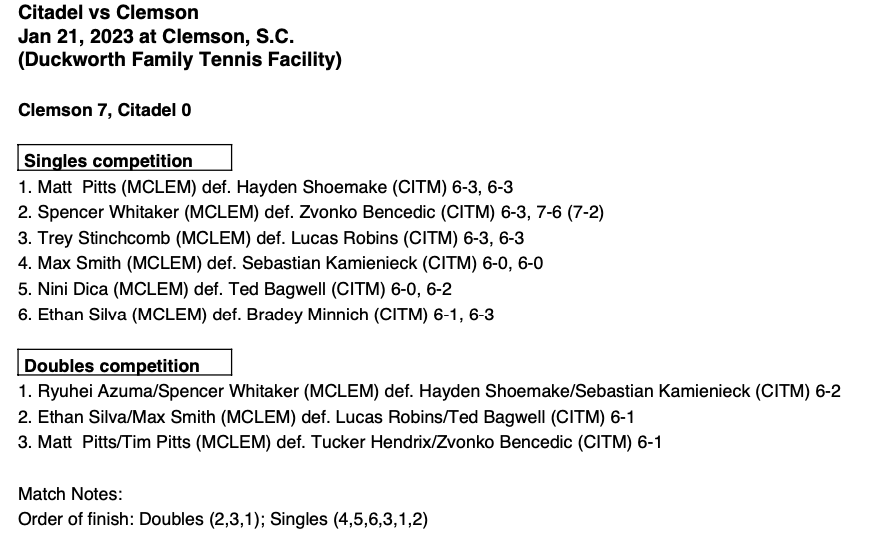 Jorge Plans Gonzalez and Max Smith got the Tigers off to a great start to the doubleheader, defeating ETSU's pair of Lombisano/Britez, 6-3. The Bucs were able to secure a win on Court 2, but a clutch 6-4 win on Court 3 from M. Pitts and Trey Stinchcomb gave the Tigers the doubles point.
The momentum continued for the Tigers as every player took the first set win, as Plans Gonzalez earned his first set in a grueling tie break, 7-4. After that, the Tigers never looked back, fighting for the 7-0 sweep. Nini Dica continued to impress on Court 6, taking down his opponent before Ryuhei Azuma defeated ETSU's Badra on Court 1. Stinchcomb and M. Pitts carried over the momentum from their impressive doubles performance into singles play, earning 6-3, 6-1 and 6-3, 6-3 wins, respectively. Spencer Whitaker won 6-3, 6-3 on Court 4 before Plans Gonzalez closed his match on Court 2 in the second set, 6-1. 
Later that evening, Ethan Silva and Smith started the second match strong with a dominant 6-1 win on Court 2, playing together for the first time this season. The Pitts brothers took care of business on Court 3 as they teamed up for the first time in their careers, earning a 6-1 win. Azuma and Whitaker then won on Court 1 for the doubles sweep.
Smith and Dica quickly defeated their singles opponents on Courts 4 and 5 in dominant fashion before Silva and Stinchcomb won on Courts 6 and 3, 6-1, 6-3 and 6-3, 6-3, respectively. M. Pitts won his first career match at line 1, 6-3, 6-3 before Whitaker ended the night with a 6-3, 7-6 (7-4) victory on Court 2 for a second consecutive 7-0 sweep.
The Tigers are back in action at Duckworth Family Tennis Facility next weekend for two matches. Clemson will take on South Alabama on Fri., Jan. 27 at 3 p.m. before competing against Nebraska on Sun., Jan. 29 at noon.
For complete coverage of the Clemson men's tennis team follow @ClemsonMTennis on Twitter, Instagram, and Facebook.