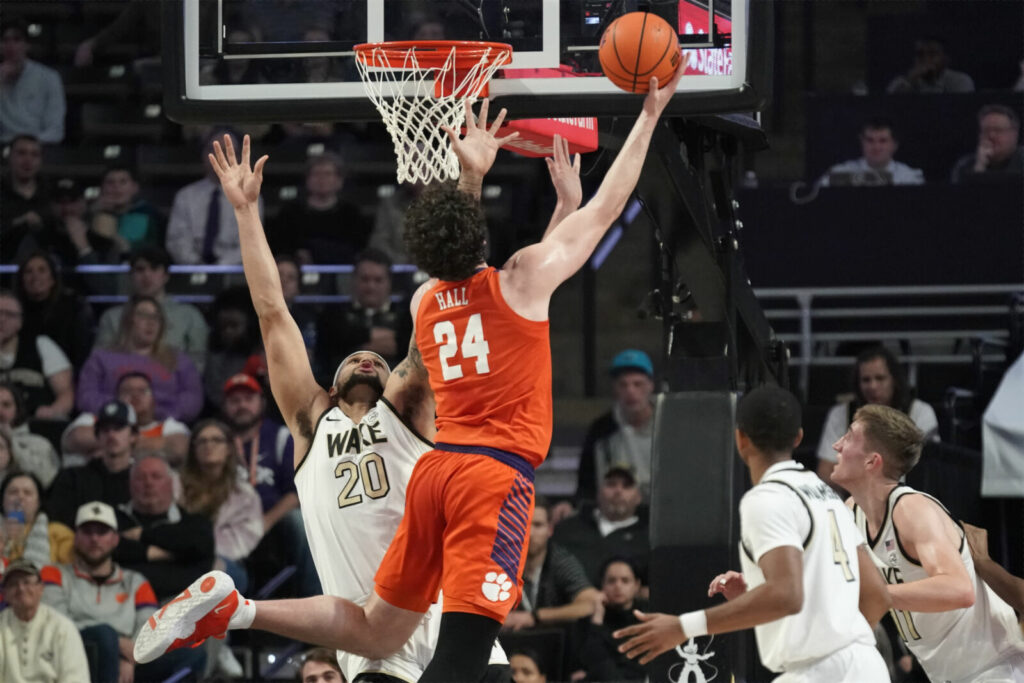 Clemson Drops First ACC Contest at Wake Forest, 87-77
PJ Hall finished with 22 and eight, while Hunter Tyson recorded 10th double-double

WINSTON-SALEM, N.C. – Clemson University men's basketball dropped its first ACC contest of the season on Tuesday night at Wake Forest, 87-77.
The Tigers (15-4, 7-1 ACC) were led by PJ Hall (Spartanburg, S.C./Dorman) and Hunter Tyson (Monroe, N.C./Piedmont). Hall finished with 22 points and eight rebounds, while Tyson recorded his 10th double-double of the season with 19 points and 14 rebounds.
Chauncey Wiggins (Grayson, Ga./Grayson) turned in his best performance of the season. Wiggins finished with a season-high 10 points, four rebounds and three assists in a season-high 30 minutes.
Wiggins converted Clemson's first four-point in the second half play since Alex Hemenway(Newburgh, Ind./Castle) on Dec. 14, 2021 against Miami (Oh.).
The Tigers got down early and trailed by 10 at the break. However, despite trailing by 15 in the second half, Clemson made a strong push and trailed by just six at 65-59 with 9:34 left. Clemson would get to within six once more at 77-71 with 2:07 remaining but could not overcome.
Clemson returns to the court on Saturday, Jan. 21 when it hosts Virginia Tech at 6 p.m. on ESPN2.