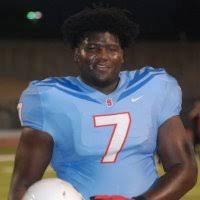 Clemson football recruiting has reached a new level. To be honest, this staff has recently fit the mold of "reloading" instead of "rebuilding" after losing players to the NFL draft or simply graduation. The success of the program speaks for itself. Coach Dabo Swinney does not offer sophomores in high school. The story about Trevor Lawrence is well known. You know, the one about Trevor Lawrence sitting in Dabo's office as a 9th grader and Dabo telling him he just doesn't offer a 9th grader. Well, he doesn't offer sophomores either until after their sophomore season.
Enter "the bear". Keithian "Bear" Alexander is a sophomore DT in the 2022 class. He hails from Skyline HS in Dallas, Texas. As a freshman at Terrell HS, Terrell, Texas, in 2018, Alexander was named the District 8-5A-II Defensive Newcomer of the Year. In 2019, he transferred to Skyline High School in Dallas, Texas. In June, the Bear participated in the Clemson Football Camp and he spent time working with Jordan Williams.
The talented Alexander is a big man at 6-4 340lbs, and is currently listed as the #6 DT in the 2022 class, as well as the 9th ranked player in the state of Texas. Granted, he has two more years to improve on those ratings.
"I had a pretty good year , I was able to play at a faster rate , and get off the ball much faster, and just being able to strike and refine my technique. The ability to shed blocks made my year a lot more successful. Now that the season is over, I'll focus on staying in shape and developing my body more and more."
We asked him about Clemson. "I have a great relationship with Coach Swinney and Coach Bates, and the rest of the staff, but I currently do not hold an offer from Clemson, but it's coming!"
Is this mountain of man happy staying in state as schools like Texas and Texas A&M are already hot after this 2022 prospect? "It really doesn't matter if I stay in state, or go off if I'm able to attend a university and take care of my business. Being close or away doesn't bother me at all. Both of my parents play a major role in my recruiting, as well as making sure when I do go to college I am fully prepared as an athlete, student athlete and a person as a whole."