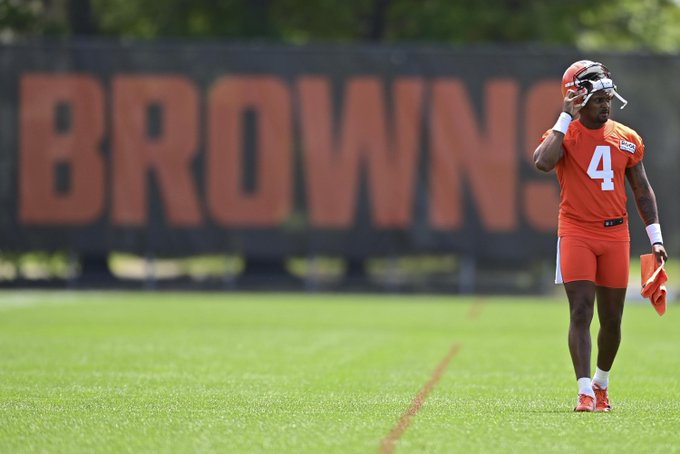 By: Grayson Mann
Cleveland Browns quarterback Deshaun Watson received a six-game suspension and no fine for violating the NFL's personal conduct policy following accusations of sexual misconduct during massage therapy sessions emerging over a year ago.
The decision was made by a former federal judge, Sue Robinson, who has acted as a lightning rod for controversy in the sports world. The NFL had three days to appeal Robinson's decision at the time of the ruling, which was Monday, August 1st. The league had this to say on the ruling.
"We thank Judge Sue L. Robinson, the independent disciplinary officer, for her review of the voluminous record and attention during a three-day hearing that resulted in her finding multiple violations of the NFL Personal Conduct Policy by Deshaun Watson. We appreciate Judge Robinson's diligence and professionalism throughout this process."
So what does it mean for the Browns? Should the ruling stick, Cleveland will be forced to go to journeyman quarterback Jacoby Brissett. Brissett has played for several teams in his NFL career including playing time for the Colts, Patriots, Dolphins, and now the Browns. Brissett is a great asset for Cleveland, who has enough experience to be thrown into the fire and perform well enough to keep Cleveland's season from tanking before Watson returns.
Without star quarterback Deshaun Watson, who has the ability to elevate the roster around him, the Browns have six games, which will range from manageable matchups to significant challenges. The Browns face the Jets, Steelers, Chargers, and Patriots at home and face the Panthers and Falcons on the road. With a roster like Cleveland and tapping into the talents of Stars Nick Chubb and Myles Garrett, the Browns will have no problems with rebuilding rosters such as Carolina, Atlanta, or New York. The Browns will face issues against a top-five Steelers defense, Belichick-led Patriots, and the star-studded Chargers.
For Cleveland, 3-3 seems like a best-case scenario as they will look to keep their season afloat before Watson takes command. Should Watson come back and play to the pro bowl level caliber we have seen, Browns fans should expect the consistent success that the franchise has been desperate for.