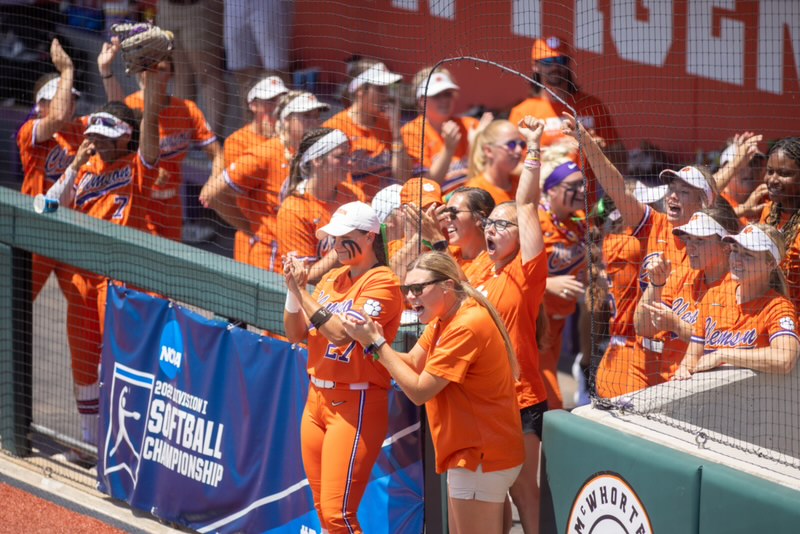 LOUISVILLE, Ky. – The National Fastpitch Coaches Association (NFCA) announced its annual Easton/NFCA All-America Scholar-Athlete honors for the 2021-22 academic year, with the Tigers earning 13 selections.
NFCA Release
Clemson had eight repeat honorees, including two-time All-ACC Softball Academic Team selections Marissa Guimbarda, Cammy Pereira and Millie Thompson. Guimbarda (2021) and Pereira (2022) earned the Easton/NFCA honor in their final season with the Tigers after each also receiving the Weaver-James-Corrigan-Swofford Postgraduate Scholarship during their tenures. Other repeat honorees include Ansley Houston, JoJo Hyatt, Grace Mattimore, Carlee Shannon and Emma Whitfield.


Earning the honor for the first time with Clemson include graduate transfer Sam Russ, senior Bailey Taylor and freshmen Grace Hiller, Jadeyn Ruszkowski and Aby Vieira.
In the third year of the program, Clemson was also tabbed with the team academic award after finishing the academic year with a 3.43 GPA, the third highest mark in the ACC. The Tigers have now earned the team academic award in both seasons eligible (no awards were given during the shortened 2020 COVID year).
Under the guidance of head coach John Rittman, Clemson softball featured 13 of 7,527 collegiate student-athletes nationwide to be tabbed an NFCA Scholar-Athlete during the 2021-22 campaign. A total of 19 players have been honored with the award over the three-year history of the program, with 27 total honors.
To qualify for the award, a student-athlete needs a cumulative GPA of 3.5 or higher for the 2021-22 academic year.