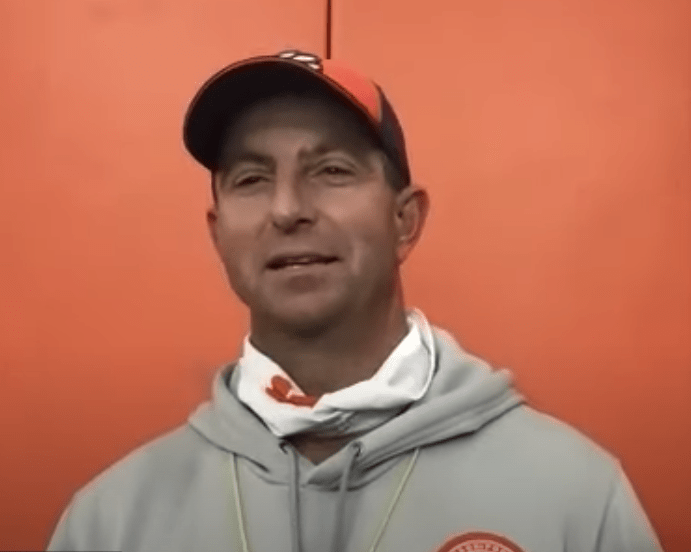 Dabo Swinney
By Makenna Biehl
    Head Coach Dabo Swinney started his Zoom with media on Wednesday, discussing his thoughts on the upcoming game against Virginia this weekend. Swinney explained how the Tigers will have to be ready to match the effort that the Cavaliers will put up against them. After playing Virginia last year in the ACC Championship, Swinney and returning players know what challenges they have up ahead of them. Another hurdle that the team will be overcoming is Virginia's height at wide receiver and tight end. Swinney explained that his guys have to be ready to compete with their opponent and make them work to get down the field.


     Swinney expressed the pride he has in his cornerbacks Sheridan Jones and Andrew Booth Jr. He explained how they both got some experience last year as freshmen; however, they've been able to develop so much since then. He is also excited about the young talent coming up and thinks that the group has a lot of potential. 

     Swinney then talked about defensive lineman, DeMonte Capehart, saying he is a big and talented young player. After missing a lot of camp, Swinney explained how Capehart has been incredibly self-aware about what he needs to do to make himself better. Capehart is expected to be a special guy, and he has a great example of guys ahead of him to learn from. 
     Lastly, Swinney discussed how safety Joseph Charleston is a player that he can see will be great. Swinney explained that they gave him the experience they could last year, knowing it would pay off this year. Charleston is also a player that the coaches know they can move around. 


     Coach Swinney is looking forward to the game this weekend, saying he has a team that is as healthy as they have been in a long time. The Clemson Tigers will be facing the Virginia Cavaliers on Saturday at 8:00 PM in Death Valley.