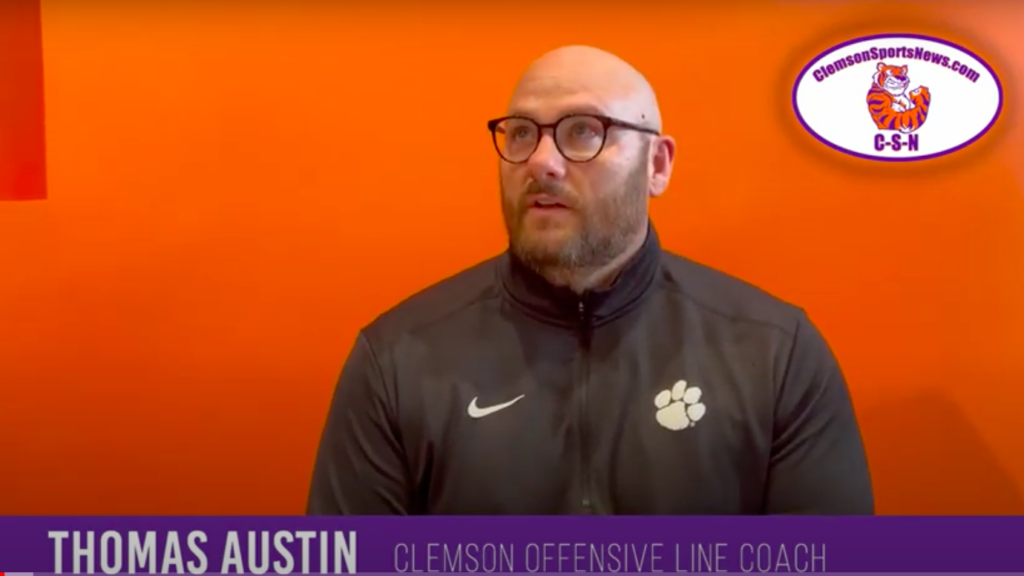 By: Grayson Mann
Coach Austin Speaks About Level Of Competition In The Trenches
"Iron sharpens iron."
That is what offensive line coach Thomas Austin had to say last Tuesday during Clemson's media day. It is not a shock to many to see Clemson consistently produce NFL talent when it comes time for the draft and that level of depth on the roster has allowed players to compete. Coach Austin had this to say on that level of depth and how it only makes Clemson better for it.
"Our guys aren't overwhelmed on gameday. That's the big thing. When you're watching a team and having prepared for that week and you're just like oh man, these guys are better than we thought they were. When you start playing teams like Alabama and Ohio State and noticing we have better guys on our team. It certainly creates a competitive advantage for us".
Coach Austin sees how every day that competition makes Clemson what they are. Facing that every day in practice whether it is projected top picks in Myles Murphy and Bryan Bresee, or Xavier Thomas and K.J. Henry who made significant leaps last year could very well be high-round draft picks as well. Coach Austin also mentioned how this can be applied to the recruiting process. The ability to connect with these top prospects who have NFL aspirations and tell them they can play against the best of the best at Clemson is very valuable. 

"We talk about it in recruiting too, iron sharpens iron. You're gonna play against the best players every single day and that's what you want because it makes you better."
Tiger fans are looking forward to what this offensive line group can achieve this upcoming season. The offensive line down the stretch last fall helped the team to six straight wins in which the rushing attack put up over one hundred yards in each of those games.