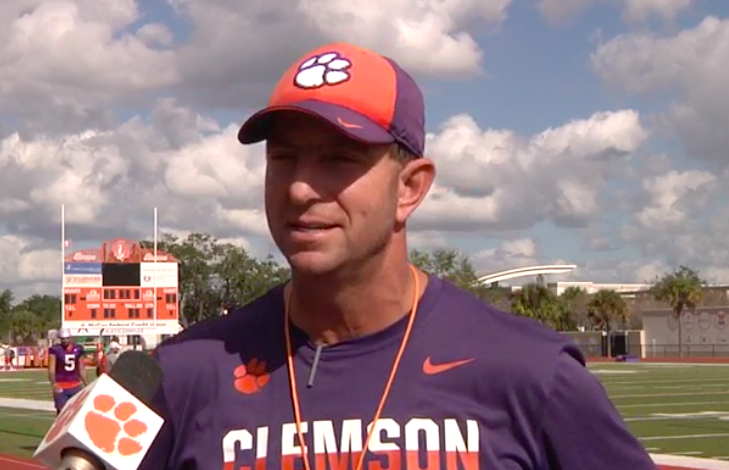 By Neil Burnett
Signs of the Times?
The landscape of college football is changing….rapidly. It is definitely NOT easy for head coaches having to deal with everything that is flying around.
It seems college football has run wild, what with the transfer portal, NIL, conference realignments, etc etc. Here sits Clemson head coach Dabo Swinney.
He has already been chastised for NOT hitting the transfer portal like a lot of other Power 5 programs. While a lot of programs will basically take players whether they need them or not, Swinney sticks to his "we recruit them, we develop them, why change that? It works" mantra and that simply bucks the norm as far as social media and fans are concerned. "We had 109 players in spring camp. We have 109 players still here. NO one transferred. They have all bought in."
Name Image and Likeness (NIL) has been abused. Everyone knows it. It's basically a pay-for-play recruiting tool now. Recruiting analyst Tom Luginbll recently stated he went to three spring games this year and every coach to a man said the same thing. "When a prospect comes in, the first thing they want to talk about is NIL." Coach Swinney said "yeah, we won't get them. They don't come to Clemson." Clemson, as a university, is doing it right with NIL and has several programs they are working with to give the student-athlete their "due" with regards to "getting paid." Clemson will not pay a high school athlete $8 million to come play football. They won't pay over a million dollars to get a quarterback from Oklahoma that got beat out by a freshman halfway during the year.
For the first time in his career, Dabo hosted official visitors to Clemson in June, bringing in 31 prospects for a big-time recruiting weekend. It was a huge success as the Tigers reaped the benefits with quite a few commitments.
Handing out offers has always been done a certain way. Rarely does Dabo Swinney offer prospects in their sophomore year. However, he has handed out offers at the END of their sophomore season, heading into their junior year. This brings me to the number part.

In 2023, Clemson handed out 93 offers, and there might be a few more heading into the December signing day. Swinneh has offered 29 prospects to date in the 2024 class. Without question, there will probably be around 60-70 more before it's all said and done.
Today, Clemson handed out their first 2025 offer to big offensive lineman Payton "Big P" Joseph, 6-4 295, out of Fort Valley, Georgia. ENTERING his sophomore season, Big P has 12 offers to date, and you know by the time this big OL gets to his final year, there will be many, many more.
THIS is Dabo growing with the times. He is getting prospects on campus sooner than in the past, and he might be altering his timeline with regards to presenting offers to prospective Tigers. At the ACC Media Days, Dabo said it best. "NIL is the last thing we discuss with a prospect. I want guys to come to Clemson based on the right things. I don't want him to come here for NIL. I want them to come because they believe in what we believe. They love me, they love Clemson. They love the players on our team, it's based on relationships, and then everything else is a cherry on top. That's our approach."
So, what do we expect from Dabo in the future? "While the college football world is going crazy, Clemson is looking better and better every day."