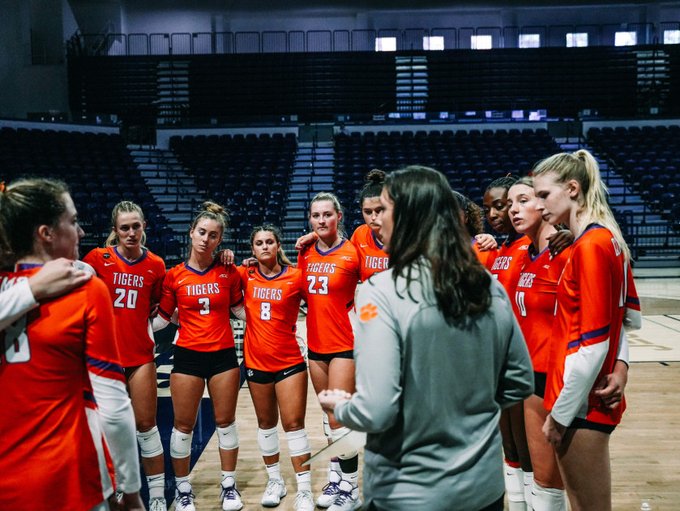 BIRMINGHAM, Ala. – Four Tigers finished with double-digit kills as the Clemson volleyball team (9-3) ended the non-conference portion of the 2022 season with a 3-2 victory against Murray State (4-5). Junior Camryn Hannah led the squad with 20 kills and Colleen Finney had 12, while Cate Long (13) and Jacyn Bamis (10) finished with season-highs.
The Tigers took control of the first set from the first serve. Behind an eight-kill performance from Hannah and the team hitting .412 in the first set, Clemson dominated the net. Clemson also capitalized on service aces from Long, Mckenna Slavik and Sophie Catalano to breeze to a 25-17 set win.
Murray State had the edge in set two finding a presence at the net that wasn't there in the first set. Clemson made an attempt to cut down on the Racers' lead, but it wasn't enough as the Tigers dropped set two, 25-18. The Tigers quickly bounced back in the third with a 6-2 early lead. The two programs traded points that included Ani Clark, Bamis, Finney and Hannah picking up kills. The Tigers captured the set, 25-13, after going on a 7-1 scoring run that included Hannah and Bamis combining for a block and the team hitting .667 in the set.
Bamis made two big plays back-to-back to start the fourth set with a solo block and a kill. Momentum continued for Clemson as Slavik and Mia McGrath served their second aces of the match, and Devan Taylor had an ace of her own. The Racers fought back to tie things at 23-all before capturing the set 25-23 to force a deciding set.
The fifth set was a battle. Clemson took a 5-1 advantage, but Murray State went on a 4-0 run of its own to tie things. Finney came up with a big kill to give the Tigers an 8-7 lead as the teams switched sides. The Racers tied things up at 13-all before Clemson put the match away with Long and Hannah picking up the final two kills.
Slavik finished with 51 assists, one shy of tying her career high, and Taylor led the defense with 19 digs.
Up Next
The Tigers return to Jervey Gym next weekend to open ACC play against Virginia Tech on Friday, Sept. 23 at 7 p.m. on the ACCNX, before taking on Wake Forest on Sept. 25 at 1 p.m.