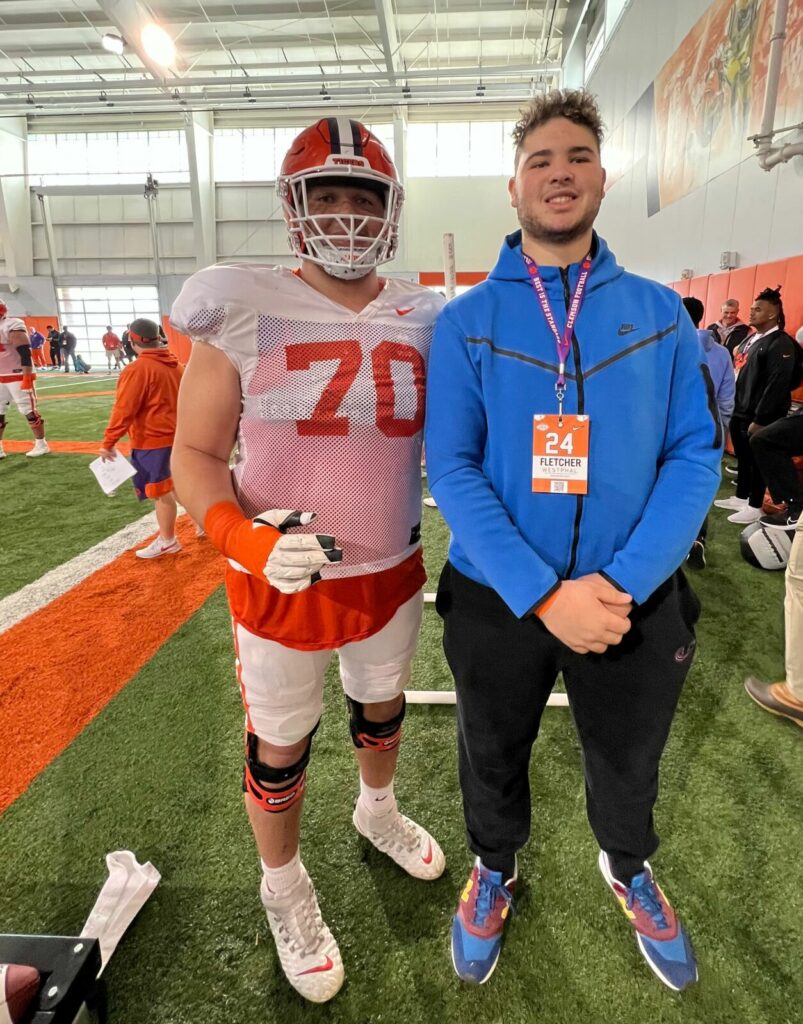 Clemson, SC
On Saturday, Clemson held the second "recruiting day"of the calendar year. In attendance were a host of 2023 and 2024 recruits hailing from all over the map. These players and their parents and coaches are visiting and seeking that rare Clemson offer. How rare you may ask? So far in the 2023 recruiting cycle the Tigers have only dispensed a total of "71" offers. Let's reference that to the 2022 College Football Finalist Alabama (145) and National Champs Georgia (200 ). Right there you can see how deliberate the staff is about who they dispense an offer to.
One of those rare 2024's in Clemson on this day was Fletcher Westphal… Fletcher, who just got the invite earlier in the week, let us know he would be glad to talk about his experience and what he saw on the trip and talk recruiting post visit. But first a cold blustery Saturday in Tiger Town included touring facilities and watching the '22 Tigers go through their 5th day of practice of the year, along with a touring of the campus and more. Fletcher is a 6'8 320 pound tackle with a host (8) of offers from power 5 schools as a sophomore in Leesburg, VA where he attends Tuscorora High School.
In the past, Clemson has followed a policy to not offer recruits until that player is in his junior year. But, they have on this day invited a large contingent of '24 recruits on campus for a "look see". And you never know… over the past two seasons, transfer portal, Covid seasons and off seasons have changed a lot of team's variables when it comes to recruiting.
CSN actually spoke with Fletcher a couple weeks back prior to his invitation to come visit Clemson. We reached back out to him this weekend to gauge his thoughts on the trip and discuss some of the 'checklist' items he's considering as he goes through the recruiting process. So below you can read what the 2024 Blue chipper from VA. had to tell us about his experience and what he saw and heard on the trip.
CSN: What was something you found out about Clemson you were not aware of prior to the visit?
FW: I didn't know so many (27) Clemson alumni are part of the football program. That says a lot about the Clemson alumni and how much they love the school. I didn't know about their pregame rituals and how they entered the stadium running down that hill.
CSN: What was Coach Austin's message to you about Clemson OL development ?
FW: Coach Austin told us we were all handpicked and wants to build relationships. He went over some drills they run in practice and told everyone in the room to work on keeping our elbows in because nobody is perfect at that. He told us the best five play.
CSN: was there anything in particular you were looking to find out about Clemson on this trip…
FW: wanted to meet the coaches, see the campus and facilities. It is hard to tell if you like a program or not without interacting with the coaches and getting a vibe of what they are about.
CSN: Did you get a chance to speak with Coach Swinney and if so what did he tell you?
FW: Swinney was really busy throughout the day. He spoke to our group at the very beginning and he told us what he was about as a person, his coaching history and the program success since he took over. The alumni come back to Clemson because of what Swinney has built.
CSN: what did you think of the OL practice and Clemson practice overal?
FW: Tristan Leigh is from Northern VA near me. It was nice seeing him suited up and in his element. This was my first time actually seeing an OL group getting work in at a college level. Everyone moves very nice and has a refined movement. There is a lot of effort in every rep. Nice seeing the scrimmage and Coach Austin in action with OL too.
CSN: What impressed you most about Clemson … did you get a chance to tour the campus?
FW: Touring the campus was really nice. It is big. Even though the weather was super windy and cold out lots of people were still out. We did the academic presentation in the new business building that was just funded for 60 million dollars. That building shows investments Clemson is making as a top public school.
CSN: How about the Football Facilities and the tools available here to aid in development (like the Paw Bistro) Dining hall… what did that come across.
FW: The 100 yards of wellness was a new recovery area they were outfitting that had everything you could ever need. There where recovery methods that I have never even heard about. The players where getting breakfast before we were let in the bistro and I could smell the food coming through the doors and just from that I could tell the food was amazing. I loved how everything from food, weight room, recovery, PAW center were all together.