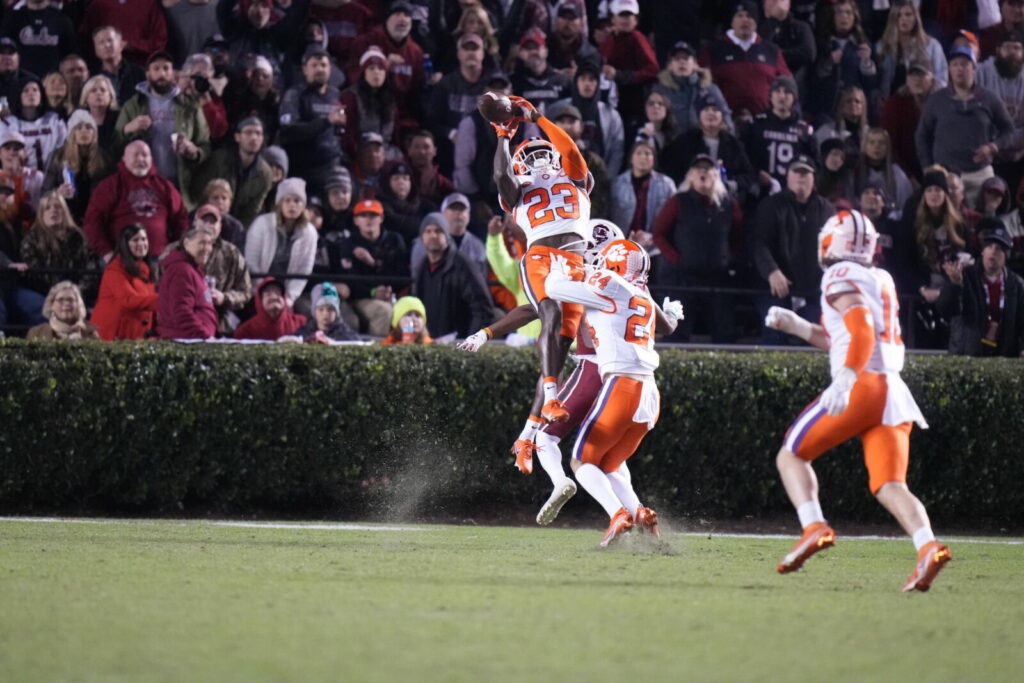 With the loss of Andrew Booth and Mario Goodrich to the NFL, Coach Mike Reed has his work cut out for him replacing these two starters. Don't feel too sorry for him. He has talent returning and more importantly, new talent coming in.
Between Booth and Goodrich, they were on the field for 1,142 snaps, registering 87 tackles, 13 passes broken up (PBU) and 5 interceptions. That's a lot of production to replace.
Sheridan Jones will likely step into one of the starting slots. Jones logged 415 snaps last year in a back up roll, racking up 24 tackles, 4 PBUs, and one interception. It's his time to step up and lock down one corner position. The other side is not so cut and dry.
Fred Davis II, Malcolm Greene, and Nate Wiggins will battle in the spring to run out there with the first team in September. Davis (137 snaps, 6 tackles), Greene (181 snaps, 13 tackles) and Wiggins (130 snaps, 3 tackles) has got to step up and take those Booth/Goodrich reps and produce. If not, there are three freshmen waiting in the wings to take it away from them.
5-star Jeadyn Lukus, 6-2 185, out of nearby Mauldin, SC, is the favorite to get early playing time among the freshmen. He is participating this spring but Coach Dabo Swinney noted that Lukus has a shoulder that will need cleaning up. He should be ready to be full go by the fall.
4-star Toriano Pride is another one of those "He is who we thought he was." Pride, 5-11 185, is college ready and watch for #23 in the spring. No, it's not Andrew Booth. It's Toriano Pride.
Myles Oliver could be the surprise of the 2022 recruiting class. A former quarterback, he converted to a full time corner, registering 75 tackles with 5 interceptions. He was named 6A All State at CB. He won't be in until the fall, but watch him as the season goes on. He will be a contributor on special teams and could possibly be returning KO's
Clemson offered several cornerbacks in the 2023 class. Most notably, two 5-star corners are at the top of the list.
5-star Aaron-Joshua Harris, Phenix City, Alabama, is on every top Power 5 team's list. The Tigers already have two players from Phenix City and would love to add Harris to that group. He is ranked as the #2 player in the state of Alabama and the #2 cornerback in the country. This looks to be a Clemson/Georgia/Ohio State battle down to the wire.
The other 5-star offer went to Tony Mitchell, Alabaster, Alabama. It might be a mute point with Mitchell. Nick Saban has his sights set on Mitchell and he will probably stay instate.
4-star Ethan Nation, 5-10 170, Roswell, Georgia, landed a Clemson offer last June. In total, Nation has picked up 50 offers. The latest offer is Ole Miss, but he has offers from Power 5 schools, including Alabama and Auburn.
Clemson Legacy Avieon Terrell is high on the Tigers and could follow his brother, AJ Terrell, to Tigertown. A 4-star from Atlanta, Terrell, 6-0 170, is considered a lean towards the Tigers and has received 18 offers to date. As a junior, Terrell registered 44 tackles, one tackle for loss, and two interceptions.
4-star Damari Brown, Fort Lauderdale, Florida, landed a Clemson offer back in early January, but since then, LSU, Alabama, Oklahoma, Miami, UCF, Nebraska, USC (the real one),Iowa State and Louisville have thrown their hats in the ring. It just doesn't feel like Clemson will be his final destination.
Braeden Marshall, 4-star CB out of Lake Mary, Florida, visited Clemson recently and picked up an offer as he was walking out the door. He has 25 offers and hasn't narrowed down his choices yet.
Two 3-stars picked up Clemson offers recently; Branden Strozier, Alpharetta, Georgia and Colton Hood, McDonough, Georgia.
Obviously, there is 8 months until the next signing day and a lot of football to be played. The staff continues to evaluate high school prospects. Will there be more offers? Probably, but the Tigers are already at 71 prospects offered, with 15 of those in the secondary.
Cornerback isn't deep right now but there is experience there. The Booth/Goodrich 1000+ reps has to go to someone. It would not surprise anyone if Andrew Mukuba dropped down to corner from time to time.