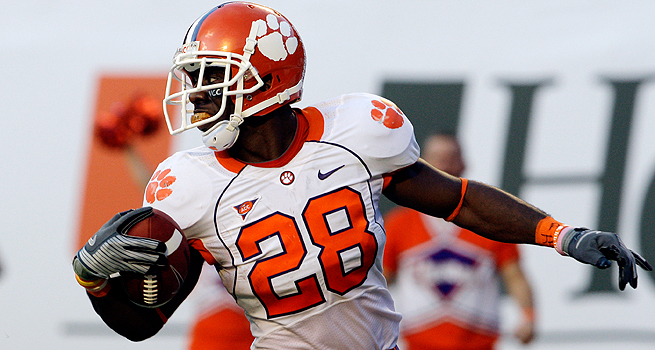 Two Tigers Appear on College Football Hall of Fame Ballot
Woolford makes ballot debut; Spiller appears for second straight year
Courtesy Clemson Athletics Press Release
CLEMSON, S.C. — Former Clemson All-Americans C.J. Spiller and Donnell Woolford are both on the national ballot for the College Football Hall of Fame. The National Football Foundation announced the ballot for its 2021 class on Tuesday morning.
This represents the first time Clemson has had two former players on the national ballot. There are 78 players and seven coaches from the Football Bowl Subdivision on the national ballot that will be voted on by the members of the National Football Foundation today through July 7. The vote totals will be submitted to the College Football Foundation FBS Honors Court, who will deliberate and select the class. The FBS Honors Court is chaired by two-time Heisman Trophy winner Archie Griffin.
The 2021 FBS class will be announced in early 2021. Those selected will be honored during the 2021 at their respective schools, then will be formally inducted in New York City on Dec. 7, 2021.
Spiller, who played for the Tigers from 2006-09, finished sixth in the voting for the Heisman Trophy as a senior in 2009 when he was named the ACC Player of the Year and was a unanimous first-team All-American. That season, Spiller scored 21 touchdowns and became the first player in ACC history to gain 1,000 yards rushing and 500 yards receiving in the same season.
Spiller gained an ACC record 2,680 all-purpose yards that year and finished his career with 7,588, still third in FBS history. He gained 3,547 rushing, 1,420 receiving, 569 on punt returns and 2,052 on kickoff returns. He still has greater than 1,700 more all-purpose running yards than any player in ACC history.
One of the most exciting players in ACC history, Spiller had 21 touchdown plays covering at least 50 yards in his career. He had eight kick returns for touchdowns in his career, most in ACC history. In the spring of 2010, he was the ninth overall selection in the NFL Draft by the Buffalo Bills. He went on to play eight years in the NFL and was selected to the Pro Bowl in 2012 when he was eighth in the NFL in rushing and sixth in yards from scrimmage.
Earlier this year, it was announced that Spiller will be inducted into the Clemson Athletic Hall of Fame this fall and will be inducted into the South Carolina Athletic Hall of Fame in the spring of 2021. He earned his degree from Clemson in December of 2009.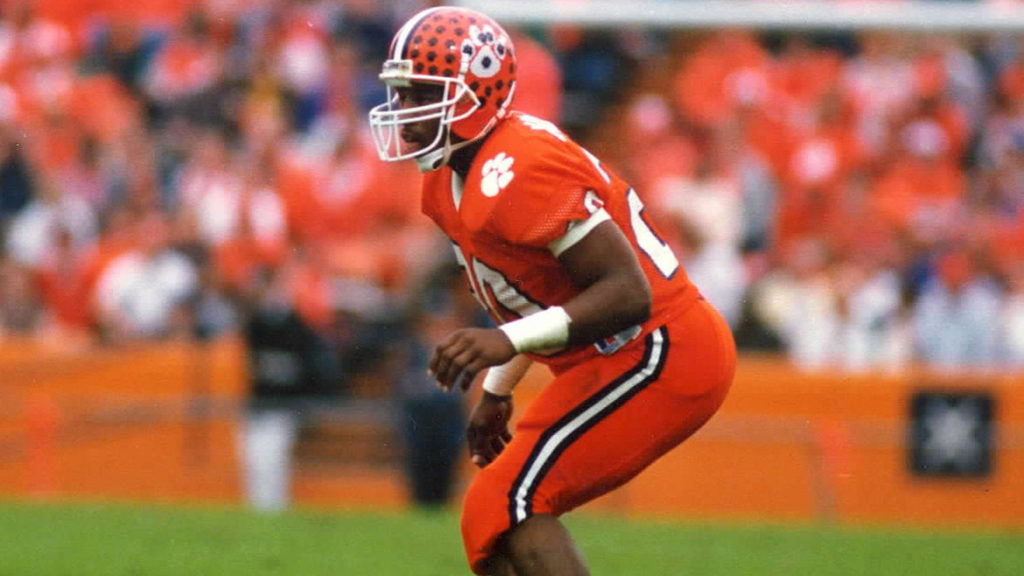 Woolford played for the Tigers from 1985-88 and helped Danny Ford's program to three ACC Championships and three top 20 seasons. The defensive back from Fayetteville, N.C. was named a first-team All-American by the American Football Coaches Association in 1987, then was a consensus first-team All-American in 1988.
The two-time All-ACC selection played 47 games for the Tigers, 35 as a starter. He finished his career with 187 tackles, 10 interceptions and 44 passes broken up, for 54 total passes defensed. He still holds Clemson records for passes broken up and passes defensed.
Like Spiller, Woolford was outstanding on special teams. He ranks second in Clemson history in career punt return yards with 754. His two punt returns for touchdowns are tied for the Clemson record.
Woolford was also a first-round draft choice, the 11th pick of the 1989 NFL Draft by the Chicago Bears. Woolford played nine years and 126 games in the NFL for the Bears, Steelers and Panthers and was named to the Pro Bowl in 1993. After he retired, he returned to Clemson to earn his degree. He was inducted into the Clemson Athletic Hall of Fame in 2005.
Clemson presently has four former coaches and three former players in the College Football Hall of Fame. The list includes coaches John Heisman, Jess Neely, Frank Howard and Danny Ford, and players Banks McFadden, Jeff Davis and Terry Kinard.