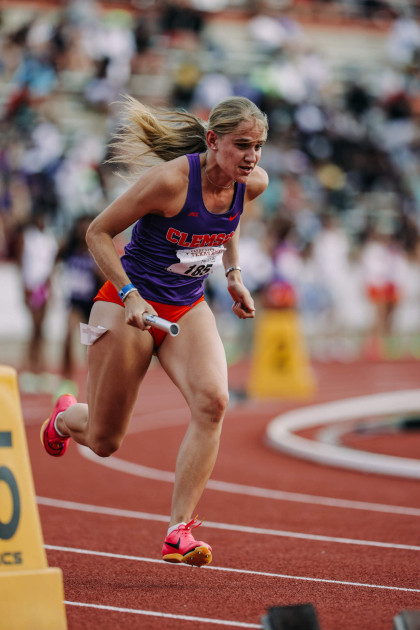 AUSTIN, Texas — The Clemson track and field program had another stellar day on Friday at Texa Relays, highlighted by the men's sprint medley relay team earning the victory. Action will resume on Saturday, the final day of the meet, at 12:40 p.m. with the women's 4×800 meter relay.
FRIDAY HIGHLIGHTS
The men's sprint medley relay team of Wanya McCoy, Cameron Rose, Tarees Rhoden and Aman Thornton won the race with a time of 3:14.02.
McCoy ran a personal best 10.04 in the 100 meter dash to advance to the finals at 5:25 p.m. tomorrow, however the time will not count on the Clemson top-10 list due to wind.
The men's 4×100 meter relay of Giano Roberts, Cameron Rose, Guinove Joanus and Wanya McCoy qualified for finals with a time of 39.80 seconds. They will compete tomorrow at 3:30 p.m.
Oneka Wilson ran a 13.27 in the 100 meter hurdles to qualify for tomorrow's finals at 4:20 p.m. Antoinette Van der Merwe's 13.25 did not qualify, but would have placed her at No. 10 on Clemson's all-time list if it were wind legal.
Giano Roberts qualified for finals in the 110 meter hurdles at 4:40 p.m. on Saturday with a time of 13.46.
Cameron Rose ran a personal best 10.16 in the 100 meter dash.
The women's sprint medley relay of Ockera Myrie, Courtney Williams, Lashanna Graham and Brynne Sumner finished fourth with a time 3:49.66.
THURSDAY HIGHLIGHTS
Marie Forbes continued her excellent stretch of competitions by setting the No. 2 mark in school history in the women's hammer throw. Her throw of 64.91 meters was good for fourth place and No. 8 in the country this season.
Daniel Cope moved to No. 3 in school history with a hammer throw of 62.75 meters.
Lashanna Graham moved from the No. 10 spot to No. 6 in the women's 400 meter hurdles with a time of 57.17 seconds. She qualified for tomorrow's finals scheduled for 7:35 p.m.
Jevon Williams broke the 50 second barrier for the first time in the men's 400 meter hurdles and moved up to No. 3 in school history with a time of 49.94 seconds. He will compete in tomorrow's finals at 7:40 p.m.
For all the most up-to-date information regarding Clemson track and field, visit ClemsonTigers.com and follow @ClemsonTrackXC on Twitter and Instagram.