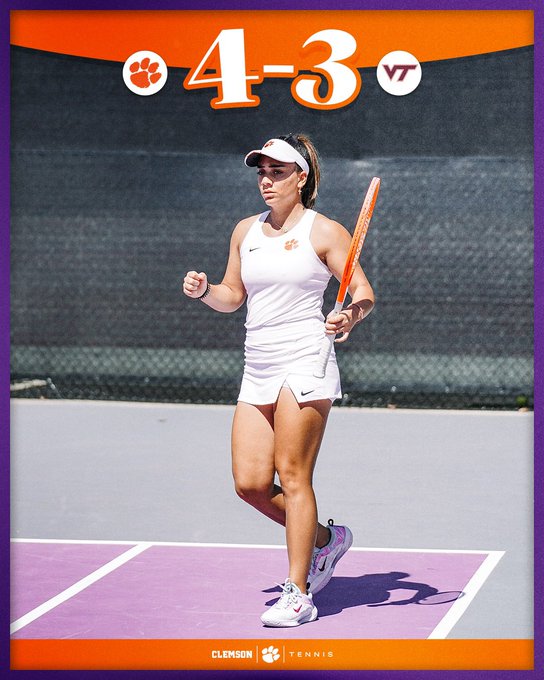 BLACKSBURG, Va. — The No. 30 Clemson women's tennis team won a hard fought battle on the road against No. 74 Virginia Tech on Friday by a score of 4-3. The Tigers (15-7, 3-6 ACC) and Hokies were locked at 3-3 before Cristina Mayorova won her three-set match on Court 2 to clinch the victory for Clemson.
"Our shot tolerance got longer, our mindset got tougher and our hearts grew bigger today," said Head Coach Amy Sargeant on the win. "Proud of Team 48 for bringing the best version of themselves mentally. We were resilient in big moments and saved ourselves three months of work."
The Tigers began the match strong, as both team took a doubles match before Cristina Mayorova and Dani Medvedeva earned the doubles point for Clemson with a 7-5 win on Court 2.
Virginia Tech evened the score with a win on Court 4 before Sophia Hatton and Leigh Van Zyl both earned wins to put Clemson up 3-1. With their backs against the wall, the Hokies won the next two matches to tie the score at 3-3 and leave the match up to a decisive third set on Court 2.
Mayorova went into the third set tied 6-7, 6-4, but quickly took control when it mattered most, winning three straight games. She closed out the victory 6-7, 6-4, 7-5
Up next, the Tigers will travel to Charlottesville to take on the No. 12 Virginia Cavaliers on Sunday at noon.
For all the most up-to-date information regarding Clemson women's tennis, please visit ClemsonTigers.com and follow

@ClemsonWTennis on Twitter and Instagram.