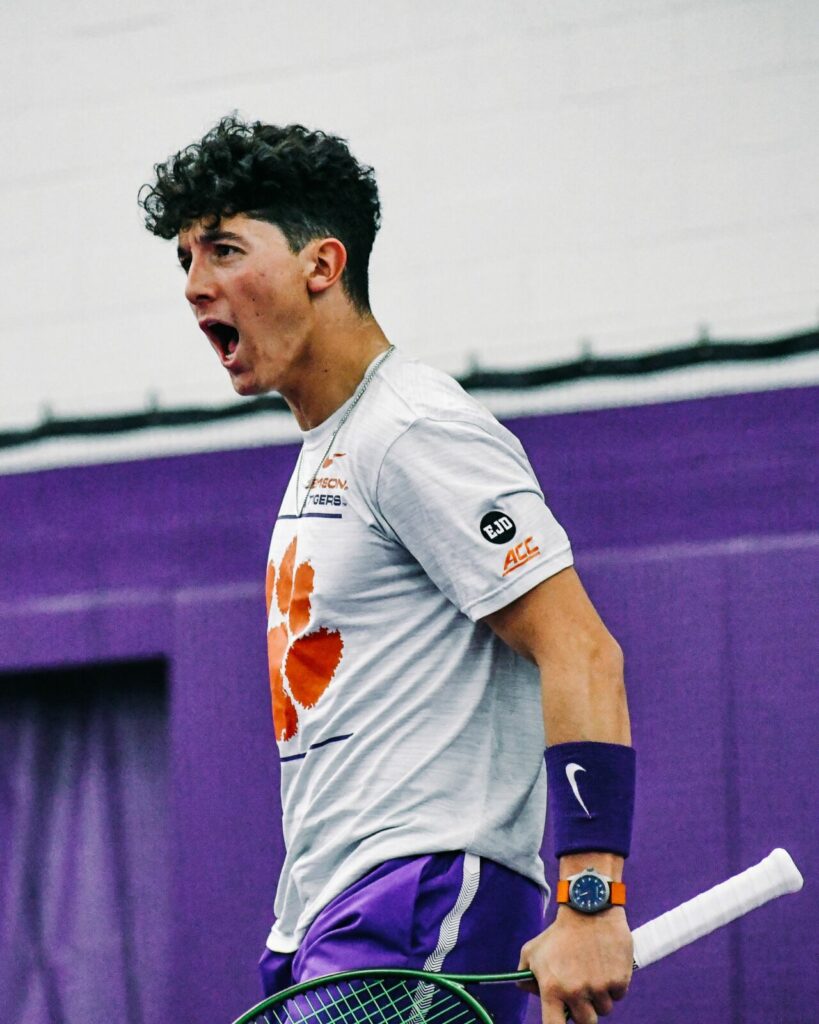 CLEMSON, S.C. – The Clemson men's tennis team opened the 2023 season strong, taking down Furman and Wofford in commanding fashion. The Tigers swept Furman 7-0 and handled business against the Terriers, winning the match by a score of 6-1.
The day was highlighted by several doubles victories and the first dual match wins for Nini Dica, who was 2-0 in singles play in his first matches returning from injury.
"It was a great day for the team and to start off the season with two dominating wins," said Head Coach Robbie Weiss. "The boys brought good energy and focus to both matches and competed well throughout the day.  I am happy for Nini Dica to get his first two wins as a Clemson Tiger after sitting out the past two seasons with two ACL tears.  He has worked so hard to get back on court and we're super excited to see him healthy.  Really proud of the team and excited to get back to work next week and prepare for a tough ETSU team next Saturday."
The Tigers started hot, ready to defend their home court as the No. 1 pair in Spencer Whitaker and Ryuhei Azuma made quick work of the Furman pair, 6-1. Clemson dropped the match on two before Jorge Plans Gonzalez and Max Smith secured the 6-4 victory on Court 2 to help the Tigers earn the doubles point.
Ryuhei Azuma made quick work on Court 1, defeating his opponent 6-1, 6-3. All six Tigers won their matches in straight sets. Jorge Plans Gonzalez, Matt Pitts, Spencer Whitaker, Trey Stinchcomb and Duca all were victorious in the season-opening sweep.
Clemson followed a similar script against Wofford, as it came out and clinched the doubles point with wins from Azuma/Smith and Stinchcomb/Pitts.
In singles play, Plans Gonzalez took over Court 1 and again won in straight sets, 6-4, 6-1. Max Smith earned his first singles victory of the season, winning Court 4 handily, 6-2, 6-3. Pitts, Stinchcomb and Dica all won their match as well to go 2-0 on the day and help Clemson to a 6-1 win.
The Tigers are back in action at Duckworth Family Tennis Facility on Saturday, Jan. 21 for another doubleheader as Clemson will take on ETSU and the Citadel. First start will be at noon and the second match will begin at 5 p.m.