And Then Everything Changed
By Neil Burnett
Some people are procrastinators, some are doers, and then there is me. After the two teams were announced for the 2012 Chick-Fil-A Bowl, I found 19 other friends to join my wife and I in the Georgia Dome at 7:30pm New Year's Eve, December 31st, 2012. Little did everyone know that this game would be the start of something great.
Think back to January 4th, 2012. Undoubtedly, the Clemson-West Virginia game might have been the most embarrassing game in Clemson football history. Painfully, a 70-33 loss to the mountaineers brought about a change at defensive coordinator, a move every Clemson fan NOW recognizes as a major reason Clemson is where it's at today. Brent Venables was hired to replace Kevin Steele and the rest is history.
Setting the stage for the LSU-Clemson game, Clemson was coming off of a 10-2 regular season, and a season ending loss to South Carolina. Clemson's only other loss was to Florida State, who would go on to beat Georgia Tech in the ACC Championship game. LSU was also coming off a 10-2 regular season with losses only to Florida and Alabama.
In the meantime, 21 Clemson fans were meeting up together pre-game, enjoying meals, and excited to be going to the game. Little did we know how the game would turn out. Clemson fans, since the announcement of the game, were told how they stand NO chance in this matchup. How they had no defense and their track record against elite teams was horrible. LSU was not thrilled about playing an ACC team that didn't beat one single ranked team all season long. Which team did you think was more motivated coming into the game? The team with something to prove or the team who didn't want to be there.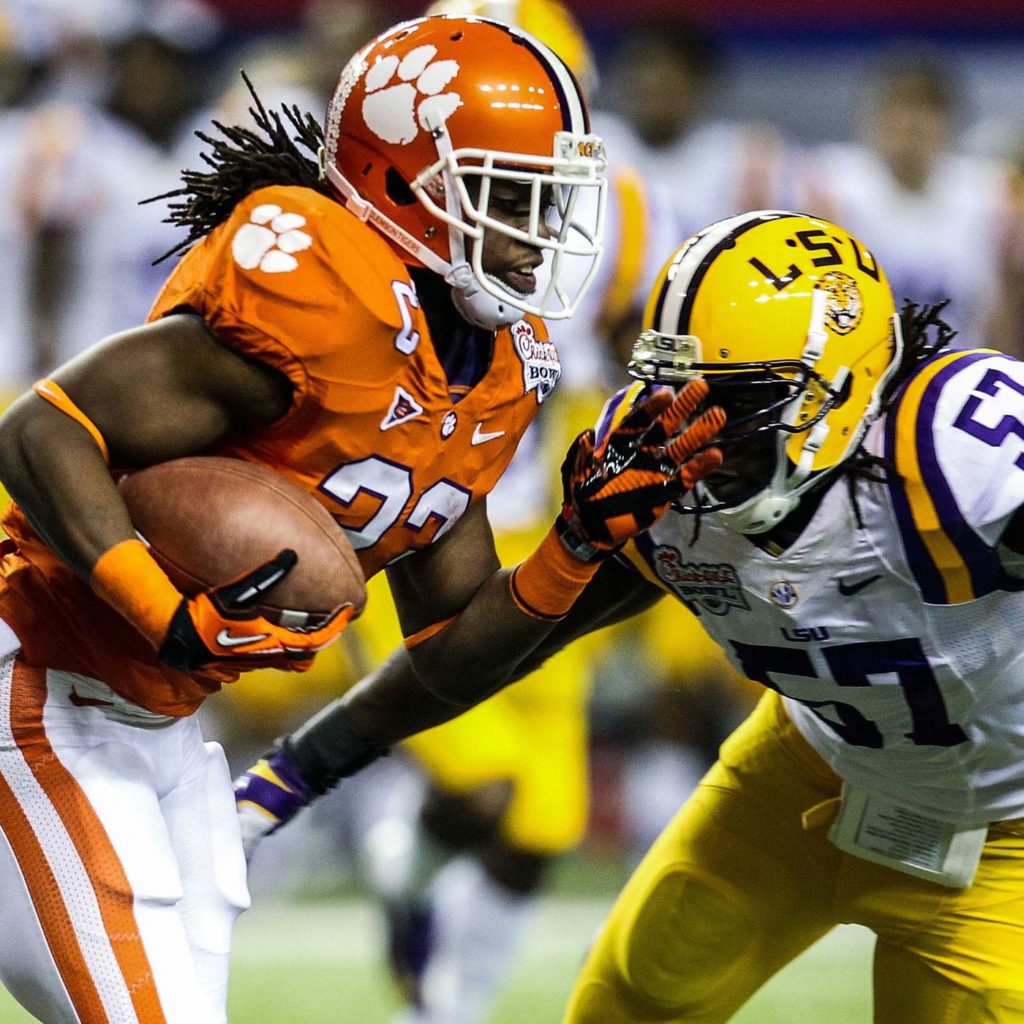 The stadium was filled to capacity, 68,027. Playing an ACC team in an SEC town, LSU had the advantage of a loud, "we are the SEC" crowd. Clemson fans represented, for sure. Our group had 21 dedicated Clemson fans all in one row in the corner of the endzone in the upper deck. Who sat behind us? The entire row behind us were SEC fans representing Auburn, Ole Miss, Georgia with a sprinkling of one or two LSU fans. The ENTIRE night, it was "SEC is the best" "Clemson sucks" and many more things I can't repeat. At one point, we literally had to stand up to them and tell them enough is enough.
The game? Oh yeah, the game. Let's remember that Clemson lost Sammy Watkins to injury on the first series of the game. As a matter of fact, it was the 2nd play of the game. He also fumbled on the play, LSU got the ball and two plays later, scored their first touchdown. So, 14:05, into the game, LSU ahead 7-0. If you're a Clemson fan, you're saying "Uh oh".
LSU went into halftime ahead 14-13 and the game was as tight as the score. Upon heading back from the concession stand, the 2nd half had started and I heard a roar from the crowd. I got to see LSU's only real weapon on the night, Jeremy Hill, standing in the endzone after a 57-yard TD run. Hill would finish the night with 124 yards on 12 carries. LSU would tack on a field goal to lead after 3 quarters 24-13. Unfortunately for LSU, the rest of the LSU team would only manage 95 total yards. Starting quarterback Zach Mettenberger would manage to complete 14 of 23 passes for 120 yards. Clemson sacked him 6 times for 41 yards lost. Odell Beckham and Jarvis Landry, two NFL All-Pro's accounted for 7 total catches for 77 yards and one touchdown. Yes, LSU had the lead after three quarters. Good thing that football is four quarters long.
Clemson took the ball at their own 29 and after 14 plays, Chandler "Catman" Catanzaro booted a 26 yard field goal to bring the score to 24-16. LSU gets the ball back, and goes three plays and out. Clemson gets the ball back at their own 23. 12 plays later, Tajh Boyd hits Deandre "Nuk" Hopkins with a 12 yard touchdown pass. The tigers missed the 2 point conversion and with 2:47 left in the game, Clemson trailed LSU 24-22.
The definition of "head scratcher" is — something that is confusing, mysterious, or hard to understand. When you have a running back like Jeremy Hill that has already run for 124 yards, and you have the ball with a little over 2 minutes, you give him the rock, right? Right? Wrong. LSU calls three passing plays and with 1:39 left on the clock, LSU punts the ball back to Clemson and Boyd, Hopkins and the offense take the field with the ball 80 yards from paydirt. Game over, right? Not exactly.
What happens next is Clemson history. What happens next is the ONE play in Clemson football that will be talked about by us old codgers that were at the game or watched it on TV. To make a long story short, facing a 4th and 16 at their own 14 yard line with 1:22 left in the game, something happened that took the air out of every LSU and SEC fan in the stadium. Boyd had just been sacked for a 6-yard loss and LSU players and fans were all set to explode.
Words can not describe what happened next, so for your viewing pleasure:
Boyd completed 36-50 passed for 346 yards and two touchdowns on the night. Nuk Hopkins hauled in 13 of those passes for 191 yards and both touchdowns. On the night, Clemson would outgain LSU 445-219. Clemson would win the first downs stat, 32-9. Since that loss to West Virginia, Clemson has a record of 101 wins and 12 losses. SOMETHING happened that night against West Virginia. Something even more amazing happened on 4th and 16.
Oh, and getting back to our seats in the upper deck and the SEC fans sitting behind us? After Catman did his thing, we turned to confront them and to a man, ALL were gone. Typical. The 2012 Chick-Fil-A bowl was a game to remember for a lot of reasons. Clemson 25 LSU 24.