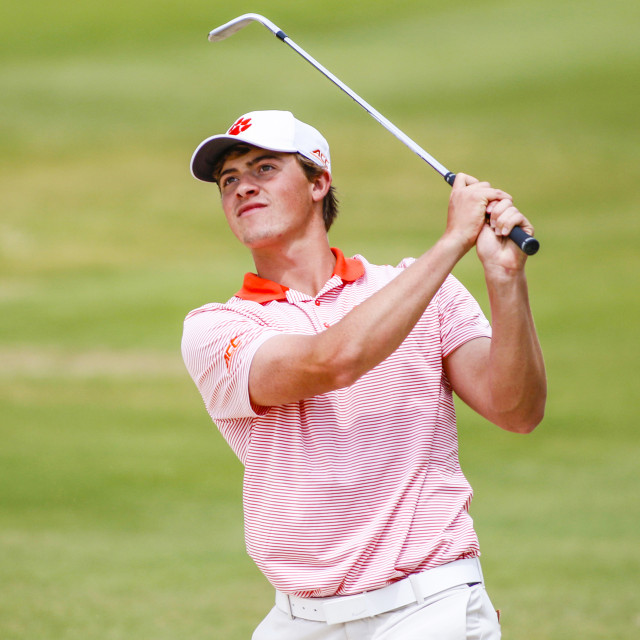 Pettit Finishes in Quarterfinals of North-South Amateur
By: Tim Bourret
Courtesy Clemson Athletics
Clemson, S.C.-Clemson rising senior Turk Pettit finished tied for 14th in the stroke play qualifier, then reached the quarterfinals of the 2020 North-South Amateur played at famed Pinehurst #2 in Pinehurst, NC. The oldest amateur golf tournament in the nation finished on Saturday, the Fourth of July.
Pettit provided plenty of fireworks of his own in his opening match victory over Blake Hathcoat a top player for St. Mary's of California. Hathcoat had a 3-up lead when Pettit won the 15th with a par. Pettit, who had the second best stroke average on the Clemson team this past year, then won each of the last three holes with birdies. That included the 18th hole where he chipped in to win, 1-up. It concluded one of the most exciting matches of the tournament, as the competitors tied just one of the 18 holes.
Pettit then faced David Perkins of Illinois State in the round of 16.   The resident of Sugar Grove, NC who grew up in Auburn, Ala.,  again was down late in his second match.  Pettit won the 15th and 16th holes to tie the match and the two players went into extra holes, where Pettit had a match ending birdie on the second playoff hole.  Perkins was the third seeded player in match play after firing a 133 score for the two rounds of stroke play qualifier.
Pettit then faced Jonathan Yaun of Liberty University in the quarterfinals. Yaun had received national acclaim in his morning round victory when he defeated his opponent 9 & 8, thanks to an opening nine hole score of 28, a record for the tournament.
It looked like it could be another decisive victory for Yaun, who took a 4-up lead after nine holes over Pettit, and he was still 3-up with five to play. But, Pettit battled back winning the 14th, 15th and 17th holes to force extra holes. Yaun won the match on the first playoff hole with a birdie.
Pettit was one of three current Tigers who competed at the North-South. Zack Gordon had rounds of 72-69 in the stroke play qualifier and lost in a playoff for the last spot in the 32-player match play championship. William Nottingham, a past champion of the North-South, had a 142 in the stroke play qualifier and missed getting into the playoff by one shot.
Clemson Golfers Results in 2020 North-South Amateur:
Turk Pettit
Stroke Play Qualifier: 69-69/138 14th
Match Play:
Turk Pettit (14) d. Blake Hathcoat (19), 1 up
Turk Pettit (14) d. David Perkins (3), 20 holes
Jonathan Yaun (11) d. Turk Pettit (14), 19 holes
Zack Gordon
Stroke Play Qualifier: 72-69/ 141 T32nd
William Nottingham
Stroke Play Qualifer: 73-69/ 142 T36th