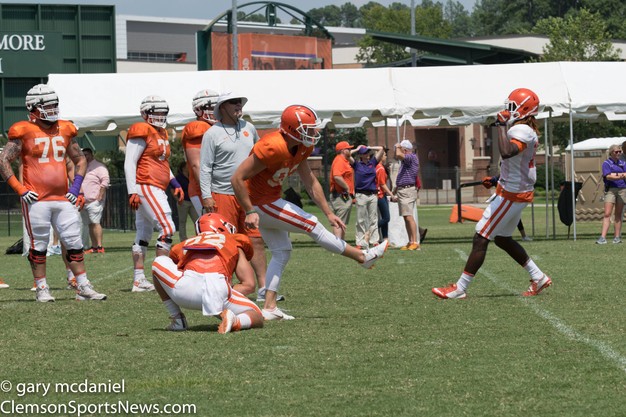 Greg Huegel
Special Teams Breakdown: Position Group
Join us as C-S-N takes a hard look at special teams as we go over the practice observations we were privy too over the last few weeks of camp. See our take on how we see things will eventually shake out in regards to special teams.
C-S-N's take on this position group is based on availability to practices and speaking with players and coaches brought us to the following breakdowns: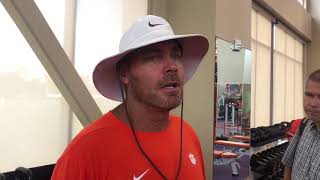 Coach Danny Pearman talks with CSN and Media about Special teams
Kickers:
Clemson steps into the 2018 season with the luxury of having three (3) Scholarship kickers that are all competing at a high level, as we saw the Tigers wrap up fall camp. The staff and Coach Danny Pearman have chosen veteran kicker Greg Huegel as the named starter. Coach Dabo Swinney mentioned over the last week of practices that Huegel had separated him self with his performance at practice and in scrimmages.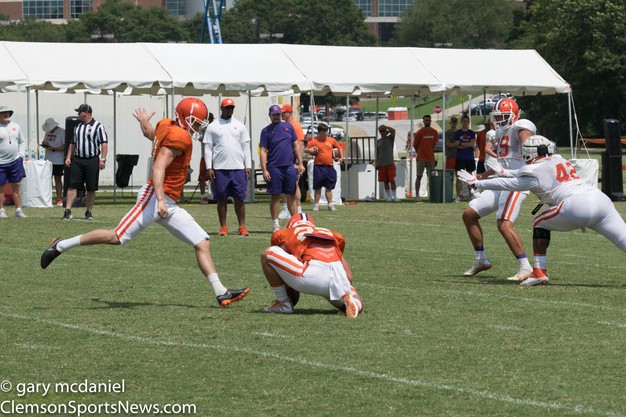 Alex Spence
Swinney also noted and mentioned both Alex Spence and BT Potter in his post practice briefings all summer long as players that are competing and will see playing time in 2018. Spence a Florence,SC native and now a graduate was forced into duty after Huegel was injured in pre season during a practice putting him out for the season. Forced into the role Spence struggled early on but gained much needed experience which led to a boost in his confidence level and 2018 rounded out as a great year for Alex.
Potter comes right out of high school an was a big get for this 2018 incoming class, a highly regarded kicker nation wide, Potter was quick to commit to the Tigers after the offer was tendered. An outstanding senior season at South Pointe HS (Rock Hill, SC) followed and now he finds himself in the midst of being the kick off specialist if things hold true from the last week of camp, when we noticed during Kickoff drills it was Potter that lined up with the 1st team.
Huegel, comes back from an sometimes career ending knee injury, but has played and performed well beyond expectations the staff had for the Senior out of Blythewood, SC. So much so, that Huegel was not supposed to kick in the Spring game, but coach Swinney made it a point to put the senior kicker in front of 40K and let him attempt 3 separate kicks. Since then Greg has just gotten stronger and stronger. Gone is the knee brace and back is the confidence that had him an ALL ACC kicker post the 2016 season.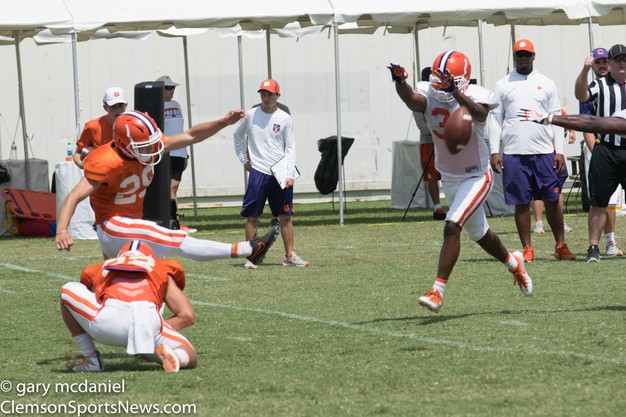 BT Potter
Punters:
Will Spiers again returns as the teams punter for 2018 as we begin the season with some room between himself and any competition for the job. Spiers was an ALL ACC academic selection in 2017, and on the field average of 40.6 yards a punt with a Net of 37.7 for the season. A Cameron,SC native Spiers is a legacy player as his father Bill is a Clemson football alumni. Carson King and BT Potter are backing up this position .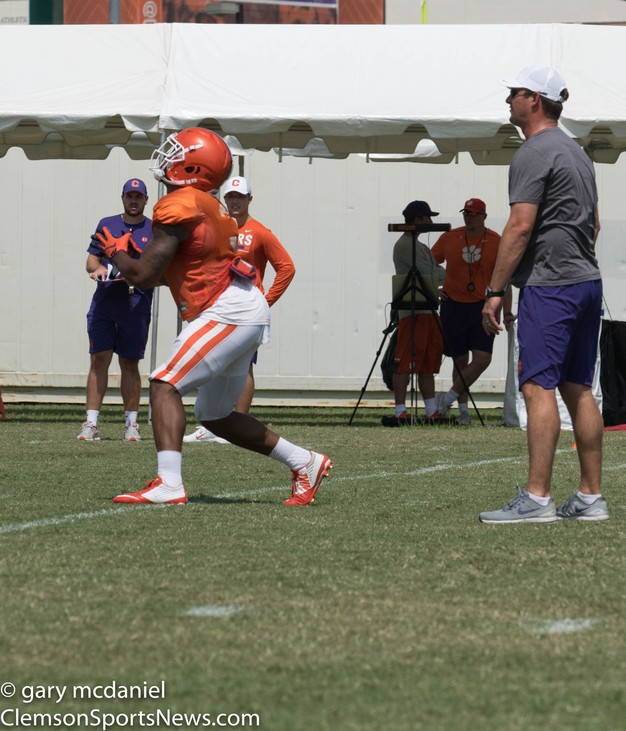 Amari Rodgers
Return Specialist:
Clemson is loaded with skill players to plug into the return roles this season. Veterans Amari Rodgers and Hunter Renfrow along with newcomer Derion Kendrick are the trio we have noticed getting a lot of time fielding punts and kick off returns. Add in Deondre Overton, Cornell Powell, Tavien Feaster and Travis Etienne have all rotated in the kickoff return spot.
We were able to witness all these players returning kicks over the past few practices when we had access . Look for Rodgers and Powell, and Kendrick to be the "go too " guys here and as in years past, this position will get a lot of rotating players of different calibre and position groups as a rule.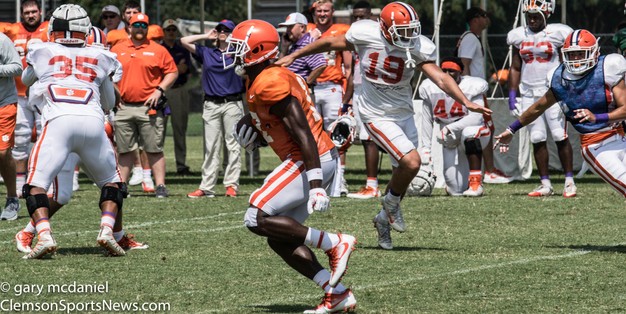 Cornell Powell