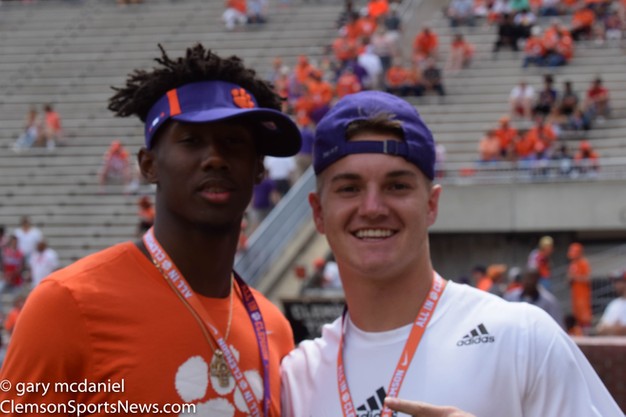 2019 Clemson Commits Frank Ladson Jr and Brannon Spector
Take a look here as we have compiled some high lights from this past Friday's action on the High School gridiron all around the country as we spot light Clemson's 2019 Class of committed prospects. This will be a weekly feature so stay tuned as we continue to track the 2019 Signing Class each week of the season.
Jaelyn Lay Tight End Riverdale HS (Riverdale, GA) Lay scored twice in Riverdale's 39-0 shutout of North Clayton.
Sheridan Jones Cornerback Maury HS (Norfolk, VA ) Maury defeated Bethel 45-9.
Lannden Zanders Safety Crest HS (Shelby, NC) Zanders played on both sides of the ball in a 28-11 win over South Point HS
Aidan Swanson Punter IMG Academy (Bradenton, FL)
Joseph Ngata WR Folson HS (Folsom, CA) Scored 2 TD's in a 51-14 win over Jesuit HS
Logan Cash Defensive End Windell-Winder HS (Winder, GA )
Chaz Messulli Naples HS (Naples, FL) 167 yards on 13 touches.
Frank Ladson Jr WR South Dade HS (Homestead, FL) 3 receptions for 100 yards in a 14-6 win over Coral Gables HS.
Joseph Charleston Safety Milton HS (Alpharetta, GA)
This recruiting feature brought to you by :