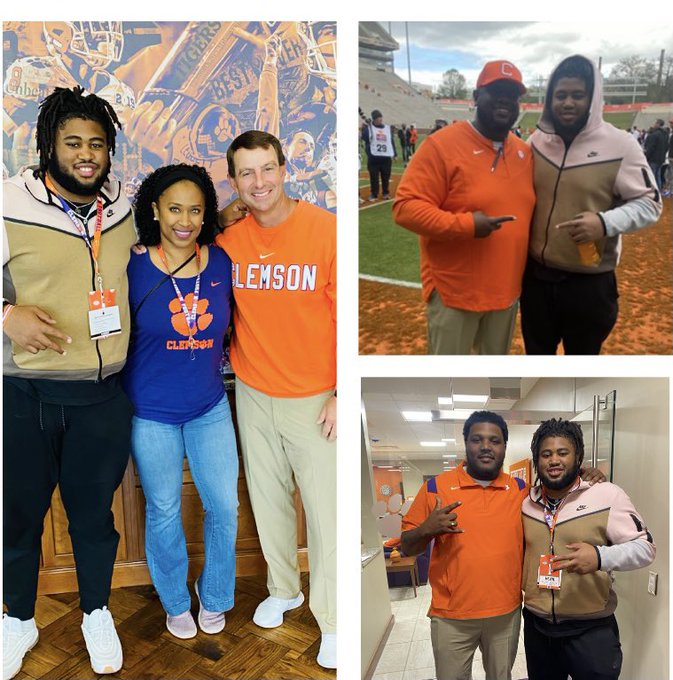 The Clemson spring game went off about as planned, competitive without a lot of fireworks. It's obvious to the football-knowledge fans that this was a glorified scrimmage and not a lot can be taken from it. One thing that was glaring was the depth of the defense. No matter how you split them off, they were dominating.
There were a number of prospects at the game, and three of them left with offers.
5-star 2024 prospect Hevin Brown-Shuler is ranked as the #3 DT in the country in his class. The Atlanta, Georgia, native, 6-4 290, accumulated 16 tackles, 5 tackles for loss and 4 sacks. He has picked up 20 offers to date, including Ohio State, Texas and Texas A&M.
4-star Tight End Jelani Thurman left the valley with his 24th offer. Thurman, 6-5 230, is the 9th ranked TE in the country. As a junior, he had 31 catches for 479 yards and 7 touchdowns. Auburn, Tennessee, Miami, and LSU are among those vying for his services.
Big offensive tackle Ian Reed, 6-6 290, picked up his 23rd offer which includes Alabama, Texas, and Texas A&M. The 2023 prospect is ranked as the #25 OT in the country.
On March 31st, the Tigers handed out an offer to Cambridge, MA, WR/CB Ronan Hanafin. Hanafin, 6-3 205, caught 20 passes for 389 yards and 5 touchdowns. Defensively, he had 68 tackles, two fumble recoveries, five pass breakups, two interceptions and two sacks. He has 20 offers to date, including Alabama, Oklahoma and Miami. The 2023 prospect is ranked #6 in his state and the #31 athlete in the country.