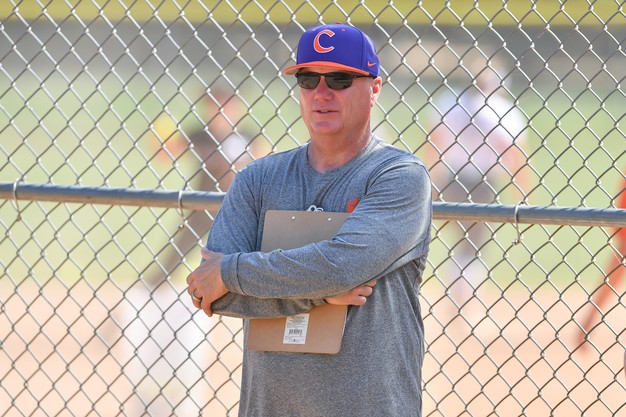 Photo Courtesy Clemson Athletics Dept. 
One on One with Clemson Head Softball Coach  John Rittman
John Rittman, longtime head coach and member of the USA Softball Women's National Team coaching staff, has been named the first head coach of the Clemson softball program. Rittman comes to Clemson after previously serving as associate head coach at the University of Kansas for the past two seasons. Before Rittman joined the Jayhawks, he served as the head coach at Stanford University for 18 seasons and 10 years on the United States National Team coaching staff. Before landing the head coaching job at Stanford, Rittman spent four seasons as an assistant coach at the University of Washington, Rittman helped start the program and, within four seasons, the Huskies would earn a No. 1 national ranking, won the 1996 Pac-10 Championship, made three NCAA tournament appearances and finished runner-up in their first appearance at the Women's College World Series. Rittman served for two seasons with the University of Minnesota Golden Gophers and served as an assistant coach at the University of Oregon. 
Rittman has served on the staff of the USA Softball team for the past two years which won gold at both the 2016 Women's Softball World Championship and the 2017 Pan Am Games. Rittman also worked with Team USA, coaching the 20014 Olympic gold medal winners in Athens and 20018 silver medalists in Beijing.
Q – What has it been like for you to come into a brand new program and build it from the ground up?
Rittman – It's really been a lot of excitement, a lot of interest in the program from not only a recruiting standpoint but from the community and the softball world. Because it is a new program and that means that there is a lot of excitement and a lot of interest. It's been kind of a whirlwind since I have been hired, you know, trying to recruit players, to work on stadium design and building the stadium, and putting a staff together. It has been a really busy time without having a team to now transition to having seven players on campus while we still continue to work on the stadium and recruiting and all the other aspects that go into building a softball program.
Q – Going off my last question what would you say is the most rewarding part of building this program from the ground up? What is the most challenging part?
Rittman – I think that there are many challenges. First and foremost is putting the team together and trying to get on a normal cycle of recruiting three to four kids a year versus we've got to bring in a whole team to start in 2020, so that's been very challenging from that standpoint. However, on the flipside of that is to see the excitement and the passion of the student-athletes that we are recruiting that are going to be in the program. I think that the amount of work that has gone into making this all come together has been really fun to see. I can't wait to see all of the work that's been put in by everybody come to fruition and see this program start in February of 2020.
Q – Obviously, the first pitch isn't until 2020. Because of that do you find getting players to commit to being a little challenging?
Rittman – Yeah, it took a special type of student-athlete to come and sit out a year. But we kind of used that to our advantage for the fact that "Hey, you get a year to practice, work in the weight room, to get acclimated to school and to get an opportunity to get a year under your belt. So now you have an additional four years to get your degree and maybe work on a master's degree." So there were some things that we used to our advantage in taking that year off. But certainly there were some players that wanted to play that first year and so obviously, they didn't come to Clemson.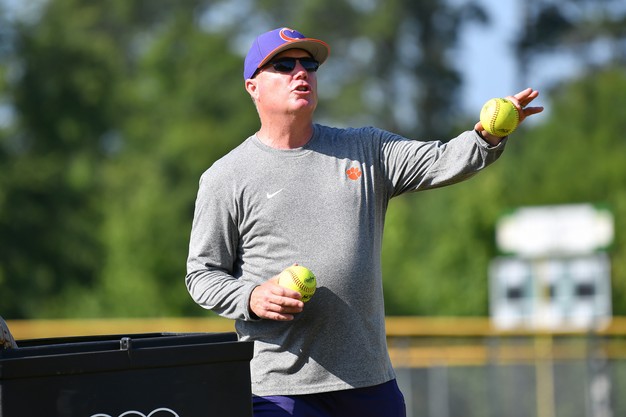 Photo courtesy Clemson Athletics Dept.
Q – How exciting is it to have the girls on campus, in classes and getting practices underway?
Rittman – You know, for us, it means that we are closer to starting. We actually get to practice this year, last year there was no field time. So now we are on the field and we are working to get better every day in the weight room. So it's interesting because we don't have any games to play, so one of our main objectives is to try and still get them to develop and to also create some competitions this year so they still feel like they are working toward something. It is kind of hard to practice for an entire year knowing that there are no games to be played. So that has been a little bit of a challenge but at the same time, we are trying to build in competitions within a practice. We are doing a gauntlet next week, which is very similar to a triathlon and we've tweaked it a little bit and they're competing against each other in that event. So we're doing some things to make sure they don't get bored, to make sure that practices don't become monotonous and trying to build some things in to keep their interest knowing that there is not a game to be played for another year.
Q – What was it about Clemson that appealed to you?
Rittman – Well, first of all, it's an opportunity to build a program at a power-5 school from the ground up. Secondly, it's a great fit. It's one of the top public universities in the country and it is in an outstanding area, it's just a dynamic community and then the passionate fan base that surrounds Clemson. You get a feel of that when you step onto campus and you start talking to people, so I think the combination of all of those has just made this an outstanding opportunity for me, our staff and my family.
Q – What are some of your fondest memories as a coach?
Rittman – I think that certainly, you look at all the players lives that you have impacted and we say this in recruiting a lot, it's not just the four years that you coach a player but it is the years after that you watch them grow up, develop, mature and have families and that's always very rewarding. The other part of that is just the opportunity to teach the game of softball and it's just a very rewarding profession.
This Weekly Feature Brought to you by our Sponsor: