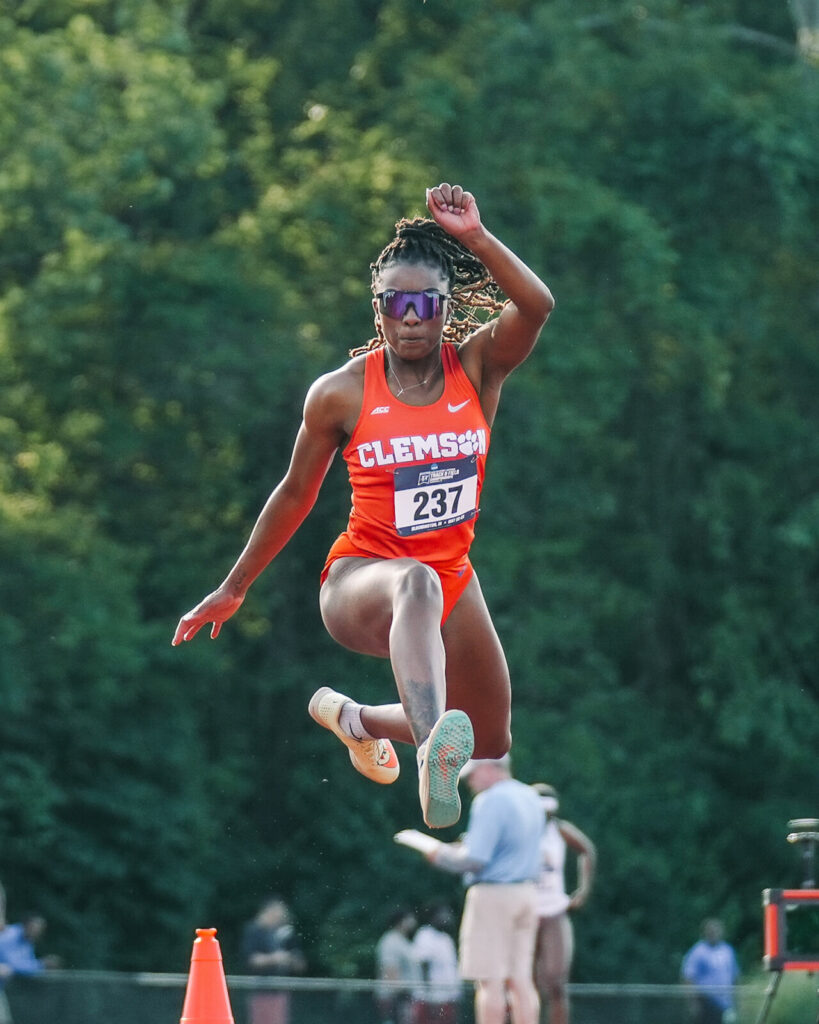 CLEMSON, S.C. — Five women and two men on the Clemson track and field team earned selections to the All-ACC Academic Team, the conference announced on Friday. Among them were ACC Champions Trishauna Hemmings and Harleigh White, as well as All-Americans Devon Brooks and Guinove Joanus. Ockera Myrie, Kiara Grant and Courtney Williams round out the list of Tigers who earned the recognition.
Hemmings, a senior studying women's leadership, won the ACC crown in the 100 meter hurdles. She went on to qualify for nationals and claim second team All-American honors.
White came out on top of the field in the ACC triple jump championship, leaping 13.05 meters. She is a senior studying nursing while simultaneously working towards her MBA.
Both of Grant and Myrie found themselves on the women's 4×100 meter relay squad that went to nationals and earned an All-American honorable mention. A senior, Grant studies Computer Science and Athletic Leadership while Myrie studies communications.
As the anchor of the women's 4×400 meter relay team, Williams helped the group earn a spot on the All-American second team. She is a psych major who just finished up her second full year at Clemson.
Brooks, who set Clemson's indoor 60 meter hurdles record this past winter, made his way to nationals as one of three Tigers to compete in the 110 meter hurdles in Eugene, Ore. He earned second team All-American honors with his performance, and studied communication and athletic leadership as a graduate student.
Joanus was part of the men's 4×100 meter relay team that finished ninth in the nation at nationals, good for second team All-American. He is a junior getting his degree in sports communications.
Roberts was a first team All-American in both the 110 meter hurdles in which he finished fourth nationally, as well as the 4×100 meter relay. Like Joanus, he studies sports communication.
Tillman served as the alternate for the men's 4×400 meter relay team that won the ACC and became second team All-Americans. He is working towards his degree in finance.
For all the most up-to-date information regarding Clemson track and field, visit ClemsonTigers.com and follow @ClemsonTrackXC on Twitter and Instagram.