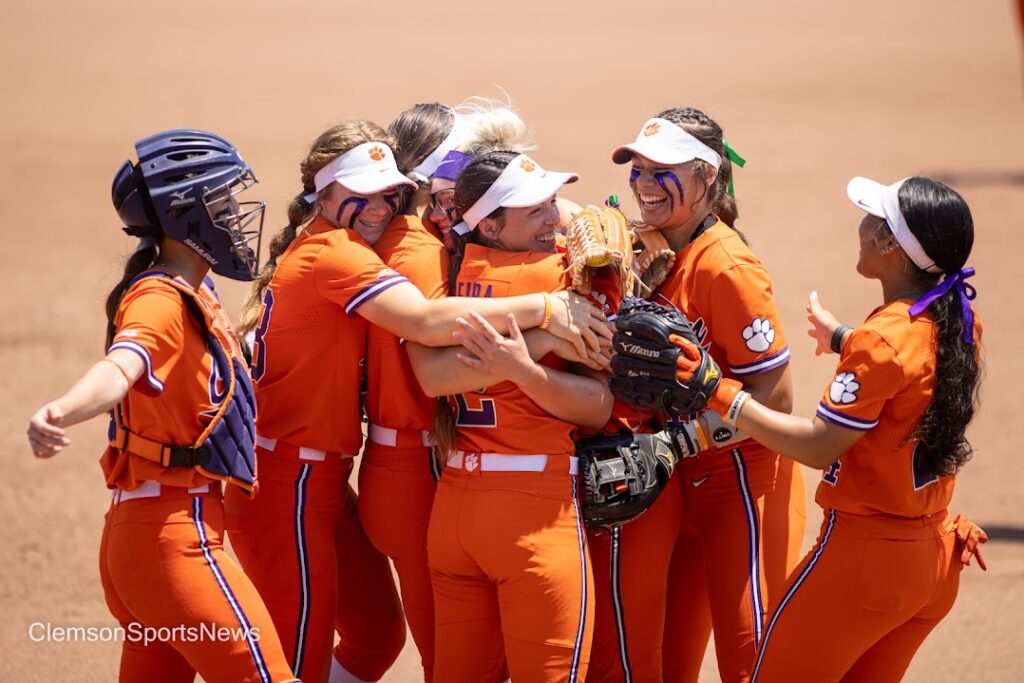 CLEMSON, S.C. – The Clemson softball team finished with eight student-athletes on the 2022 All-ACC Softball Academic Team, the conference office announced on Friday. Clemson's McKenzie Clark (Myakka City, Fla.), Marissa Guimbarda (Suwanee, Ga.), Alia Logoleo (Nashville, Tenn.), Cammy Pereira (Winston-Salem, N.C.) and Millie Thompson (Bedford, Va.) made the team for the second time of their career as Valerie Cagle (Yorktown, Va.), Sam Russ (Charlotte, N.C.) and Aby Vieira (Mission Viejo, Calif.) earn their first honors with the Tigers. Clemson's eight selections ties Duke for a league high.
ACC Release
Cagle, a redshirt sophomore majoring in health sciences, was a First Team All-ACC selection and named an NFCA First Team All-American after starting in 59 games. She tallied a .308 average with 44 RBI, 13 home runs, 10 doubles and 34 runs scored. In the circle, she posted a 1.92 ERA in 32 appearances with seven solo shutouts, three saves and 176 strikeouts through 160.2 innings pitched.

Clark was a Second Team All-ACC honoree after starting 59 games in center field. The sophomore led the team with a .328 average with 59 hits including 13 doubles, 12 home runs and two triples. She clocked 34 RBI and finished with a .622 slugging percentage, 42 runs scored and six stolen bases.

Guimbarda, a graduate student studying athletic leadership, finished the season with a .274 average through 59 games. She tallied 45 hits on the year with 11 home runs and nine doubles with 39 RBI. She was walked a team-high 27 times and scored 19 runs. She finished her career with 59 home runs to rank seventh among active players in the NCAA and tie for 84th all-time in the NCAA.

Logoleo was a Third Team All-ACC selection after starting in 59 games for the Tigers during her redshirt campaign. While studying parks, recreation and tourism, she finished with a .287 average after tallying 47 hits and scoring 31 runs. Logoleo tallied a team-high 15 home runs and 46 RBI with a .585 slugging percentage. In the field, she turned 10 double plays at shortstop.

Pereira finished with a .287 average with 52 including seven doubles, five home runs and two triples while majoring in psychology. The senior was a Weaver-James-Corrigan-Swofford Postgraduate Scholarship Award selection from the ACC and was named a top-30 Senior CLASS Award recipient. She maintained a .361 on-base percentage after drawing 13 walks and bring hit by a team-high eight pitches.
Russ, who is working towards her MBA, set Clemson's single-season stolen base record and led the ACC with 29 bases during the 2022 season. She also tied the single-game record with three stolen bases in the NCAA Regional game against UNCW. She finished the season with a .274 average off 46 hits with seven doubles, five triples and three home runs. The graduate was named Clemson softball's first CoSIDA Academic All-America selection with Third Team honors.
Thompson, a parks, recreation and tourism major, finished in the top-20 in three NCAA categories during the 2022 season: Strikeout-to-Walk Ratio (17), ERA (18) and Walks Allowed (19). The sophomore finished with two solo no-hitters, one against Furman and the second in the opening game of the 2022 Clemson Regional against UNCW. The Third Team All-ACC selection finished with a 1.58 ERA through 119.1 innings pitched and tallied 110 strikeouts while only giving up 18 walks.
Vieira, the lone freshman to make the list for the Tigers, appeared in 43 games behind the plate. The ACC All-Freshman selection finished third on the team with a .294 average after tallying 32 hits including five home runs and three doubles. She finished with 17 RBI and 14 runs scored.
Minimum academic requirements for selection to the All-ACC Academic Team are a 3.0 grade point average for the previous semester and a 3.0 cumulative average during one's academic career. Athletic achievements during the most recent season are also considered in selecting the team.