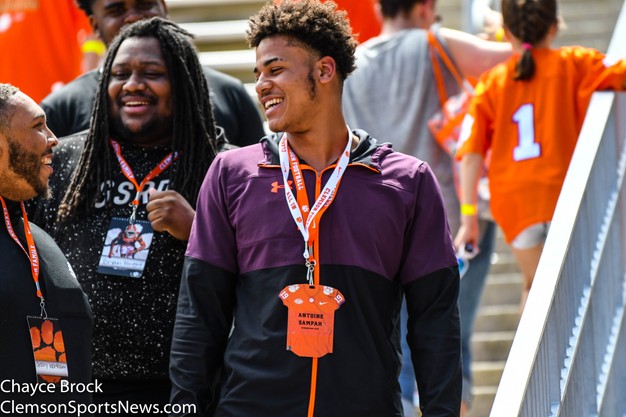 Clemson, SC
After the Clemson Spring Game on Saturday, We had the chance to speak with one of the most sought after players in the entire country. Woodbridge, VA Linebacker Antoine Sampah is arguably the best linebacker prospect in the entire country. Depending on what recruiting service you subscribe to. The 2020 phenom has an offer list that literally is off the charts. Holding offers virtually from every single power five conference and all the usual suspects… Clemson is battling the likes of Alabama, LSU, Ohio State, Miami, Penn State, FSU, Florida and the list goes on and on.
Antoine took the time to speak with Clemson Sports News, and here is what the 2020 recruit had to say about his trip to Tigertown for the Spring Game.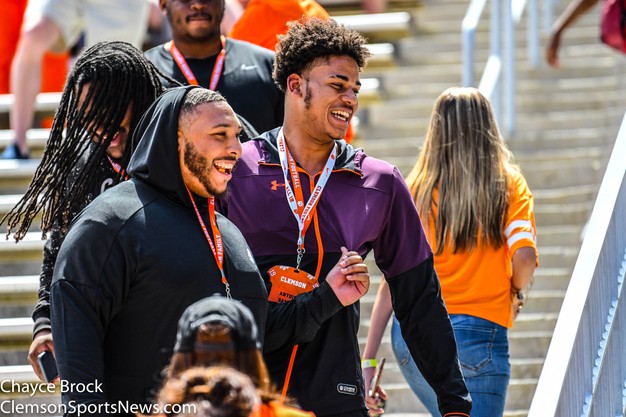 CSN: Tell us about the trip down from Woodbridge to Clemson and what your first impressions of the day where?
AS: "Wasn't a bad drive coming down just about 7 hours and it felt really good just walking through the doors to the football complex! coach vendables welcomed me home: "
CSN: What where you looking for in Clemson upon arrival…What is is that Antoine Sampah is looking for in a school he would commit too I guess is a better question…
AS: Stability is the #1 factor for me and just knowing I'm going to a school that's gonna guide me and fully develop me for the league because that is my end goal! Also it's about the feeling of being part of a family as well!
CSN: What is it about the Clemson program that attracted you to make this visit?
AS: The intensity of football at Clemson is amazing! Like no other so I had to come back and see it again!
CSN: What was the message from Coach Venables and Swinney to you today.
AS: "The message I got was join the family"
CSN: What was you favorite part of the day. Bonus Question: Who do you model your game after either NFL or NCAA.
AS: "Favorite part was putting on them uniforms hands down" ….. "Looked up to Ray lewis since I was young and I love the way he hit and play!"
Brought to you by our Sponsor: