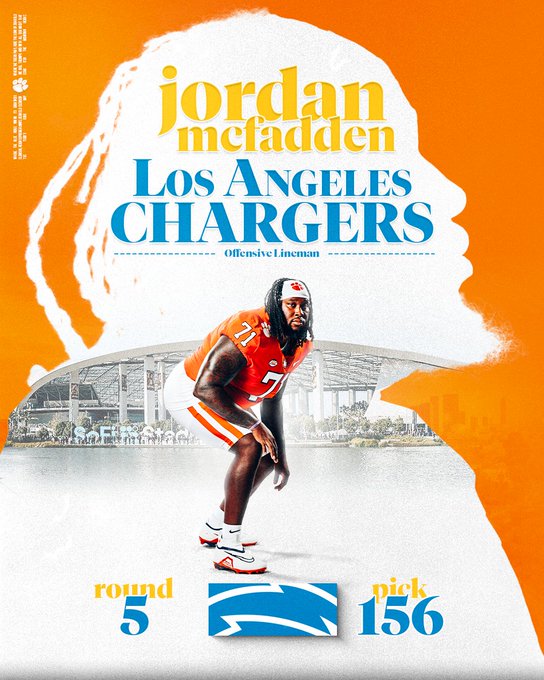 NOTES ON THE SELECTION OF JORDAN MCFADDEN:
– McFadden became the 76th player in Dabo Swinney's head coaching tenure to be drafted into the NFL, including the 13th fifth-round pick of Swinney's tenure.
– McFadden became Clemson's second all-time selection with the No. 156 overall pick, joining QB Lowndes Shingler, who was selected by the Dallas Cowboys at that spot in the 12th round in 1961.
– McFadden became the 10th Clemson player selected by the Chargers in an NFL Draft, joining DB Hollis Hall (1982), C Curtis Whitley (1992), LB Patrick Sapp (1996), DE Adrian Dingle (1999), FS Robert Carswell (2001), QB Charlie Whitehurst (2006), LB Anthony Waters (2007), CB Marcus Gilchrist (2011) and WR Mike Williams (2017).
– McFadden became Clemson's fourth offensive lineman selected in the last three NFL Drafts, joining Jackson Carman (2021), John Simpson (2020) and Tremayne Anchrum (2020).
– McFadden's selection snapped a streak of sixth consecutive Clemson defensive players selected across the 2022-23 drafts. The six straight defensive picks came following all five of Clemson's 2021 draft picks coming from the offensive side of the ball.
ON JORDAN MCFADDEN:
HEAD COACH DABO SWINNEY:
"Jordan McFadden is going to be fun to watch in the NFL. We've had some really, really good linemen that have come through here since I've been here as the head coach — obviously Brandon Thomas, Tyler Shatley, John Simpson, Jackson Carman, and Tremayne Anchrum was going to be a starter this year for the Rams until he got hurt. We've had a good group of guys that have rolled through over the years, but probably the guy with the most tools is Jordan McFadden. And what I mean by that is he's played a million snaps, has a ton of experience, and he can play five positions. There's not many guys that can play five positions, but he absolutely can play left tackle, right tackle, left guard, right guard and he's done that at Clemson, but he also can play center, and I think you'll see that with him at the next level.
"He can really, really run. He's incredibly strong. He's got good length to him; he's not a 6-5 guy but he plays that way. A captain, just one of the best young people you could ever meet. He's been a pro as far as his approach for a long, long time. And, again, his ability to play five positions separates him. He's going to be a guy that makes the team and makes their roster better and will become an incredibly valuable player. If he stays healthy, I think he'll play a long time just because of his football IQ and his diversity to his game."
OFFENSIVE LINE COACH THOMAS AUSTIN:
"The Chargers are getting a fully committed, veteran player with a lot of experience. Jordan has a very high football IQ. He's tough, physical at the point of attack and a great athlete. He's been a leader in his time at Clemson and he is going to make that locker room better."