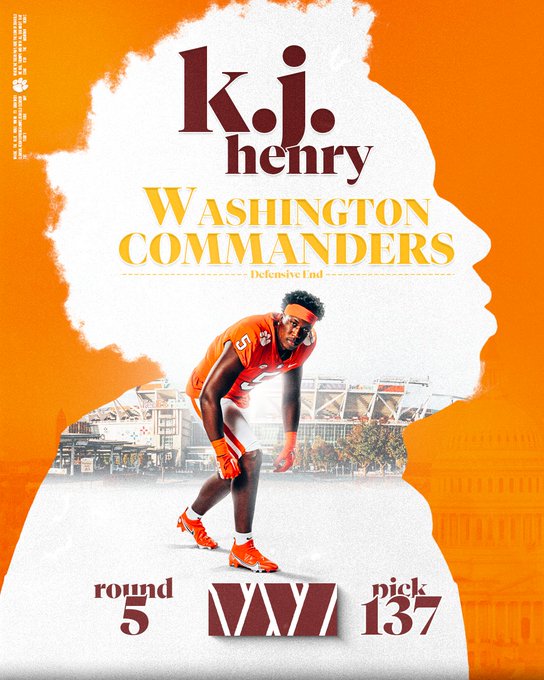 NOTES ON THE SELECTION OF K.J. HENRY:
– Henry became the 75th player in Dabo Swinney's head coaching tenure to be drafted into the NFL, including the 12th fifth-round pick of Swinney's tenure.
– Henry became the eighth Clemson player ever selected by Washington, joining B Charlie Timmons (1942), B Buck George (1955), DB Frank Liberatore (1968), FS Leomont Evans (1996), WR Rod Gardner (2001), DT Jarvis Jenkins (2011), CB Bashaud Breeland (2014) and DE K.J. Henry (2023).
– Henry became Clemson's second all-time selection with the No. 137 overall pick, joining multi-time Pro Bowl DT Grady Jarrett, whom the Atlanta Falcons selected at that spot in 2015.
ON K.J. HENRY
HEAD COACH DABO SWINNEY:
"K.J. Henry is one of the one of the best young men that's come through our program — a captain, one of our best leaders. He'll be a leader the day he gets there. He'll be a guy that makes a difference in the community. He'll be one of those guys that makes the coaches better. He just has every intangible that you could ever want in a young person. He's got a master's degree, he's the son of a coach, he just gets football on a very high level. He's very self aware, and he's a guy that has truly committed himself to making himself the very best he can be every single year. Five years in this program and he has truly transformed himself as a player. He's long, he's athletic, he's really strong. He's got a lot of diversity to his game. He can play multiple positions. He really understands the game, and I'm just really proud of him.
"He has high special teams value and is a guy that is a lot like [Clemson tight end and draft prospect] Davis Allen. I would put those two guys together in that their teams are getting truly complete players. They really are very, very complete and will make their teams they go to better the day they get there. There's no doubt about it. I'm excited for K.J. because he's worked his tail off to go from a young guy coming in here that wasn't very strong to an absolute, no-doubt NFL Draft pick and a guy that I think will help his team right out the gate."
DEFENSIVE ENDS COACH LEMANSKI HALL:
"They are getting a guy who is athletic and who loves the game. He brings a lot of energy. He's very smart, very tough and very charismatic. He's a great guy who is going to do a great job there."