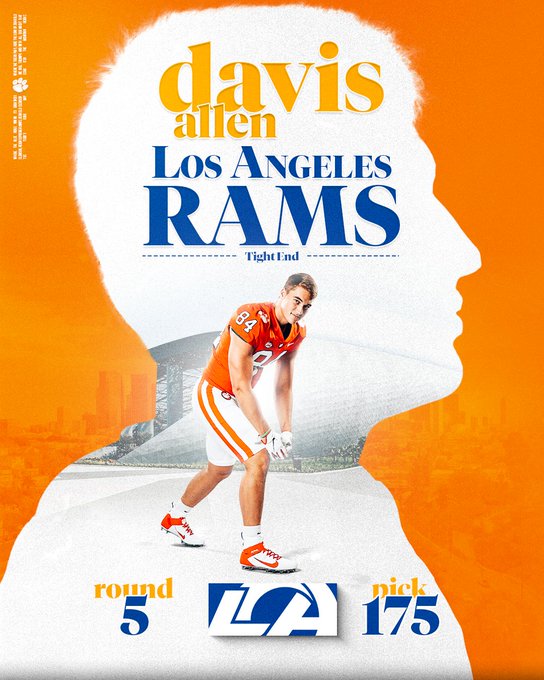 NOTES ON THE SELECTION OF DAVIS ALLEN:
– Allen became the 77th player in Dabo Swinney's head coaching tenure to be drafted into the NFL, including the 14th fifth-round pick of Swinney's tenure.
– Allen became the seventh Clemson tight end drafted all-time and the third to be selected during Head Coach Dabo Swinney's tenure. The Indianapolis Colts selected Dwayne Allen in 2012 and the New York Jets selected Jordan Leggett in 2017.
– Allen became the first Clemson player selected with the No. 175 overall pick all-time.
– Allen became the 14th Clemson player selected by the Rams all-time and the first since OL Tremayne Anchrum in 2020. (Note: Includes the Supplemental Draft selection of OT Isaiah Battle in 2015).
ON DAVIS ALLEN:
HEAD COACH DABO SWINNEY:
"Davis Allen is a complete tight end. I mean, he is a complete football player in every sense of the word. He's tough, he's physical, he's strong, he's incredibly smart. He loves to play the game. He loves to work at the game. To me, he's one of those guys that has really kind of handled himself like a pro long before becoming a pro. They're going to love him. I mean, he is truly one of the best young people that we've had come through this program, one of the guys that has really developed. He wasn't a tight end in in high school; he was a defensive player and he's just developed.
"He's got great length as a receiver. He's one of those guys that when he's covered, he's still open. Unbelievable ball skills and collision balance, a great finisher on the ball. He also brings a lot of special teams value. I think he's a guy that helps the Rams the day he gets there. He'll be ready to play and he'll be a fan favorite for years to come."
PASSING GAME COORDINATOR/TIGHT ENDS COACH KYLE RICHARDSON:
"The Rams are getting a great football player who is an even better person. He has treated everything in his life like a professional before he ever became a professional. He comes from a great family that instilled a great work ethic in him and it shows in everything he does. On the field, he can do anything you need a tight end to do whether it's in the box or as a matchup problem outside the box. He's got the physicality and the ball skills to succeed in both areas."