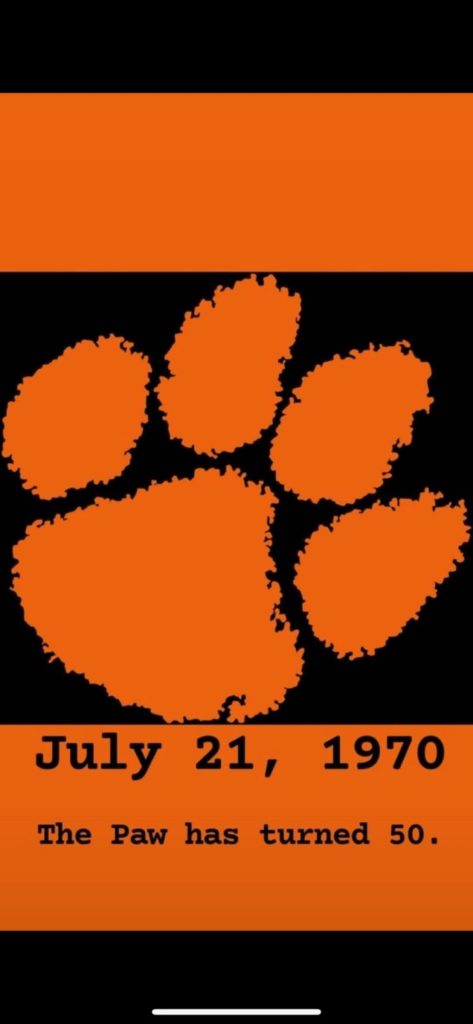 Following the 1970 NCAA College Football season, Hootie Ingram took over the Clemson Tigers Football Program. Ingram succeeded legendary Tiger Coach, Frank Howard. Before Ingram coached a second at the school, he thought the program needed a change in its image. A week later, Ingram and school administration set up a meeting to discuss the schools logo for athletics.
Picture via @ClemsonAthletics on Twitter
Clemson president at the time, R.C. Edwards had a good friend that was the founder of an advertising firm in Greenville and asked him to create a new logo for the Tigers.
The firm contacted 32 different schools that featured a tiger as their mascot. All 32 had a rendition that featured a drawing or picture of a live tiger. The firm decided they wanted to create something that made Clemson stand out.
On July 21, 1970 the new Clemson logo was unvieled, as a group of coaches and players on the football and basketball team toured the state showing off the new "paw".
Clemson's Football Program became one of the first teams in the country to display a logo on the helmet, as we all know now the white paw on the orange helmet is one of, if not the coolest in the NCAA.
The Tiger Paw Logo was trademarked after the 1981 National Championship Season following the explosion of Clemson merchandise being flown off the shelfs. 
Happy (late) birthday to one of the coolest logos in the whole NCAA.