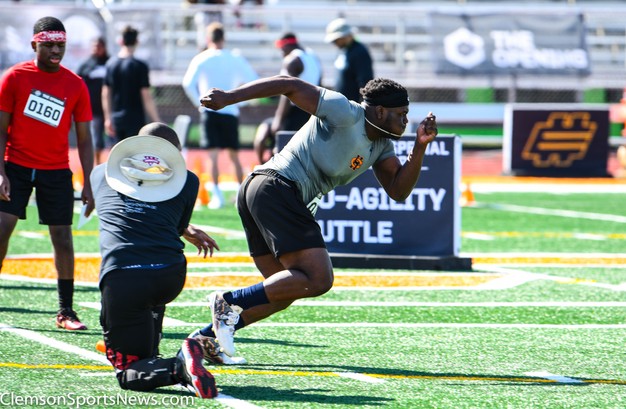 It's a cool crisp morning in Central, South Carolina. The kind of morning you can tell winter is trying to hold on to, but spring is about to overtake which is appropriate considering the date is the 23rd of March. A young man wakes ready for one of the most important Field Days he will ever participate in. Breakfast done, he embarks upon the three-hour journey to South Atlanta.
It's a sun soaked afternoon at Stockbridge High School when I arrive at The Opening Combine. I look around; all the momentary flashbacks from high school come and go, as they pretty much always do every time I visit another high school. We approach the gymnasium where there is a line out the door of over zealous parents and young men full of expectation. These are the castoffs, the island of misfit toys, just the types of players Dabo finds in the toy chest that catch National Championship Touchdowns and get drafted in the First Round if you will.
Tomorrow the most elite football players in the Southeast will converge here to compete against one another for a ticket to The Opening Finals in July and more importantly another boost in their recruitment future. Tomorrow's athletes will arrive with full scholarship offers from the Alabama's, Georgia's and Florida State's in hand. But today, twenty to thirty of these players who came from places like Fernandina Beach, FL, Centre, Al, Augusta, GA and Central, SC will get the opportunity to earn a golden ticket, the pay off for countless hours they put into their craft so we can enjoy their athletic prowess some twelve to fifteen times every fall. When Dabo say's Clemson's built differently this is part of what he means. Some of these young men are hiding in plain sight.
We walk down to the track entrance; the guy in charge of security onto the field is wearing a Clemson jacket reminding me that I'm never that far from home and humbled to all the transformation the past ten years have brought our university.
As a complete aside, whoever figured out you could put a track around a football field should have been shot. I understand the efficiency of design, but in my opinion it takes away from the game in as much the same way you can without question tell when you're in a stadium designed for both football and baseball equally, yet unequipped for neither. Even Duke was smart enough to figure this out. Yet I digress.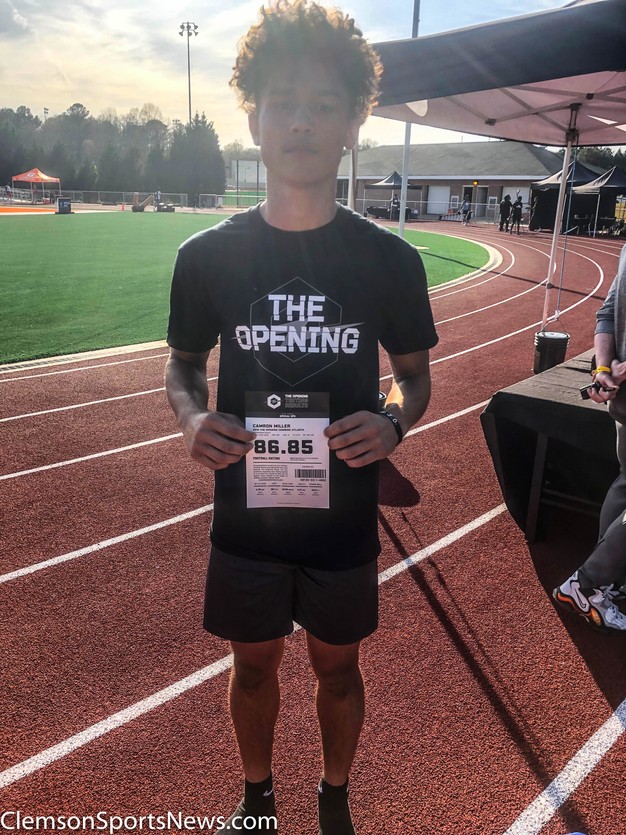 The players shuffle out of the gym in groups of forty or fifty to a space on the track one final chance to collect thoughts before beginning, everyone and everything becoming their enemy in the upcoming moment. The field is in impeccable shape. A PA set up in the southwest corner, the epitome of Outkast Speakerboxx, sounding like aluminum cans in a bag, bouncing from Drake to Kanye with a little Miley Cyrus thrown in. Yeah I know that one threw me for a loop too, not sure how it got slipped in there but it did. The music only interrupted by the occasional whistle, coaches instruction or friendly reminder from the Stockbridge High Booster Volunteers to visit the concession stand for a hot dog plate, bottled water and the sort. It feels like high school but so much more important at the same time. The players know this.
They begin a series of warm up stretches six equal lines of eight to ten players, a whistle blows, the athletes at the front of each line clap in unison, begin lunging out of the end zone. A moment passes the whistle blows again. A group of athletes ahead of this one in the combine are running the forty further down the field. Four across with a staggered start to minimize the competitive aspect as if chasing or being chased is an intuition that escapes these young men. They know who are the best. Everyone watching does without needing a SPARQ score to tell them but everyone continues to compete, giving it every ounce of sweat they have, and that is a special thing. The thing SPARQ can't measure is heart. Heart shows up on the field in the form of Ben Boulware and you can't hide from it.
On the opposite half of the field toward the visitors bleachers a three cone agility test is set up providing displays of amazing athleticism as well as a field level version of Ice Capades. Moving down that back half the athletes proceed through the kettle ball throw to the standing jump finishing with heights weights and photos. As they leave the measurement tent the fifty-foot walk to the results tent commences, all the nervousness and butterflies that left a half hour ago come back ten fold. Name given to the official they proceed around to the gentleman running the printer receiving with clammy hands a six by eight piece of gloss paper with one number, a number that means a lot to recruiting analyst and college coaches across the country. But that number doesn't tell the whole story of these kids, a story that can be surmised in one word. Grind.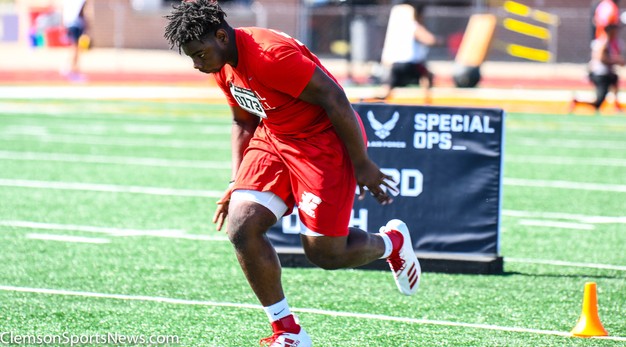 I'm not exactly sure how or when grind became part of the athletic vernacular but leave no doubt it is now well entrenched. Much like the rest of our society why say multiple words when one will do. Grind is defined as hard dull work, but what it means in sports is maximum work ethic to achieve maximum results. What you do when no one is watching. What you do whether you scored a 35 on your SPARQ test or a 115. That is grinding and what I saw on this beautiful Saturday afternoon was a field full of grinders, a sea of Renfrow's. Clemson men.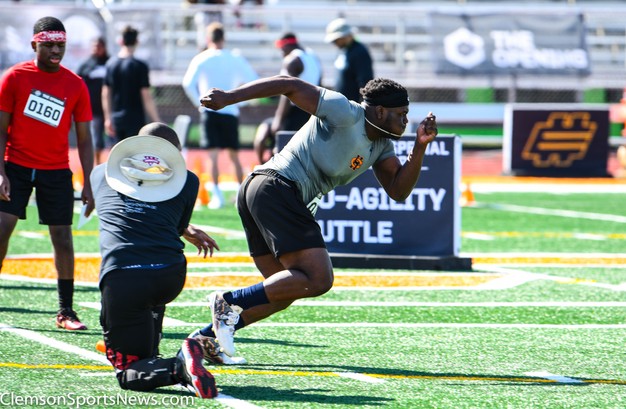 The young man who made the trip down from Central unbeknownst to me at the time wanders over in my direction. He holds up his SPARQ card, I can't see the number because his thumb is covering it but I'm pretty sure it is a 94. Damn good. I get to speaking with him mostly because his name had been confused with a previous athlete to pass by so he is the second Jared Kirksey I had the pleasure to meet today but the only one that is the real Jared Kirksey. I ask the usual questions, class, high school and then our conversation changes. D.W. Daniel. Two initials and one last name puts everything into perspective on what these kids, parents, families, friends, communities put in individually to create the collective game of football that we all love so much.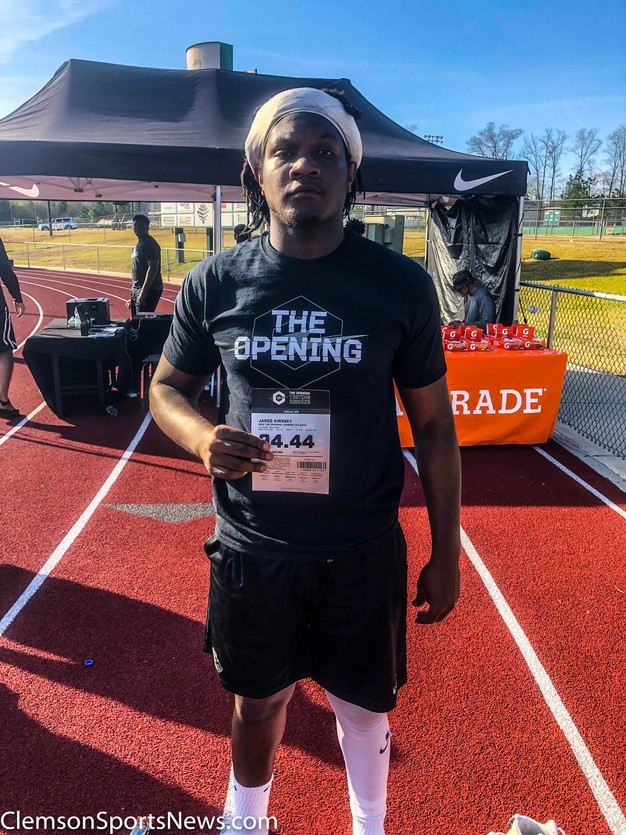 DW Daniel LB Jared Kirksey was asked to return for the "Regional" the following day.
Jared asks me if I know when he will find out if he got invited back to Sunday's regional final. I know because I have watched athlete after athlete move through the scorers tent all afternoon most of which have only been handed out a SPARQ Score by Ronnie. Ronnie is the last person these kids will see today before returning to the family, towns and high schools from which they came but he is also the most important. Ronnie has the golden tickets, the invites to tomorrow's regional finals and even if that's as far as you get, it still gets you a whole lot more attention in the world of high school football recruiting. Ronnie has only handed out around twenty or so tickets today meaning hundreds of kids came here to do one thing, grind.
Jared's score is borderline, which is to say that he is one of the best football players in the south, knocking on the door of being one of the most elite; on the other side of that door is a college scholarship. I don't have the heart to lie to the young man or fill him with false hope but I do know where the tickets come from so I offer the only advise I can think of at the time, go talk to that man over there, the man being Ronnie.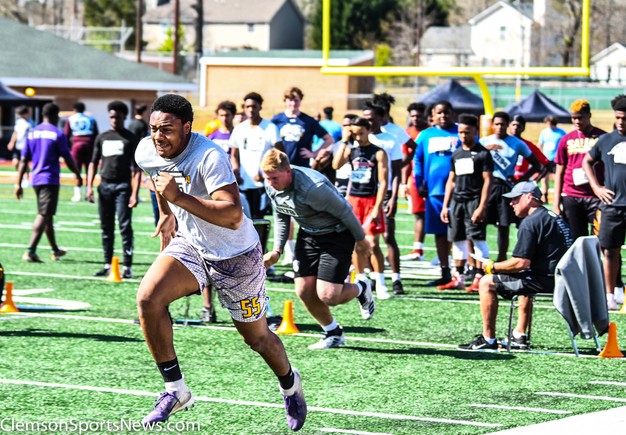 Jared walks over quietly humble and asks Ronnie if he is going to get to come back tomorrow. Ronnie is in the mist of telling Kyle Kennard from Riverwood High School in North Atlanta who already has tens of offers including many from the Power 5 conferences that he is getting a ticket, looks at Jared and with a modicum of enthusiasm says "and you're coming back too."
Jared smiles, receives his ticket shakes my hand and walks off the track. For the few Jared's there are many players who didn't get that ticket. Some just are not good enough. Some like Cam Miller a wide out from Fernandina Beach Florida who doesn't graduate until 2022 did amazing for their age but just aren't there yet. Some will be back next year and some won't. I think of all the Kendall Joseph's Grady Jarrett's Gage Cervenka's and Andre Branch's who have come through Clemson and can't help but think I got to see more of those guys today.
The sun sets on the track and the smell of dew moves in as temperatures revert back to the remnants of winter, these kids keep grinding. A song by Randy Newman closes "the Lord can make you tumble, the Lord can make you turn, the Lord can make you overflow, but the Lord can't make you burn." The words describe a river as a metaphor for life, one of which I find exactingly appropriate for these athletes. The Lord can do a lot of things in this wonderful world, but he can't make you burn, can't make you grind. Burn on big river…grind on.
Brought to you by our Sponsor :