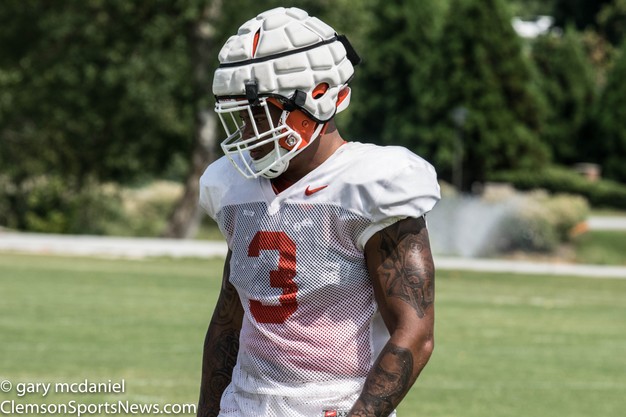 As we come to the end of summer, the Clemson football staff is looking towards the depth chart to see which of the new freshman players will see playing time against the Paladins of Furman on September 1st. With an in-flux and a lot new of talent available, the staff has to sort through the 2018 Class that just arrived, as to who will red shirt and who will warrant playing time in the upcoming season.
Players also have the luxury of the new "Red Shirt Rule" to lean on as they can now play in as many as 4 games in this season and not lose their eligibility. Thus giving the staff and players a larger window of opportunity and ability to show case their skillset and possibly lose that "red shirt" and contribute for the rest of the season.
A few players we mentioned earlier in the month that have already gotten the coaches eyes and seem destined to see playing time, those include the obvious Trevor Lawrence,Justyn Ross, Xavier Thomas and Derion Kendrick. As its been documented by the staff that these four will for sure be a part of the game plan and depth chart moving forward.
Players on the proverbial bubble, and that Coach Swinney has noted to be in contention and under observation include players like Braden Galloway the 6'3 240 pound Tight End out of Seneca,SC. A player that can stretch defenses and become a match up nightmare for defenses in the mold of a Jordan Leggett from the 2016 national title season.
Jackson Carman is a player that has already lost over 40 pounds since arriving on campus at robust 380 in January and he has totally transformed his body and made huge strides in the offensive line group over the summer. His athleticism and toughness along with his size will put Carmon on the field in 2018.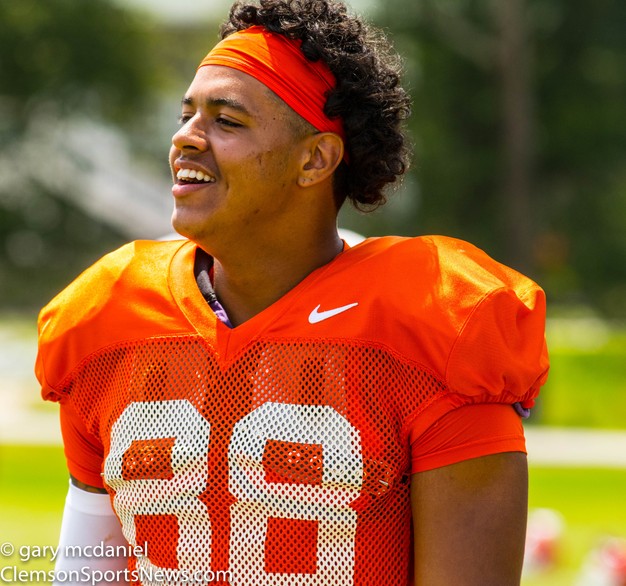 Tight End Braden Galloway
Other players of note include KJ Henry, a fast twitch edge rusher that has done the opposite of Carman and has gained 25 pounds since arriving on campus around 220 also in January. Henry also is making a push in practice to avoid a red shirt and it will be his performance in games that will determine if he is red shirted, due to the depth at the defensive end position the staff has KJ on the bubble in our summation.
Then there is place kicker BT Potter, a player that came into a kicking position that already had great competition going on with the return of Greg Heugel and last years starter Alex Spence. Potter has come in and competed and earned a possible kickoff job on special teams. That is yet to be determined, but by all accounts and from intel we have gathered the Rock Hill SC Native has put together an impressive freshman camp.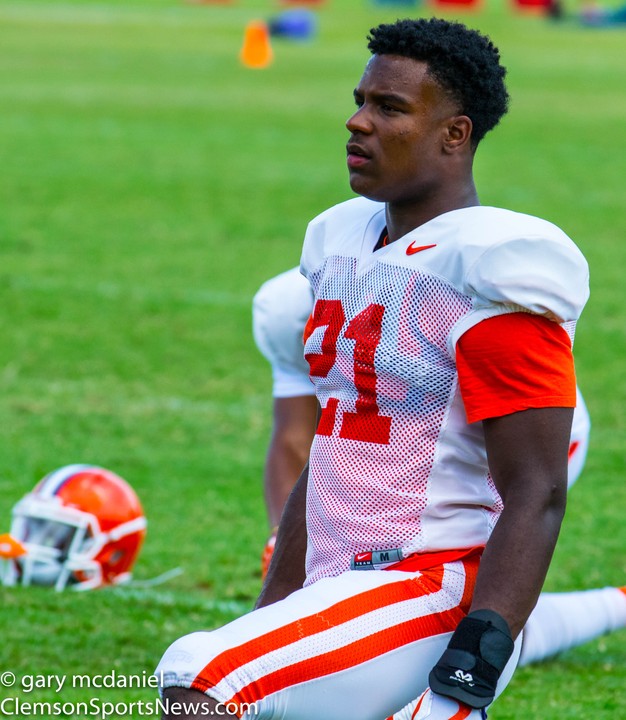 Cornerback Kyler McMichael
Other notables include (RB)Lyn J Dixon, (DB) Mario Goodrich and (DB)Kyler McMicheal all seem to be headed to playing time and an notable position with in the depth chart. Dixon, who was the surprise of fall camp has really jumped off the practice fields as a "camp warrior" and has put himself in great position this season. The two aforementioned defensive backs both came into a position group that had a prior need numbers wise, and will require both these physically advanced freshman to contribute early and often.
Players we see heading toward redshirt status as we end the fall camp and just from our returns and impressions of what he have heard from the staff include the following. (OL)Jordan McFadden , (LB)Jake Venables, (DT)Justin Mascoll, (DT) Darnell Jefferies as they are mired in position groups with a lot of foreseeable and quality depth. But you never know how the season will play out.
Players can make big moves in weekly practice and earn that "playing time" or an un- foreseeable injury could force them into a role and off comes the red shirt. An interesting story line to follow and one to keep your eyes on as the 2018 Season starts. Stay tuned as we track this freshman class over the course of the 2018 Season.
This story brought to you by Our Title Sponsor: