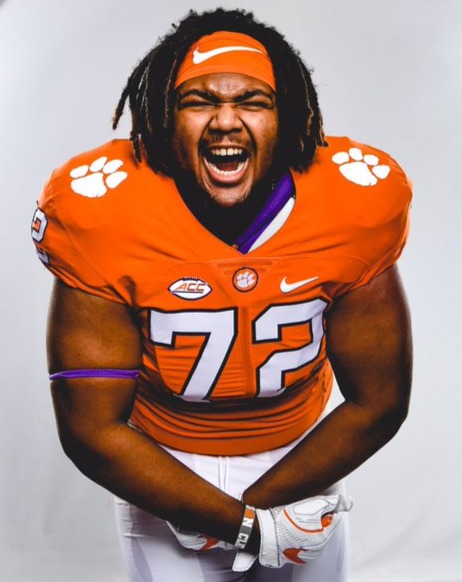 When you think of Clemson football, the first things that come to mind are success, strength, speed, and unity. The Clemson recruiting staff goes out to find the best of the best for the program that not only are all-around great players but they also look to ensure that the incoming players will be a good fit with the team. Mitchell Mayes, the four-star offensive tackle from Raleigh, North Carolina, is one of those all-around players. Mitchell attended Leesville Road High School where he helped take his team to the state championship in 2019. Mayes had twenty-two offers from schools such as Auburn University, Boston College, Florida State University, University of Georgia, and other division one schools. He was recruited to Clemson by Robbie Caldwell. At the time of his signing, he was ranked sixty-fourth best in the nation overall, fourth-best offensive tackle, and second-best overall in North Carolina byPrepStar. Rivals.com had him ranked 136th best in the nation overall, third-best offensive tackle, and second-best player in North Carolina. He was selected to the Under Armor All-American Game and was a Shrine Bowl selection.
Robbie Caldwell described him as a "big guy that can run, very quick, very agile". He said he has "just enjoyed having him in practice. It's been phenomenal". Mitchell has been compared to Cyril Richardson, of the Chicago Bears, as he is a dominating block runner, extremely balanced, and has excellent footwork. He committed to Clemson on March 11, 2019, and enrolled at the university in January of 2020 as a health science major.
Mitchell had the opportunity to practice with some of the mid-year enrollees this January as the team prepared for the national championship, so he has already gained some experience with the team. With the loss of four offensive linemen at the end of the 2019 season, it is said that he "looks to fit best on the interior O-line at the next level", even though he played offensive tackle in high school. With the loss of those four players, Mitchell will likely get the opportunity to contribute as a true freshman in the upcoming season. With his strength and speed, Mitchell will likely play a big roll on the Clemson offense throughout his college career.