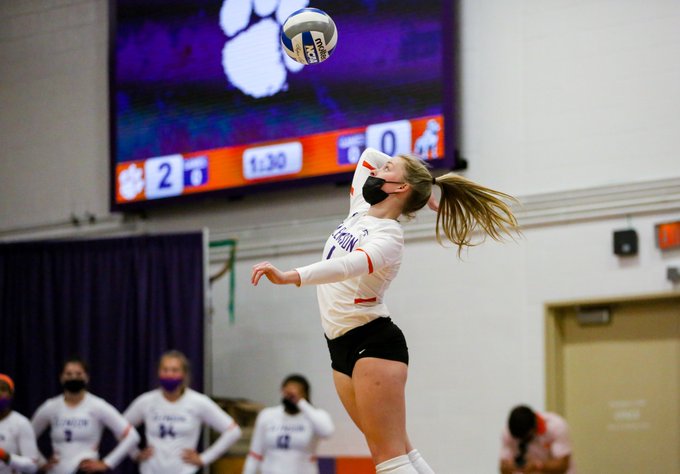 CLEMSON, S.C. – The Clemson volleyball team will play 12 non-conference matches before opening its 18-game ACC slate, head coach Jackie Simpson Kirr announced Wednesday. The 2022 schedule is highlighted with matches against 11 opponents in the top-100 of the final 2021 NCAA RPI, eight opponents that made the NCAA Tournament and four opponents who finished in the top-25 on the final AVCA poll.

All regular season matches inside Jervey Gym are general admission seating and free to the public. Dates and opponents are subject to change. The Clemson volleyball broadcast schedule and start times are expected to be announced at a later date.

The Tigers will begin their season with an exhibition match at Georgia on Aug. 20. The regular season starts the following week when Clemson hosts the Big Orange Bash on Aug. 26-27 in Jervey Gym against Austin Peay, LA Tech and Presbyterian College. The home slate continues with the Clemson Invitational Sept. 2-3 where the Tigers welcome Jacksonville State, The Citadel and Gardner-Webb for a two-day tournament.

The Tigers follow both tournaments by welcoming South Carolina to Jervey Gym for a Palmetto State showdown on Tuesday, Sept. 6. Clemson hits the road to Johnson City, Tennessee on Sept. 9-10 for the first road matches of the regular season where the Tigers will face USC Upstate, Georgia State and host ETSU. The Tigers will conclude their non-conference slate in Birmingham, Alabama on Sept. 16-17 against host Samford and Murray State.

Clemson opens ACC action in Jervey Gym on Sept. 23 against Virginia Tech before playing Wake Forest on Sept. 25. The Tigers hit the road for a two-game stretch at 2021 ACC Champion Louisville (Sept. 30) and Notre Dame (Oct. 2) before returning home to host NCAA Semifinalist Pitt (Oct. 7) and Virginia (Oct. 9).
The remaining ACC schedule consists of five games in Jervey Gym and seven road matches. The home schedule continues with Syracuse (Oct. 21), Boston College (Oct. 23), Miami (Nov. 11), NC State (Nov. 13) and Georgia Tech (Nov. 18). Other road contests consist of matches at Georgia Tech (Oct. 12), Duke (Oct. 16), NC State (Oct. 28), North Carolina (Oct. 30), Florida State (Nov. 4), Miami (Nov. 6) and Wake Forest (Nov. 25).
For complete coverage of Clemson volleyball, follow @ClemsonVB on Twitter, Instagram, Facebook and Tik Tok.