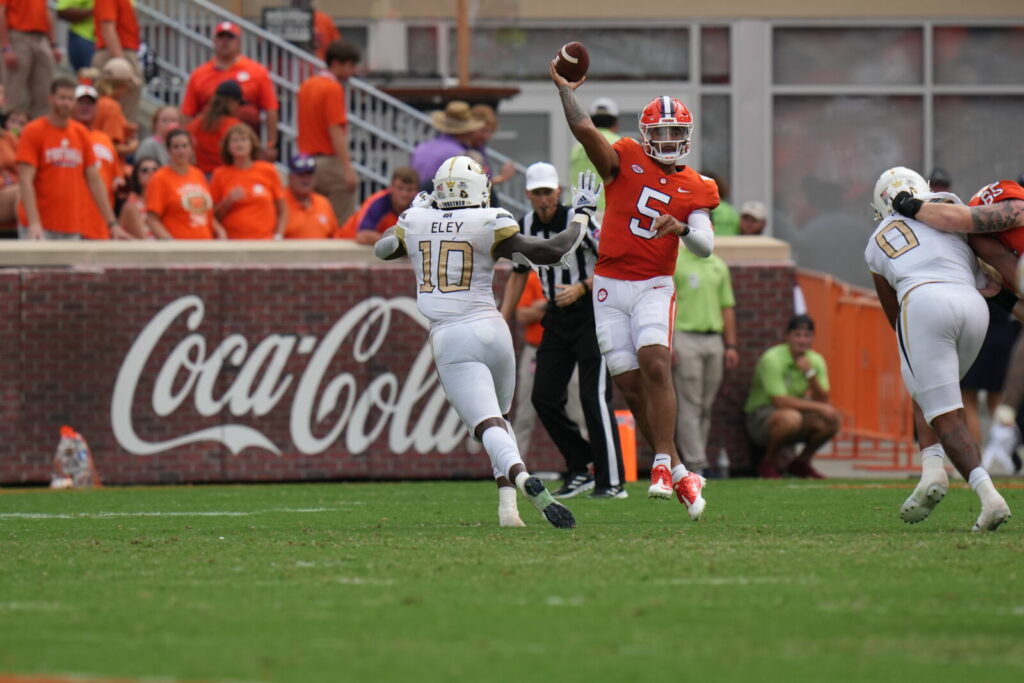 What Can We Expect From DJ This Fall
By: Grayson Mann
For Clemson Quarterback DJ Uiagalelei, his second season and first year as the full-time starter for the Tigers did not go according to plan. DJ grabbed the attention of the nation during his freshman year, showing off a cannon for an arm and putting up some impressive stats in his two starts taking over for Trevor Lawrence, who was sidelined due to Covid protocols. DJ threw for nearly 800 yards and four touchdown passes as he led his team to a win against Boston College and showed out on national television in an overtime loss to Notre Dame.
So, in year two, what happened?
2021 was a season unlike any other for Clemson. Expectations could not be higher, and the team, faced with an unprecedented number of injuries and other situations, still managed to find a way to win ten games and win their bowl game against Iowa State. Every moment, DJ was under the microscope. Each throw, each decision, and every action taken by DJ on the field was closely examined and, in many cases, heavily scrutinized.
We did see bright spots in 2021, the DJ that Dabo said made Trevor look "normal". Games like Wake Forest, where DJ used his size and strength to escape pressure and heave a ball down the field to Beaux Collins for a huge play against a top ten opponent. Games like Louisville, where he led many scoring drives to spark what would be a six-game win streak to end the season.
DJ is not fazed by the noise, rather, he has taken it all in and used it as fuel for this offseason. At the ACC Kickoff in Charlotte, not only did DJ look better, but he carried himself in such a manner that demonstrated he was determined to prove his doubters wrong. The Clemson QB said he has a "new appreciation for winning" when asked about everything that he has faced so far.
What can we expect from the signal caller in 2022?
DJ has a new outlook and all the tools necessary to make a name for himself this fall in college football. DJ has the seal of approval from his head coach and teammates alike and looks ready to roll as fall camp starts very soon.