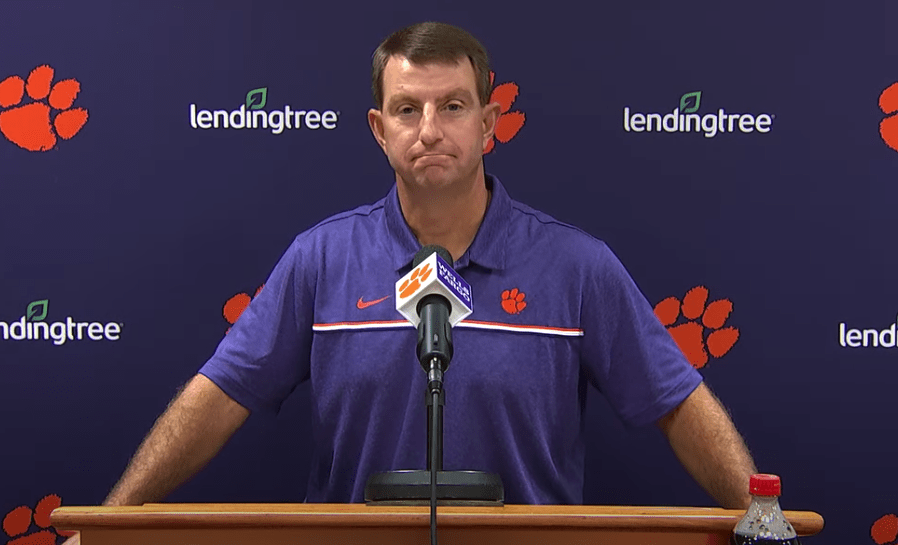 On Tuesday morning, Head Football Coach Dabo Swinney began his weekly press conference with the media via zoom just like any other weekly press conference, talking about Clemson Football. Swinney was asked about the upcoming opponent, the Virginia Cavaliers and stated:
"One game in and they already look like the team that went to the ACC Championship Game last year."
Fifteen minutes into the presser, some media members asked Swinney to expand on his comment from his radio show the night before. During his weekly radio show on 105.5 The Roar last night, Swinney mentioned that he doesn't like to mess with the team's uniforms for any reason. This belief is one that Swinney strongly believes in and Tiger fans have seen very little change in Clemson's business suits since he took over in 2008.
One Clemson "media member" asked Swinney why he doesn't support social justice messages on the Tigers uniforms this season. In no way shape or form did Swinney elude to not agreeing or supporting the messages that are being worn by his players during his radio show.
Swinney's response:
""It is not that I am not for the messages, I just think I am a very traditional guy. I came from Alabama. It is really the same reason we don't change our uniform." Swinney stated. "that was something that was made available this year. I certainly support our guys in that effort. So that is really what I was talking about."
The same media member followed up the question asking Swinney if he supported the players' messages and whatever else they are planning throughout the season as Trevor Lawrence and Darien Rencher have hinted at stuff coming throughout the season.
Swinney was then asked by an ESPN associate media member what Black Lives Matter meant to him and if he saw it as a "political organization".
Swinney's response:
""Yeah, I would refer back to what I said this summer. Black lives more than matter. Black lives are worthy, and they equally matter. It is no different."
All of this was sparked from Swinney mentioning that he does not like to change up the uniforms. Again, Swinney did not mention anything about the social justice stickers or messages that the players are wearing.
While some media members are focusing and gearing up for covering the #1 Clemson Tigers Football Team as they look to improve their home winning streak to 24 straight games inside of Death Valley, others are focusing on trying to fish for a clickbait title for views and clicks.