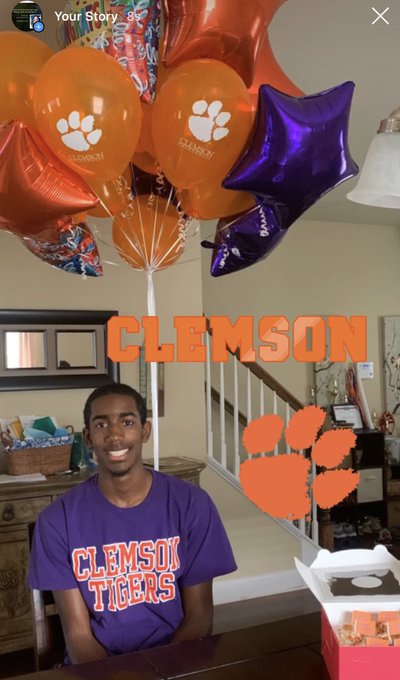 By: Neil Burnett
Clemson gets commitments from high school players in all sports. Over the weekend, Joshua Beadle from Columbia, SC, became the most recent of these commitments. Nearly eight million students currently participate in high school athletics in the US. More than 480,000 compete as NCAA athletes, and just a select few within each sport move on to compete at the professional or Olympic level. Getting a basketball scholarship offer from ANY college is a big deal. Making a commitment to one of these schools is an even bigger deal.
Beadle plays basketball for Cardinal Newman high school. He is ranked as the 12th best combo guard in the country for the 2021 class. He helped lead his school to the state championship in the South Carolina Independent High School division. As a matter of fact, two straight state championships.
In the last two seasons for Beadle, he helped lead his team to a 47-15 record. In 62 games, he averaged 14.4 points a game, 5.6 rebounds per game and 3.3 assists. He shot 52% from the field, 41% from 3-point, and 75% from the charity stripe. After winning two straight state championships, there is still more to be accomplished.
"My goal this year is to win another championship. Recently, we've won two back to back championships so hopefully we can get one more to go out with a bang for my senior year. Some things that will improve is my shooting and my right hand and my average numbers will increase as they have every year. We did lose a lot of seniors last year though three of them were starters."
Making a college decision where you are going to spend 3-4 years of your life at the next level is tough. Beadle narrowed his choices down to Clemson, Wake Forest, VCU, Charleston and Furman. From the outside, Clemson or Wake Forest seemed like the obvious choices, but in Beadle's mind, it wasn't that easy.
"It didn't really come down to a "top two schools" because all the schools were great and that's what made the decision so difficult. Just knowing the right fit and what's going to be best for me. Some differences that made me choose Clemson was a lot of things, like a good business school which is what I plan to major in. Clemson has nice facilities, as well as an opportunity to play which is what you want at this level. It's the highest level you can play at in college basketball." Beadle told CSN.
Being from Columbia, were the gamecocks ever a consideration for his services? "I always had a good relationship with the coaching staff at USC because they're good people but I feel as if I didn't fit their play style and I'm sure they may have thought the same thing so I never really thought I'd play there." Their loss is Clemson's gain.
Relationships are important to Beadle, both on and off the court.
"My parents definitely played a part in making my decision. We had to weigh pros and cons of schools and what we thought was right for us. I have three sisters and a brother. Sister Tyra played basketball at Newberry College and I grew up getting beat down by her. I don't really model my game after any player but I watch a lot of De'Aaron Fox and Lou Williams.
My relationship with Coach Brownell is a good relationship. We Facetime randomly so that says a lot about it. Really, the whole Clemson staff has done a good job with creating a relationship between me and them. Clemson's success influenced it a lot because yeah, they won some big games but I feel I could help them win even bigger games and get us to a dance. Everybody wants to go dancing in college basketball for sure!"
Clemson basketball has gone through some up and down's over the past few years but the future is looking bright. Coach Brownell added two big time players in the 2020 class. This past weekend, he continued the trend with Joshua Beadle. Welcome to Clemson, big man.