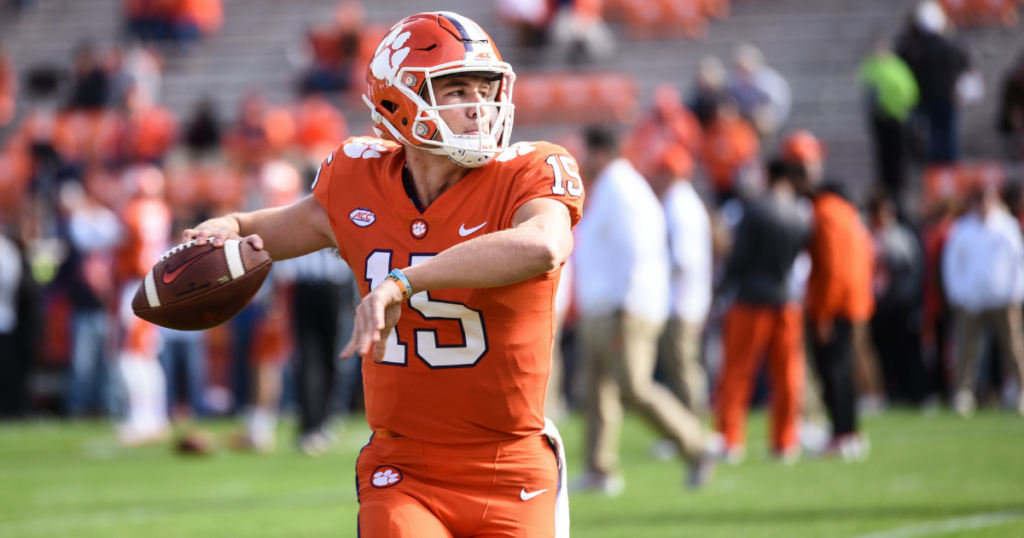 Dabo On The Impact Of Hunter Johnson
By: Grayson Mann
Dabo Swinney had many great things to say about his team last Tuesday for Clemson media day. He spoke about his enthusiasm to get started, certain players, and the state of his QB room. Dabo is a coach who always speaks with energy and enthusiasm but when he got the chance to speak about his transfer quarterback Hunter Johnson, Dabo smiled from ear to ear.
"I don't think I've ever gone into a fall camp with a quarterback room like we have on this team. Getting Hunter Johnson, I can't tell you how many comments I've had from our players on Hunter Johnson. The type of leader he is and his skill. I think people forget he's a heck of a player. He's had a lot of ups and downs, but he is a sixth-year veteran who's been through a lot. What he brings to that room, especially for DJ and Cade, you don't have that in many quarterback rooms to have that level of talent and readiness available."

Dabo spoke very highly of what Johnson brings to the table not just as an athlete, but as a leader and presence for the team. In the college football world today, with the number of transfers out of a program, it is incredibly rare to have that level of depth as Dabo points out. Hunter Johnson is a quarterback with the talent to start at most programs, so having his kind of experience is incredibly valuable for the Tigers.
Hunter Johnson's value for the Tigers is reminiscent of Jalen Hurts in 2018 who was the backup at Alabama. Hurts was a positive presence in the quarterback room who stayed the year following his benching in the national championship against Georgia. In the 2018 SEC championship, disaster struck when Tua Tagovailoa went down with an ankle injury in the fourth quarter. Jalen was ready to roll and led two scoring drives in the same building he was benched in and helped Alabama win the SEC title.
While Hunter was not benched for either DJ or Cade, he can still be ready with his level of experience should his number be called. With the Dabo Swinney seal of approval, Tiger fans should be pumped for Hunter Johnson to be back on campus.