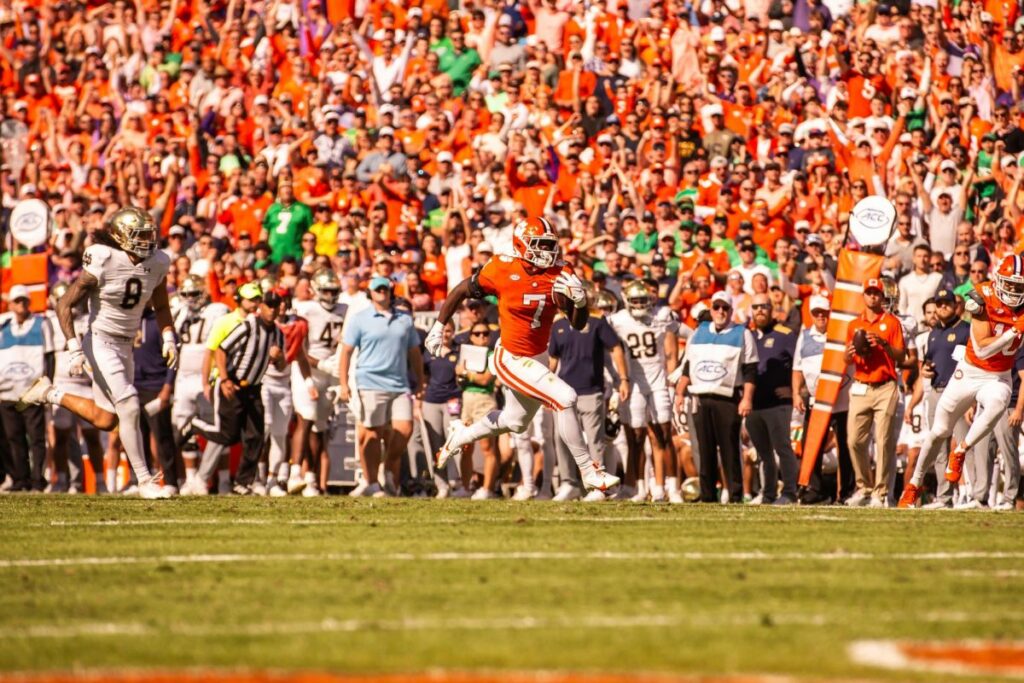 Clemson won the turnover margin, 3-2, its first positive turnover differential Sept. 30 against Syracuse.
Clemson's three takeaways represented Clemson's first multi-takeaway game since forcing three turnovers against Syracuse in late September.
Clemson improved to 52-1 (98.1 percent) under Dabo Swinney when recording at least three takeaways.
Clemson committed no penalties in the game, its first penalty-free game on record since committing no infractions in the 1952 Gator Bowl against Miami (Fla.) to end the 1951 season.
Clemson held Notre Dame to 146 passing yards. Clemson has now held five straight opponents to fewer than 200 passing yards for the first time since a 10-game streak in 2019.
Running back Phil Mafah recorded a career-high 186 rushing yards on a school-record-tying 36 carries and a career-high-tying two rushing touchdowns.
Mafah's 36 carries tied the school record shared by Jim Shirley (36 against NC State in 1951), Ray Yauger (36 against Wake Forest in 1969) and Raymond Priester (36 against Maryland in 1997).
Mafah's 186 yards were the most by a Clemson player since Kobe Pace's 191-yard rushing performance against Wake Forest in 2021. That game also represented Notre Dame quarterback Sam Hartman's last start at Memorial Stadium prior to Saturday.
The game was Mafah's first 100-yard rushing game of the season and the second of his career, joining a 106-yard performance against Louisville in 2022.
The 100-yard rushing game was the first by a Clemson player since Will Shipley in the season opener at Duke.
Mafah posted the first 150-yard rushing game by a Clemson player since Will Shipley's 172-yard rushing performance against Syracuse last season.
Mafah has now rushed for multiple touchdowns in back-to-back games for the first time in his career.
Mafah became the first Clemson running back to rush for multiple touchdowns in consecutive games since Will Shipley's three-game streak to open the 2022 season.
Mafah scored his seventh rushing touchdown of the season on a 41-yard scoring run in the first quarter.
The 41-yard run was the longest touchdown of Mafah's career, surpassing a 39-yard touchdown run against Louisville last season.
Mafah's 41-yard touchdown run came on the first play following Hamp Greene's then-career-long 15-yard punt return. Greene added a 16-yard return later in the game.
Mafah added his second score of the day on a one-yard plunge in the third quarter. It was his eighth of the season, adding to his single-season career high.
Mafah's 36 attempts represented the first 30-carry game by a Clemson player since Wayne Gallman recorded 30 carries against Auburn in 2016.
Mafah's 36 attempts were also the first 20-carry game of the season for Clemson and the first by any Clemson player since Cade Klubnik's 20 carries against Tennessee in the 2022 Orange Bowl.
Clemson has now rushed for a touchdown in 51 consecutive home games, the nation's longest active streak. The last team to hold Clemson without a rushing touchdown in Death Valley was Troy in 2016.
Clemson has now scored at least one rushing touchdown in a national-best 75 of its 78 games since the start of the 2018 season. Clemson has also rushed for multiple touchdowns in a national-best 63 games since 2018.
Quarterback Cade Klubnik completed 13-of-26 passes for 109 yards with a touchdown.
Klubnik recorded his first career punt in the game, a 37-yard surprise pooch kick in the third quarter that pinned Notre Dame at its four-yard line.
Wide receiver Tyler Brown scored on a nine-yard touchdown reception in the second quarter.
The touchdown was Brown's third of the season and his first since a two-touchdown performance against Florida Atlantic in September.
Defensive tackle Tyler Davis made his 48th career start to tie Greg Huegel for the seventh-most career starts in Clemson history. It added to his existing school record for career starts by a defensive player.
Defensive tackle Ruke Orhorhoro played his 50th career game.
Linebacker Jeremiah Trotter Jr. recorded the 10th sack of his career in the first quarter.
Trotter added the second interception return for touchdown of his career in the second quarter on a 28-yard pick-six. It was his first of the season and first since last year's game against South Carolina.
Trotter became the first Clemson linebacker to record multiple pick sixes in a career since Dorian O'Daniel (two from 2014-17).
Trotter's pick six was Clemson's third of the season, joining ones by Wade Woodaz and Nate Wiggins. Clemson's three interception returns for touchdowns this season are its most since 2017 (three) and are now one shy of the single-season school record (four in 1990).
Trotter added his second sack of the day in the fourth quarter, giving him his first multi-sack game of the season and the third of his career.
Trotter became the first Clemson linebacker in Dabo Swinney's tenure to record three career games with 2.0 or more sacks.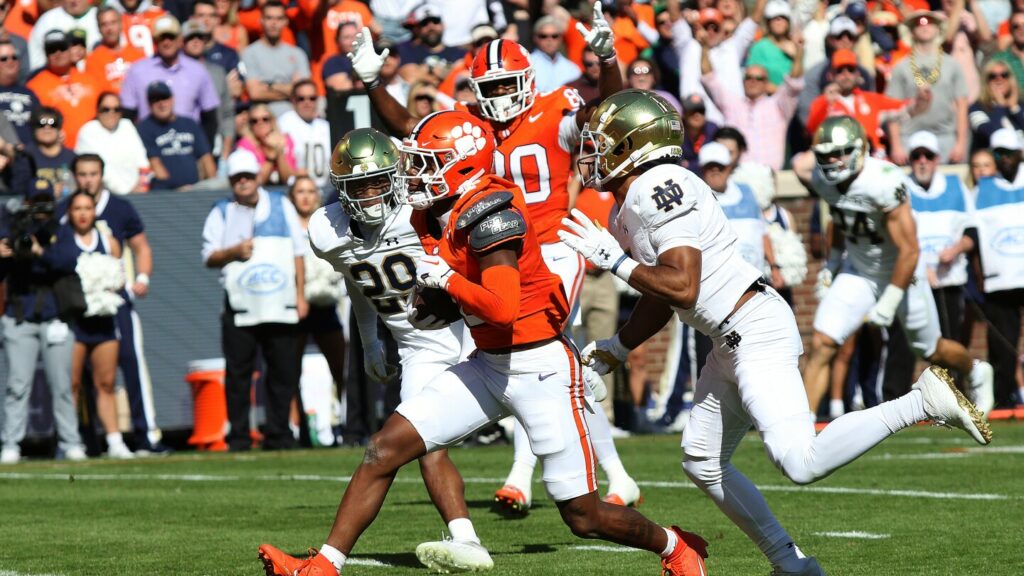 Safety Kylon Griffin recorded his first career interception in the fourth quarter.
Notre Dame's field goal on the Irish's opening possession represented only the second time this season Clemson had surrendered points on an opponent's first drive this season. It was the first time a Clemson opponent scored on its first drive since the season opener against Duke.
Clemson recorded the game's first takeaway when long snapper Philip Florenzo recovered a muffed punt in the first quarter.
Punter Aidan Swanson placed a career-high five of his six punts inside the 20.
Collectively, Clemson downed six punts inside the 20, a season-high.
Greene recorded 57 yards on six punt returns, both career highs. Greene's 57 punt return yards were the most by a Clemson player since Amari Rodgers' 57 against Wake Forest in 2019.
Clemson started its fifth different offensive line combination through nine games this season.
Clemson played the first game of its second three-game homestand of 2023. Clemson's three-game homestands in both September and November this year represent Clemson's 34th and 35th homestands of three or more games in school history (1911, 1920, 1922, 1949, 1959, 1962, 1969, 1974, 1979, 1982, 1983, 1987, 1988, 1989, 1990, 1991 (2), 1993, 1998, 2000, 2001, 2002, 2003, 2004, 2006, 2007, 2008, 2011, 2012, 2014, 2015, 2020, 2022 and 2023 (2)).
Captains for the contest were defensive tackle Tyler Davis, running back Phil Mafah, defensive tackle Ruke Orhorhoro and center Will Putnam.