Clemson Upsets No. 12 Notre Dame 31-23
CLEMSON, S.C. – A strong defensive effort late in the fourth quarter and a workhorse performance by running back Phil Mafah secured Clemson a 31-23 upset over No. 12 Notre Dame and gave Head Coach Dabo Swinney his 166th career win to pass College Football Hall of Famer Frank Howard (165 from 1940-69) for sole possession of the Clemson record for career head coaching wins.
Clemson won the turnover margin, 3-2, and committed no penalties, its first penalty-free game on record since the 1952 Gator Bowl against Miami (Fla.). Clemson's defense kept Notre Dame out of the end zone for the first half of Saturday's game. Jeremiah Trotter Jr. impressed with 11 tackles, 2.5 tackles for a loss, 2.0 sacks and a pick-six.
Mafah rushed for two touchdowns and recorded a career-high 186 yards rushing on a school-record-tying 36 carries.In the air, Cade Klubnik was 13-of-26 and threw for 109 yards, including one touchdown pass.
Notre Dame opened the scoring on its first possession with a 43-yard field goal. Clemson responded on its second possession when Phil Mafah cut to the outside, broke into open field and ran the ball 41 yards for the touchdown, giving Clemson a 7-3 lead with 6:57 left in the first quarter.
Following scoreless drives by both teams, Philip Florenzo recovered a muffed punt to give Clemson the ball on Notre Dame's 22-yard line. Jonathan Weitz made a 21-yard field goal on the ensuing possession to increase Clemson's lead to 10-3 with 2:08 left in the first quarter. Notre Dame responded with a 30-yard field goal of its own to make the score 10-6 with 13:34 left in the first half.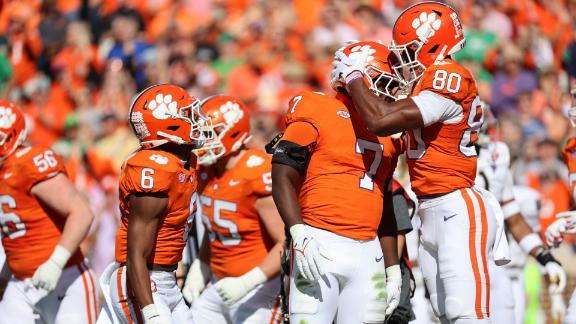 A pair of back-to-back 17-and 18-yard completions put Clemson in the red zone on its next possession. Klubnik finished the drive by connecting with Tyler Brown on a nine-yard touchdown pass in which Brown shook off a tackle en route to the end zone. On Notre Dame's second play of its ensuing drive, Jeremiah Trotter Jr. jumped Sam Hartman's pass and returned an interception 28 yards for a touchdown, giving Clemson a 24-6 lead with 8:33 remaining in the first half.
Clemson's red zone defense kept Notre Dame out of the end zone and forced the Irish to settle for another field goal, this one from 23 yards. Clemson took a 24-9 lead into the locker room.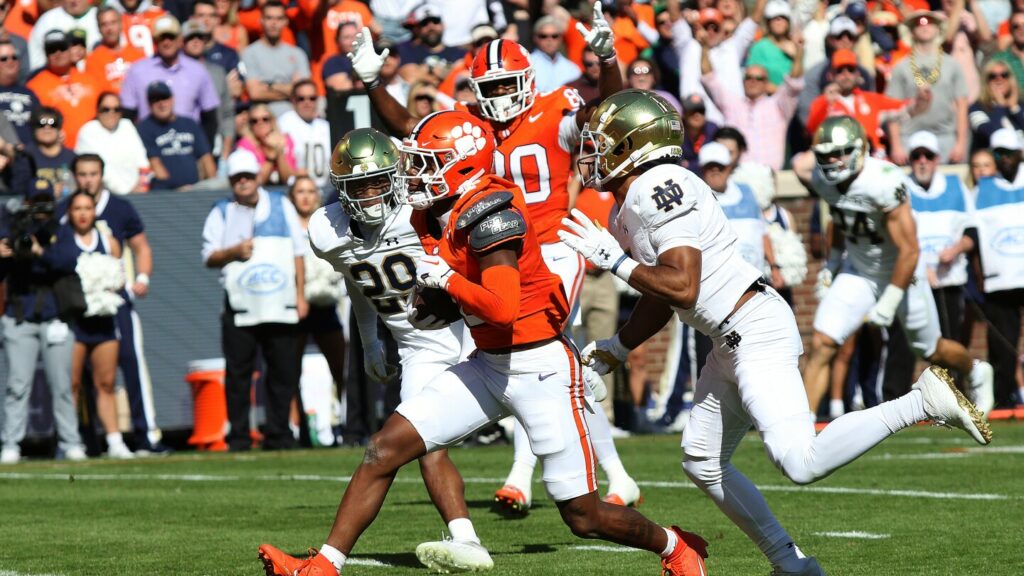 On Clemson's third play of the second half, a Klubnik pass got deflected and intercepted by Xavier Watts, and his return gave Notre Dame the ball on Clemson's two-yard line. Audric Estime then ran the ball in two yards for Notre Dame's first touchdown of the game.
Mafah later capped an 11-play, 75-yard drive with a one-yard rushing touchdown to put Clemson up 31-16 with 8:08 left in the third quarter. Notre Dame again cut the lead when Hartman escaped the pocket and ran 26 yards for another Notre Dame touchdown.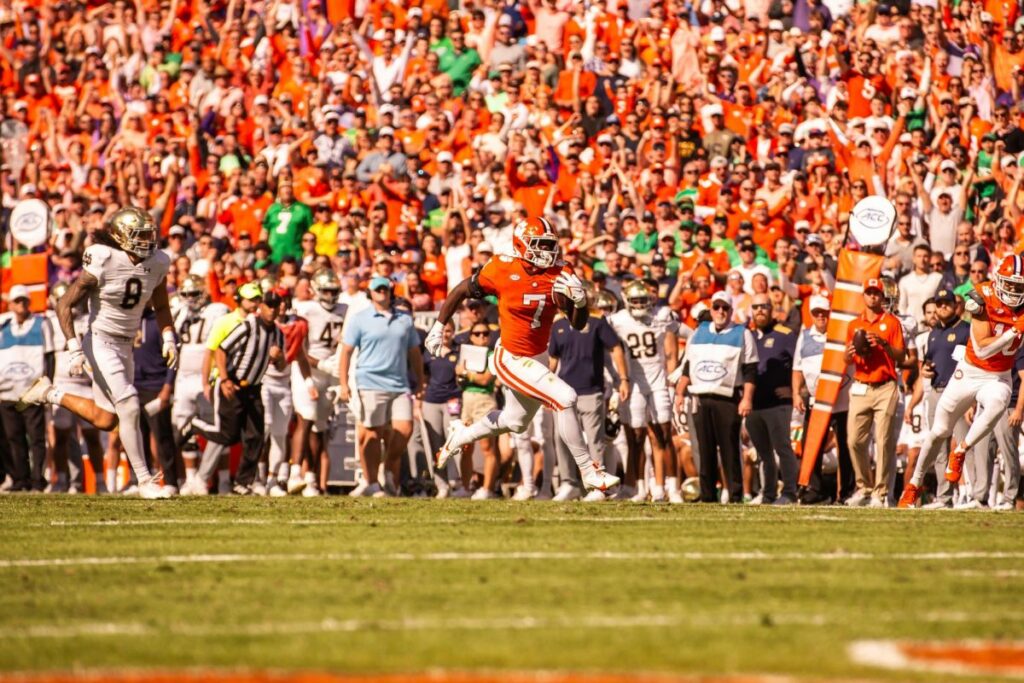 Both Clemson and Notre Dame went on to punt on their next four consecutive possessions. Redshirt freshman Kylon Griffin came up with Clemson's second interception of the day to give Clemson the ball back with a 31-23 lead in the final two minutes of the game. However, a fumble by Mafah gave the ball right back to Notre Dame with 1:47 left to play. 
Clemson's defense closed in on Hartman repeatedly, forcing four consecutive incompletions for a turnover on downs. Three runs by Mafah and an intentional incompletion by Klubnik ran out the final minute of the game to secure the 31-23 upset.