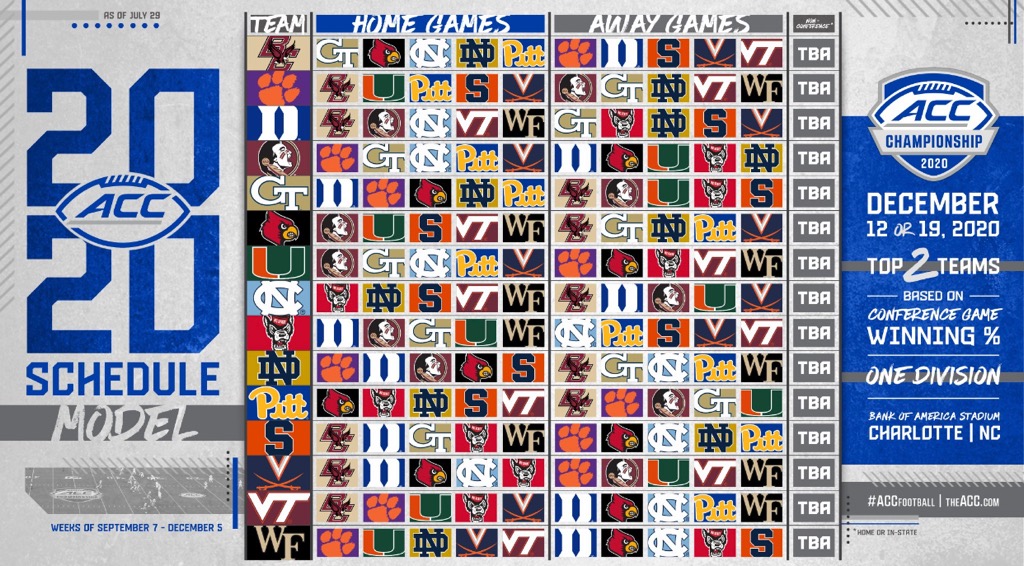 ACC Plans for the 2020 Football Season
By Makenna Biehl
    The ACC Board of Directors released on Wednesday that all ACC fall sports will begin competition on the week of September 7th-12th. "Today's announcement outlines a specific path for ACC fall sports to return to intercollegiate athletic competition using comprehensive protocols put forward by our ACC Medical Advisory Group. As a league, we understand the need to stay flexible and be prepared to adjust as medical information evolves in conjunction with local and state health guidelines," said Kent Syverud, Chair of the ACC Board of Directors. 
    The 2020 scheduling model allows each football team to play a total of 11 games, ten in the conference, and one out of the conference. Each school has been given the ability to choose what out of conference game they will play as long the game is played in the home state of the ACC institution, and all non-conference opponents meet the medical protocol requirements put in place by the ACC. Notre Dame will also be playing a 10-game conference schedule and will be eligible to compete in the 2020 ACC Football Championship Game. 
https://theacc.com/documents/2020/7/29/20_21_FBL_UpdatedSchedule_1920x1080_7_29_FINAL.pdf
    The ACC Football Championship game will either be help on the 12th or 19th of December at Bank of America Stadium in Charlotte, North Carolina. The faceoff will be between the top two teams in the conference, which will be based on the highest conference-game winning percentage.
https://theacc.com/news/2020/7/29/general-acc-announces-plans-for-football-and-fall-olympic-sports.aspx