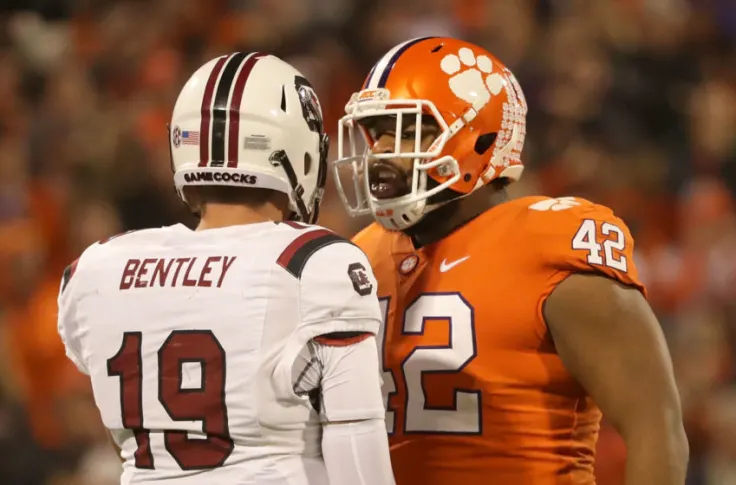 Reminiscent Rivalry: The Last Time Clemson Hosted Carolina
by: Grayson Mann
The Palmetto Bowl, Tigers against Gamecocks, or simply Clemson-Carolina. Whatever you choose to call it, the annual state championship is finally here, with significant implications for both programs. The rivalry has had it all from close matchups, big-win streaks, and meaningful involvement from both fan bases that give this matchup a personal feel. For nearly half a decade, this rivalry has missed something that has gone under the radar and will play an essential role in Saturday's matchup, a game in Death Valley.
The Tigers and Gamecocks last played in Clemson, South Carolina, on November 24th, 2018, and a lot has changed since this matchup for both programs. Let's examine this matchup and add some fun tidbits to see just how long it has been since this rivalry was on Clemson's home turf.
By looking at the final score, you can see fireworks across the board, with freshman phenom Trevor Lawrence and Jake Bentley combined for six touchdowns and nearly 1,000 yards through the air. Clemson would do most of their damage through the air, as Clemson would have seven scores on the ground with many backs plus a certain power ranger getting involved. Travis Etienne, Tavien Feaster, and Adam Choice would combine for six scores, with Choice leading the pack with three, Etienne with two, and Feaster with one score. The 2018 Tigers could score at will running and throwing and chose to do their damage this way and added some spice to it with the fridge package as Christian Wilkins would get in on the fun and add a rushing touchdown of his own. In Christian's career, he would rush for two scores and add a receiving touchdown to his illustrious career at Clemson. In the NFL, Wilkins has scored a touchdown with his current team, the Miami Dolphins.
When you revisit the fireworks show, this was one of the closer games that are a part of Clemson's current seven-game winning streak. This game comes in third as 2014 and 2016 as those were won by eighteen and five points, respectively, with the average margin of victory for the Tigers coming near 26 points. Jake Bentley and Deebo Samuel came to play, as the duo connected on ten catches, over 200 yards and three scores to keep the Gamecocks in this game until the Tigers ultimately pulled away. This Tigers team would win the National Championship, defeating the Crimson Tide 44-16.
A lot has changed since that matchup.
For South Carolina, they had a new leadership change, firing Muschamp on November 15th, 2020, and hiring Shane Beamer, who has been a rising star in the college football world, with many Gamecock fans hoping he is the man to right the ship in Columbia. In Clemson, Jeff Scott and Tony Elliot would share play calling with Brent Venables running the show on the defensive side. Today, Wes Goodwin and Brandon Streeter are the Clemson Coordinators, making the role their own as they look to help get the Tigers back into the postseason.
These teams may look completely different since that 2018 matchup, but the rivalry is still as intense as ever, with the highly anticipated matchup kicking off on Saturday, November 26th, at noon.