Uiagalelei and Rattler: The Battle For The State
The state championship is finally here, with bragging rights, a massive win streak, and much more on the line as the Gamecocks and the Tigers face off to wrap up the regular season.
Clemson is fighting for their playoff lives with a spark ironically handed to them by their dreaded rival as South Carolina shocked the country and blew out the Tennessee Volunteers putting up over sixty points in the process. The big story is not about the playoff implications from the game but the performance of Spencer Rattler, who threw for over four hundred yards and six touchdowns which nearly matches the eight touchdowns he has thrown for all year. This was a monumental win for the program, as Rattler and company have been the lightning rod for criticism whenever it came around.
When looking at storylines for this rivalry, trying to decipher how this plays out, you can start with the quarterback position, where there are more similarities than you initially believed.
Like Rattler's time in South Carolina, DJ's first year as the full-time starter was met with enormous expectations, only to see those crash and burn as Uiagalelei struggled to lead a depleted Tigers team back to the playoffs but was still able to lead the team to ten wins, which is a part of a twelve-year run. If you remove the Tennessee game from the picture, Rattler's first year in Columbia and DJ's first year as the starter were very similar statistically, both throwing more interceptions than touchdowns and not living up to what fans were hoping for. Despite everything thrown at both quarterbacks, that is not how their stories end. DJ has made a complete turnaround, elevated his play, and has the Clemson Tigers within striking distance for a playoff spot. DJ is on pace for over 2,500 yards through the air and 500 yards on the ground and is currently at 27 total touchdowns. For Rattler, he has led South Carolina to some impressive wins that will go a long way in shaping the upward trajectory of the program Shane Beamer is trying to take. Carolina has stumbled in areas but has beaten teams like ranked Kentucky, putting up 40 on a rising Vanderbilt team and, most notably, hanging sixty-three on top-five Tennessee, ending their playoff hopes in a beatdown. Rattler put up his best performances in those games, throwing for nine touchdowns to only one interception.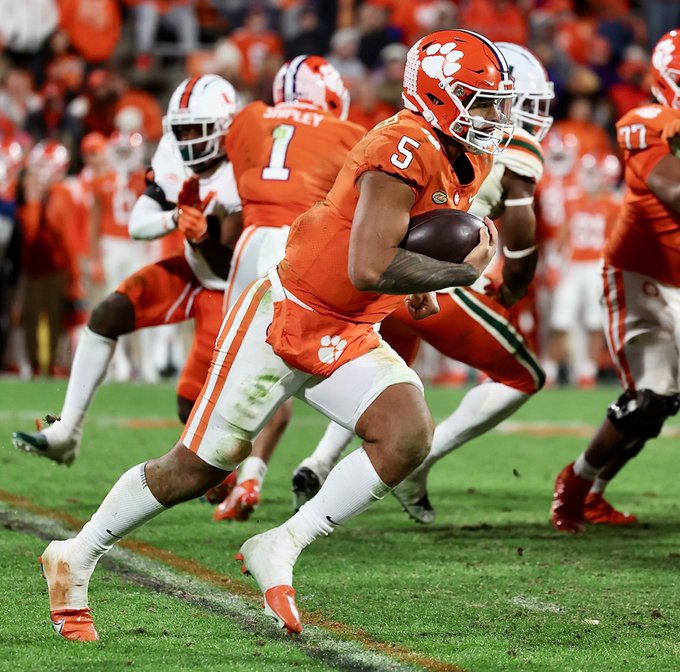 These quarterbacks may not have the same journey to get to Saturday's highly anticipated matchup, but both have overcome obstacles that make this weekend's kickoff feel more special. For Carolina, it would be ending a streak going on seven years which ties Clemson's previous record in this rivalry back to the 1930s, and picking up a significant win for the program. For the Tigers, a win on Saturday would break that record, and Clemson would hold the longest win streak in this rivalry at eight. They would finish the regular season at 11-1 and, with a win in Charlotte, may have a great shot at getting back into the postseason.
The Palmetto Bowl kicks off at noon on Saturday, November 26th.