The South Carolina Gamecocks are coming to Clemson for the first time in four years. Fresh off a victory over 5th ranked Tennessee, Shane Beamer's boys are coming in confident. Will that be enough to tame the #8 Clemson Tigers? It will take a lot more than that. Vegas sees the Tigers as a 14.5 favorite.
QB Spencer Rattler is coming off a career game against Tennessee, passing for 438 yards on 30 of 37 passing and six touchdowns. WR Antwane Wells, Jr., hauled in 11 of those passes for 177 yards but didn't find the endzone. Rattler spread the ball around pretty well, hitting 11 different receivers. Josh Vann scored two touchdowns on his only two receptions. The usc passing game certainly hit on all cyclinders against the 130th ranked Tennessee defense.
USC opened up the playbook against the Vols and the Tigers staff now have 11 games to formulate a game plan, but no tape was better than the Tennessee fiasco. The gamecocks have a versatile weapon in senior Dakereon Joyner. He works out of the shotgun and gets out in the passing lanes. At 6-3 232, Jaheim Bell was used in many ways against the Vols. A tightend by trade, he rushed 17 times for 82 yards, and caught five passes for 39 yards and two touchdowns. Top running back Marshawn Lloyd is expected to return from nagging injuries.
The gamecock defense has been a roller coaster ride most of the season. While the offense racked up over 600 yards of total offense and scored 63 points, the defense did give up 38 points, and over 500 total yards. It was more of Tennessee stopping themselves more than the gamecock defense stopping them. Tennessee quarterbacks combined to complete 29 of 50 passes for 355 yards and four touchdowns. The Vols ran for 152 yards, a 5.4 YPC.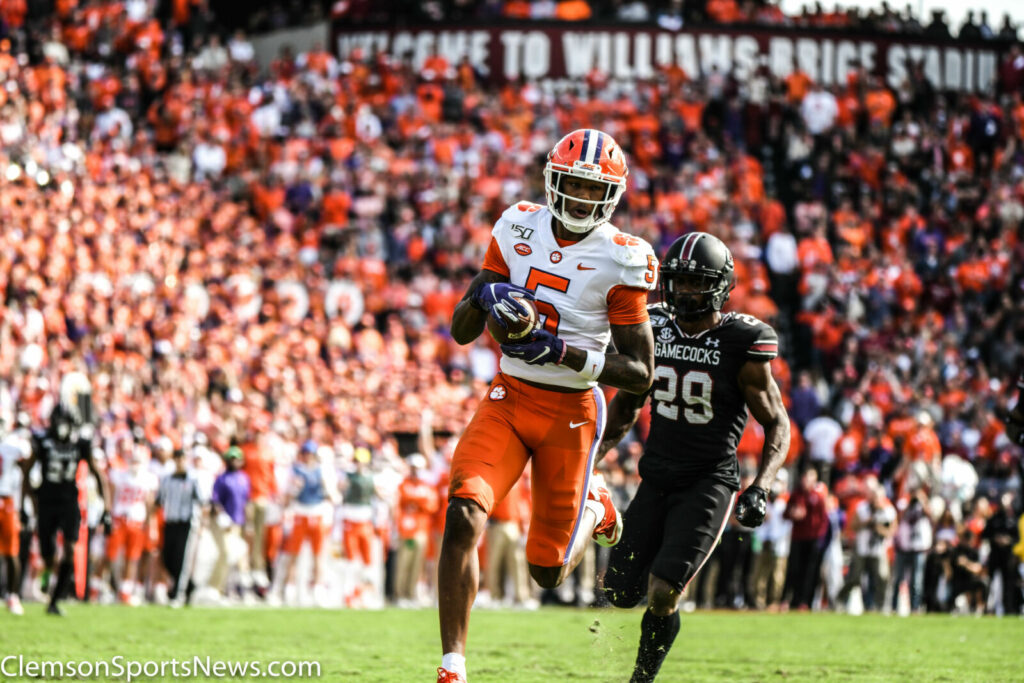 The defense couldn't get to QB Hendon Hooker or Joe Milton, getting only one sack and very little pressure but instead focused on coverage in the secondary. When they arrive in Death Valley, they will be facing a different animal.
Clemson runs a balanced offense and brings a powerful run game with RBs Will Shipley and Phil Mafah ready to feast on that gamecock defensive front. USC is giving up an average of 188.4 yards per game, and the Tigers are averaging 183.4 yards per game. RB Kobe Pace returned last week against Miami, adding another weapon to the backfield. Shipley only needs 40 yards to top the 1000-mark for the 1st time in his career. He has rushed the ball 171 times for 960 yards (5.6 YPC) and has scored 13 touchdowns. Ship also has 28 receptions out of the backfield for another 128 yards. Look for the run game to set up the passing game.
QB DJ Uiagalelei is completing 65% of his passes for 22 touchdowns and six interceptions. He is also 2nd on the team in rushing with 654 yards (3.8 YPC) and six more touchdowns. Freshman Antonio WIlliams leads all receivers with 48 receptions for 512 yards and three touchdowns. WR Joseph Ngata has avoided the injury bug this year, and has chipped in with 27 receptions and 389 yards, scoing twice. TIghtends Davis Allen and Jake Briningstool have combined for 52 receptions, 626 yards and 8 touchdowns. This duo will look to make a difference and give the gamecock defense more to worry about than just a couple of fast wide receivers.
The Clemson defense played a full 4-quarter game against Miami last week. They held the Hurricanes to 98 total yards in the game, highlighted by only allowing eight in the 1st half while building a 24-0 lead. LBs Jeremiah Trotter, Trenton Simpson, and Barrett Carter have come into their own and controlled the 1st five yards past the line of scrimmage. This defense can be smothering at times, and seems to be peaking at the right time. Rattler didn't see much pressure from a limping Tennessee defense. DC Wes Goodwin will be sending blitzes from all different directions to make life a little harder on the SC QB.
Several things to think about. Several. South Carolina is 7-0 in night games this year with some pretty amazing victories over Charlotte, Georgia State and South Carolina State. Tennessee was by far their best game of the year, at night. However, they are ofer in four day games. Saturday's gametime? Noon. The Tigers are currently riding a 40-game home winning streak. Who is more motivated? The gamecocks to break it or the Tigers to keep it. Clemson is also on a 7-game rivalry win streak. Who is more motivated to break it or extend it?
Noon. Saturday. Full house. Be there.