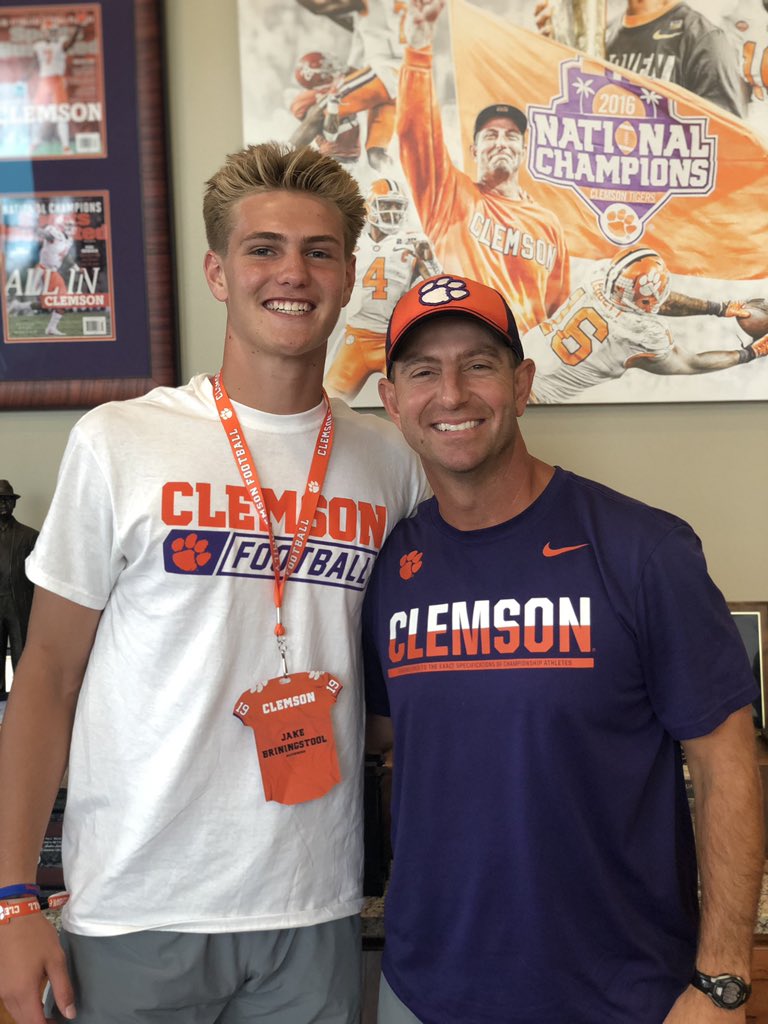 Clemson extended a rare 2021 offer to a quickly rising Tight End prospect out of the State of Tennessee. When late last week as camp was coming to a close, Jake Briningstool picked up the offer as he exited camp with his family in tow after the visit to Clemson.
Jake has seen his stock rise quickly in the past few weeks and offers from the likes of the defending National Champions to tag on top of tenders from the likes of Alabama, Arkansas, FSU, Duke, Georgia, GT, Kentucky, Michigan, Michigan State, Nebraska, and pretty much the majority of the the power five.
We had the chance to speak with Jake following his visit to Clemson and he was very cordial in taking the time to give us his thoughts.
CSN: Jake give us your thoughts on Clemson as you exited this week from your camp stay.
JB: "I had a great trip to Clemson last week. The whole entire program welcomed my family and I with open arms and treated us very well! The program is incredible. " "The way the coaches treated my siblings and parents was awesome they were very outgoing and very nice to them and it made me feel really good about the programs culture! Camp was great! "
CSN: What was working out with Coach Pearman like? What was his message to you?
JB: " I really enjoyed getting coached up by Coach Pearman… he's a great coach on the field and an even better man off the field. He said he liked the way I use my length to an advantage against defenders and he also likes my ability to be a versatile 3 down tight end."
CSN: What was it like at Clemson? We hear all the time that Clemson camps are different than other schools.. have noticed this?
JB: Yes definitely Clemson is different than most other camps I've been to. The biggest difference I would say is the fact that Clemson doesn't "test" any of the campers such as height, weight, 40 yard dash etc.
CSN How did you find out about the offer ? And how was it conveyed ?
JB "Coach Swinney was the one to extend me the offer and it was an unbelievable experience!
CSN: What made you say "this is different" when taking in all the facilities and seeing campus and camp its self.. how did Clemson distinguish itself from other visits you have been on?
JB: Clemson is a special place and all of their facility's and staff members show it it's a great place to be and I really enjoyed my time up there and I can't wait to get back!