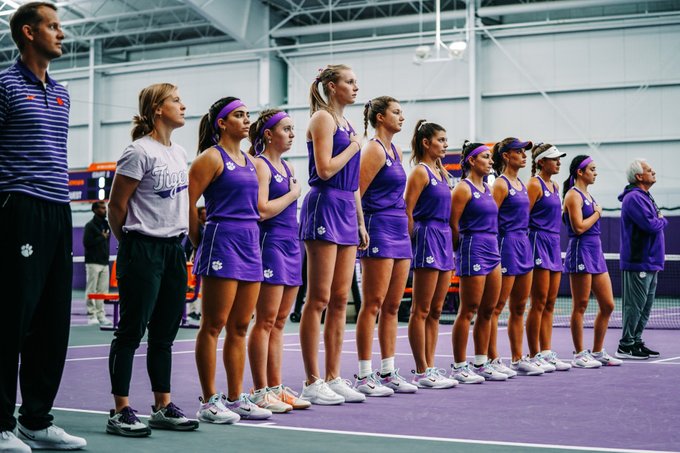 CLEMSON, S.C. – The Clemson Women's Tennis team (4-0) continued its strong start to the season on Sunday with a doubleheader sweep over Presbyterian College and Wofford at Duckworth Family Tennis Facility. It marks the second consecutive doubleheader sweep for Clemson, and all four matches thus far were won by a score of 7-0.
"I'm super proud of our team and where the girls are physically and mentally," said Head Coach Amy Sargeant. "The girls have learned a lot this week and I commend their commitment to trusting the process and challenging themselves to get better."
The team was anchored by a powerful start in doubles, where they took two of three matches from the Blue Hose. The pairing of Jenna Thompson and Samantha Buyckx got the Tigers off to a great start, winning their match 6-1. This result was coupled with another 6-1 victory by Sophia Hatton and Leigh Van Zyl, and got the Tigers their first point of the day.
Clemson kept up its positive momentum into singles, as all six Tigers took their matches to earn the sweep. Dani Medvedeva and Thompson were particularly dominant, winning their matches 6-1, 6-0 and 6-1, 6-1, respectively.
Hatton continued her impressive start to the season with a convincing 6-3, 6-2 victory on Court 3. Van Zyl earned her first singles win for the Tigers, defeating her opponent convincingly, 6-1, 6-1.
"Today was a great day for our freshman Tiger, Leigh Van Zyl," said Sargeant. "She went 3-0 on the day, playing aggressive tennis and working through some adverse moments to finish out that last match."
The Tigers did not slow down in their second match of the day, again earning the doubles point for the fourth time in their four matches this season. Clemson continued to handle its business into singles play, winning four of the six matches in straight sets.
Van Zyl won both her singles matches on the day, along with Cristina Mayorova and Medvedeva.
The Tigers will be back in action on Saturday, January 28th, as they head to Malibu, California to face the Pepperdine Waves.