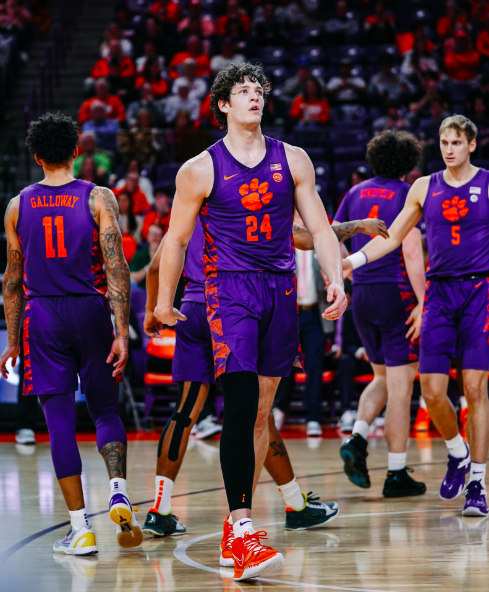 Clemson Cruises Past Georgia Tech 72-51 on Wednesday Night
Four Tigers Score in Double Figures in Win
CLEMSON, S.C. – Clemson University men's basketball earned a 21-point win over Georgia Tech on Wednesday night.
The Tigers (17-4, 9-1 ACC) got out to a hot start in the contest, roaring to a 12-0 lead highlighted by a four-point play from Brevin Galloway (Anderson, S.C./Seneca). Galloway tallied 12 of his 14 points in the first half which helped Clemson to a 37-28 lead at the break.
In the second half, Clemson held Georgia Tech to just 30.3 percent from the field and just 34.4 percent in the whole game. Clemson led for 39 minutes of the contest.
Freshman Dillon Hunter (Atlanta, Ga./Westlake) recorded his first start of the season and delivered a season-high nine points with an efficient 3-for-5 from the field. Hunter totaled a season-high 36 minutes.
Three other Tigers scored in double figures with Hunter Tyson (Monroe, N.C./Piedmont), PJ Hall (Spartanburg, S.C./Dorman) and Chauncey Wiggins (Grayson, Ga./Grayson). Tyson netted 12 points. Hall continued his recent string of good play with a team-leading 17 points and seven boards. Wiggins shined with a season-high of 12 points off the bench connecting on 5-of-7 from the field.
Next up for the Tigers is a road trip to the Sunshine State to face off with Florida State in Tallahassee, Fla. on Saturday, Jan. 28. The game is slated to tip off at 5 p.m. and air on ACCN.\