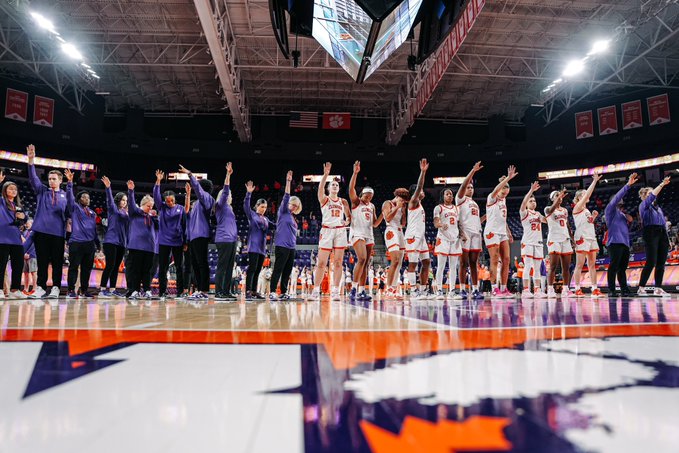 Women's Basketball Run Ends in WNIT Super 16
CLEMSON, S.C. – Behind a 22-point third quarter, Florida downed Clemson, 73-63, on Thursday night inside Littlejohn Coliseum in the Super 16 of the WNIT. The win moves the Gators to 19-14 and into the Great 8, while the loss ends the Tigers' season at 19-16.
Brie Perpignan led the Tigers with 17 points in her final game in Littlejohn Coliseum, while Amari Robinson added 13. Eno Inyang was the only other Tiger in double-figures with 10. Nunu Bradford added seven points a career-high eight assists, six rebounds and a career-high six assists. The Gators had five players in double-figures and hit 13 three-pointers.
Florida jumped out to an eight-point lead behind the play of KK Deans, who made three threes before the first quarter media. The Tigers rallied, however, and ended the quarter on a 6-0 run to cut the lead to one at 19-18.
The teams traded baskets to open the second quarter, until Clemson grabbed its first lead of the game at 27-26 on a basket by Inyang. The Tigers led by as many as three, but Florida regained the three-point lead with 3:25 to go. Two free throws by Inyang cut the Gator lead to one heading into halftime at 36-35.
Florida out-scored Clemson 22-10 in the third quarter to take a 13-point advantage behind a 12-2 run. Florida pushed the lead to 18 with 6:41 to go in the fourth. Clemson did cut the lead to nine inside the final minute, but were unable to get closer.
Head Coach Amanda Butler was seeking her 300th career win in the contest, but will have the opportunity to open the 2023-24 season. Butler is a 1995 and 1997 Florida graduate where she played basketball, and she served as the program's head coach for ten seasons.
"It's tremendous momentum. Most of these guys are gonna be back, and we've built a really solid foundation, not just with the pieces on our team, and the people that showed up for us," said Butler. "Next year, we're gonna be playing longer than we did this year – Mark my words."