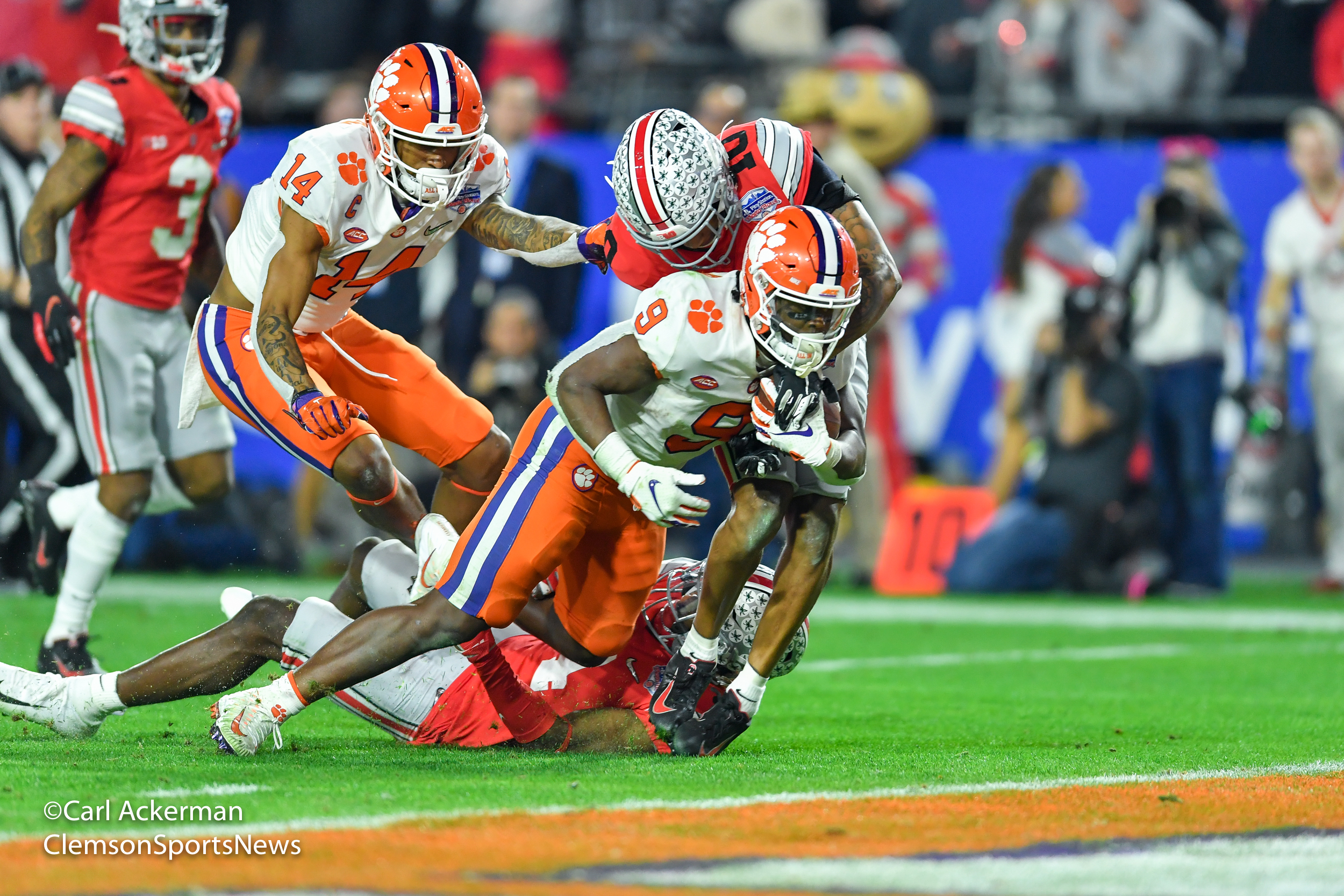 Post Game Thoughts
Let me get this out of the way. When the game is in our home, it is set up a certain way. Clemson championship on head, Clemson flags, Clemson blankets, my little Clemson tiger statue holding a coot by the throat, you know the one. It was no different last night, except for one thing. My daughter-in-law gave new Clemson pajamas so I kind of just saw this as an omen. With my Dabo Swinney/Kevin Steele/Dan Pearman/Billy Napier Clemson-paw football by my side, bring on the game. Oh, it was an omen alright. Getting down 16-0, the hat was thrown (only throw it once and leave it lay), football was thrown (didn't break anything) and a march to the bedroom to get rid of those new orange pajama pants. Enough was enough.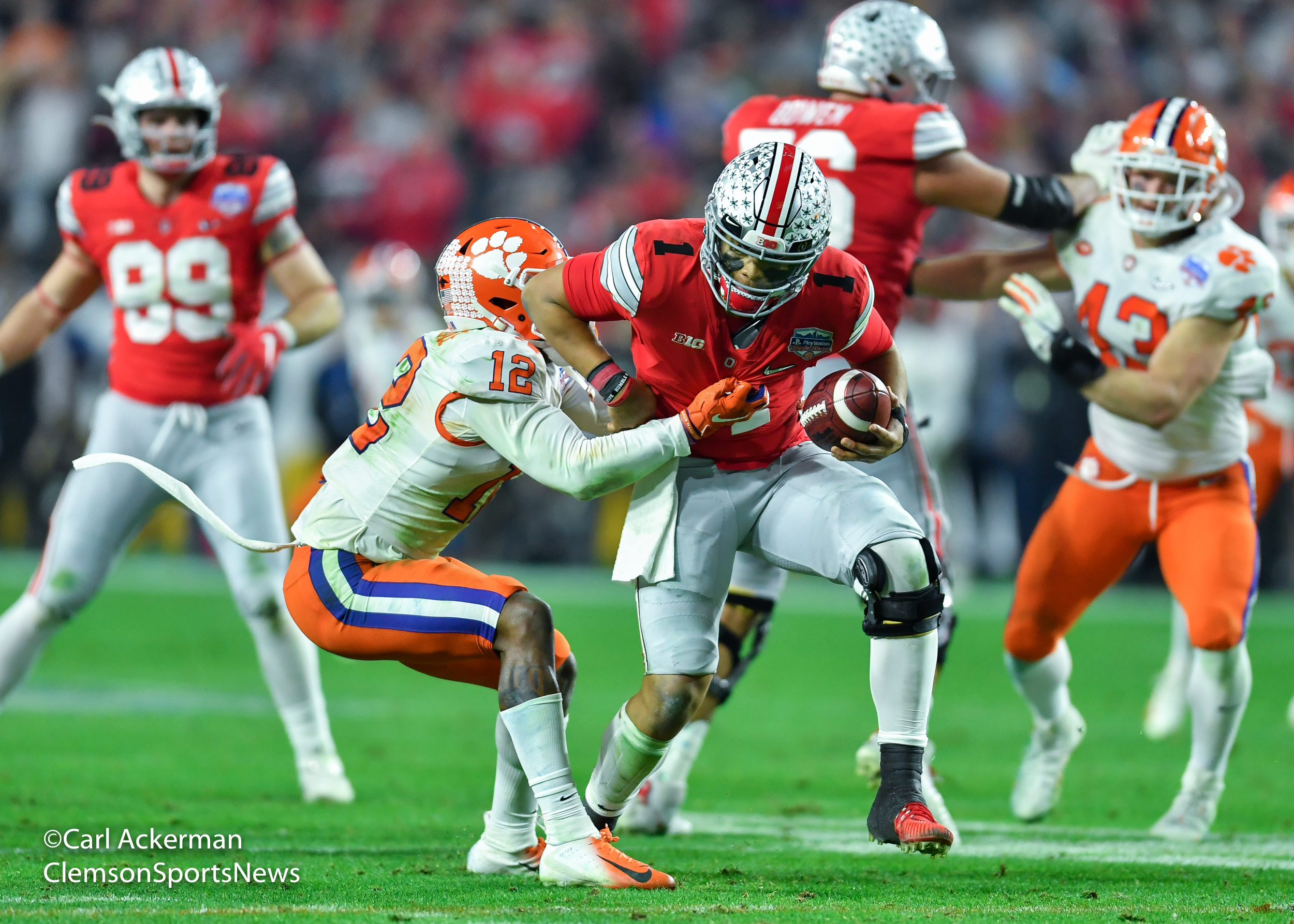 This game definitely lived up to the expectations. Ohio State came into the game with a huge chip on their shoulder. The "Ohio State has never beaten Clemson" rhetoric has been beaten into their heads ever since the game was announced. Lots and lots of storylines for this game. All the hype with the #1 recruit in the 2018 class against the #2 recruiting in the 2018 class.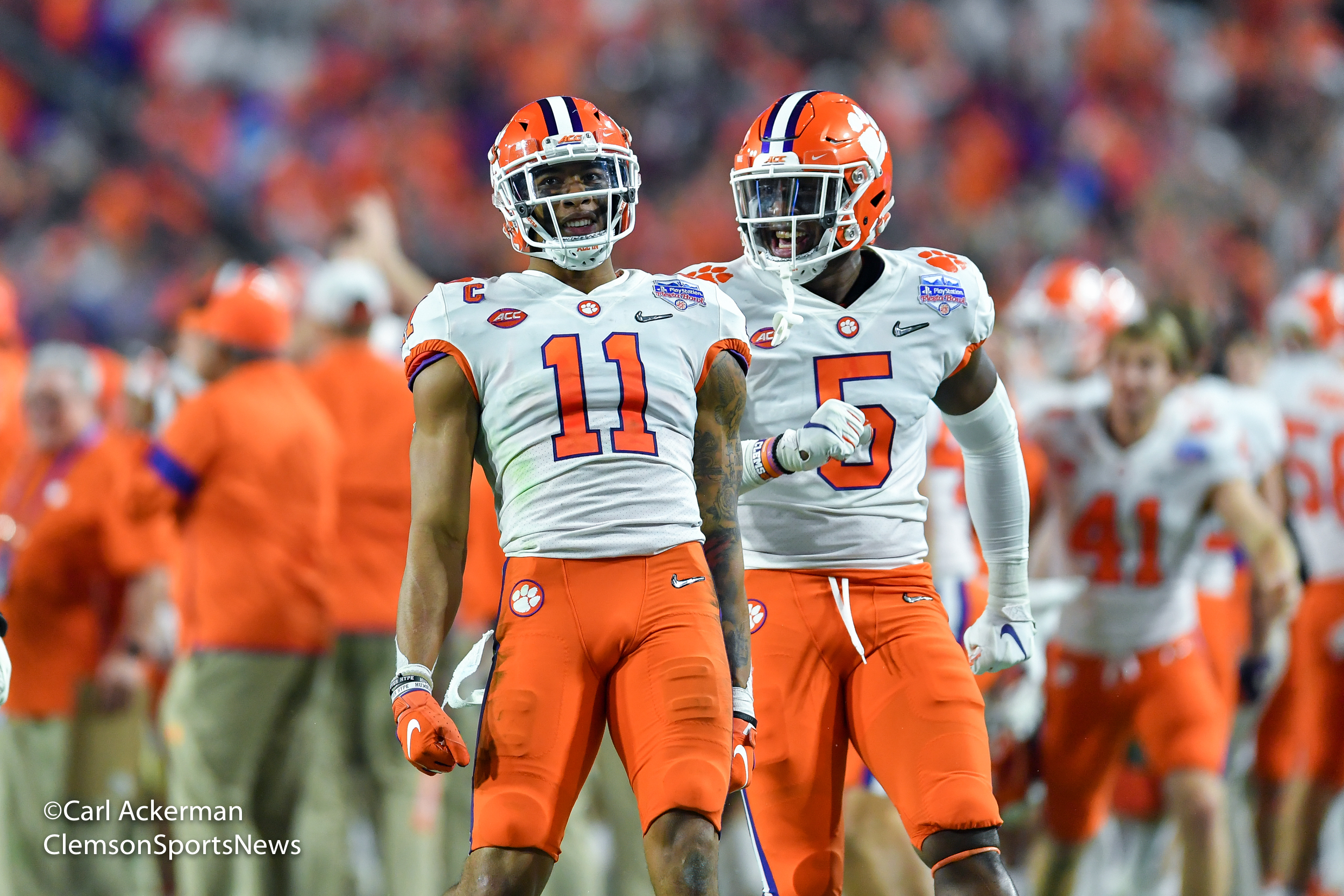 Clemson faced probably the best running back in the country in J.K. Dobbins. All along, the key to victory was Clemson stopping the Ohio State running game. They did, to a point. Oh, that stats don't bear that out, but you have to look deeper than the gaudy numbers. Dobbins had 18 carries for 174 yards and one touchdown. Looking realistically, 132 of those yards came on two plays. For the rest of his 16 carries, Dobbins got 42 yards. He did catch 6 passes as well, including 3 coming down the stretch on their last drive. Clemson had to stop Dobbins in order to win the game. They sort of did and sort of didn't. You be the judge. For the record, Take out the two long runs from Dobbins and the buckeyes ran 37 times for 64 yards. Running game stopped, Clemson wins.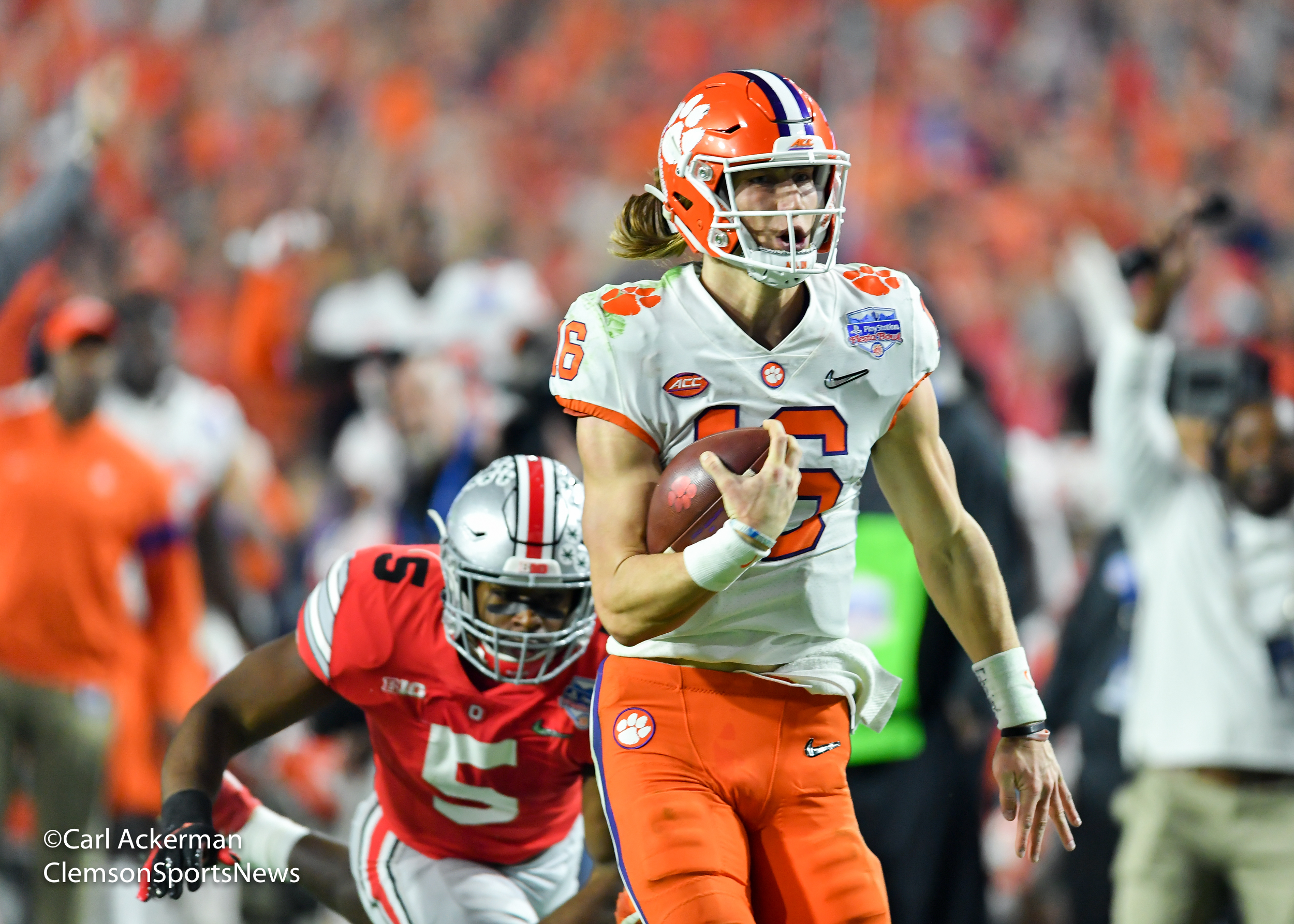 Want another storyline that sounds kind of humorous now? "How is Clemson going to deal with Chase Young?" Chase Young leads the country in sacks with 16.5, can't be stopped. Oh woe is me, how is Trevor Lawrence ever going to survive the night. Well, 2 total tackles, zero sacks and only one quarterback hurry, Young is now an afterthought. Clearly, a media propped "Heisman candidate". Amazing how far one good game with 4.5 sacks against an undermanned Wisconsin team can propel you if you're on a team that the media loves.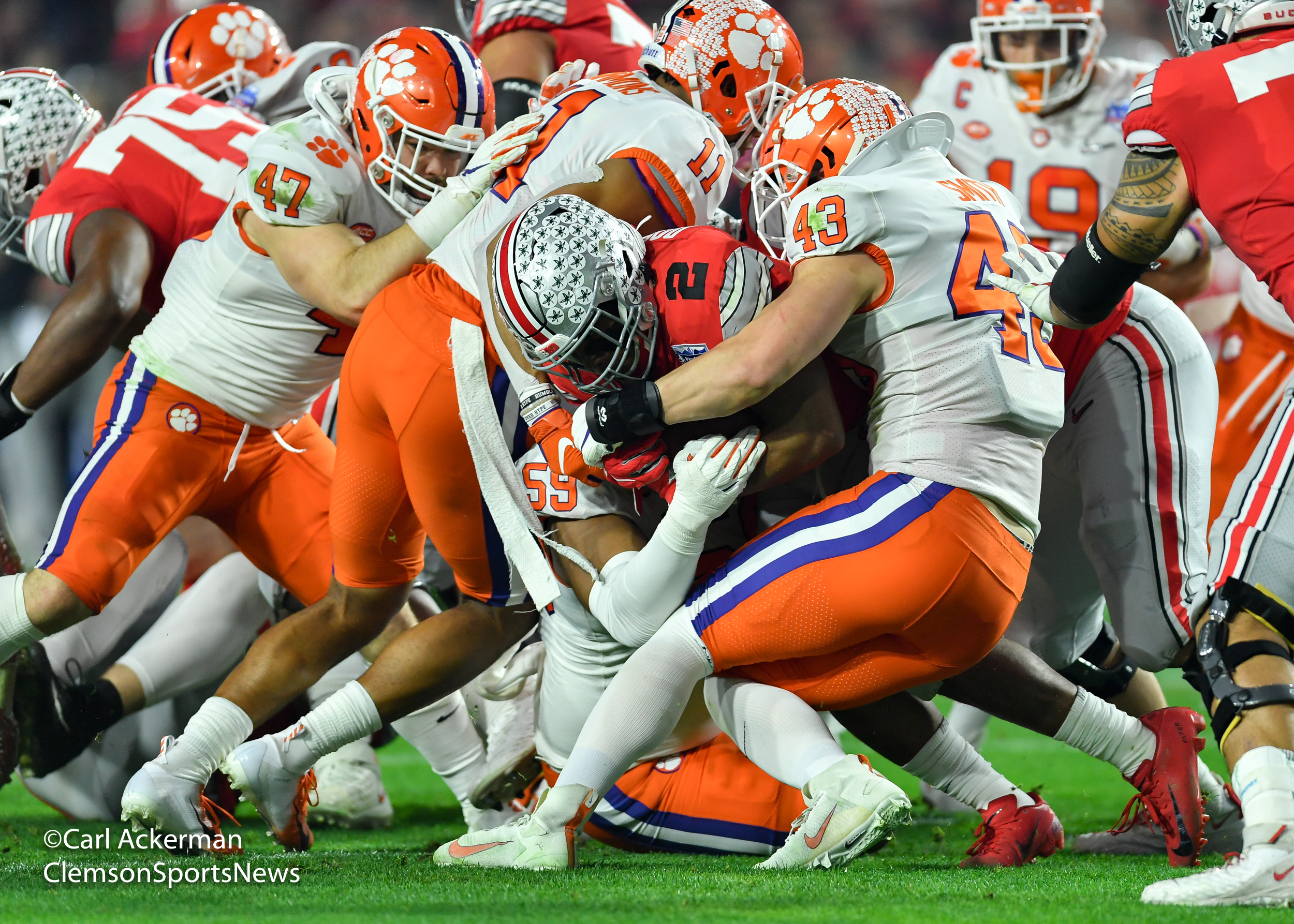 Trevor Lawrence and Travis Etienne took this team on their shoulders and took this Clemson team to victory. There were dropped passes, there were ill-timed penalties, there were missed blocks. TL and ET shrugged that off and led this team to victory. However, there were unsung heroes. Nolan Turner went from goat to hero so fast it would make your head spin. On a 4th one at the Clemson 23, he gave up the go ahead touchdown. After Clemson scored to take back the lead, the goat became the hero. From the Clemson 23 (once again), with a wide open JK Dobbins in the flats, Fields decided to go at Turner again. The WR took a wrong turn, and Turner made the right turn, picking the ball off with 0:37. Goat to hero.
There are so many storylines, it's hard to get them all in one sitting. We are all breathing a huge sigh of relief this morning, waking up to 29 in a row and going to the National Championship game once again. This game was exhausting for both fan bases. As expected, all fan bases outside of Clemson are screaming about the officials. Was that a fumble and score by Justyn Ross? Maybe.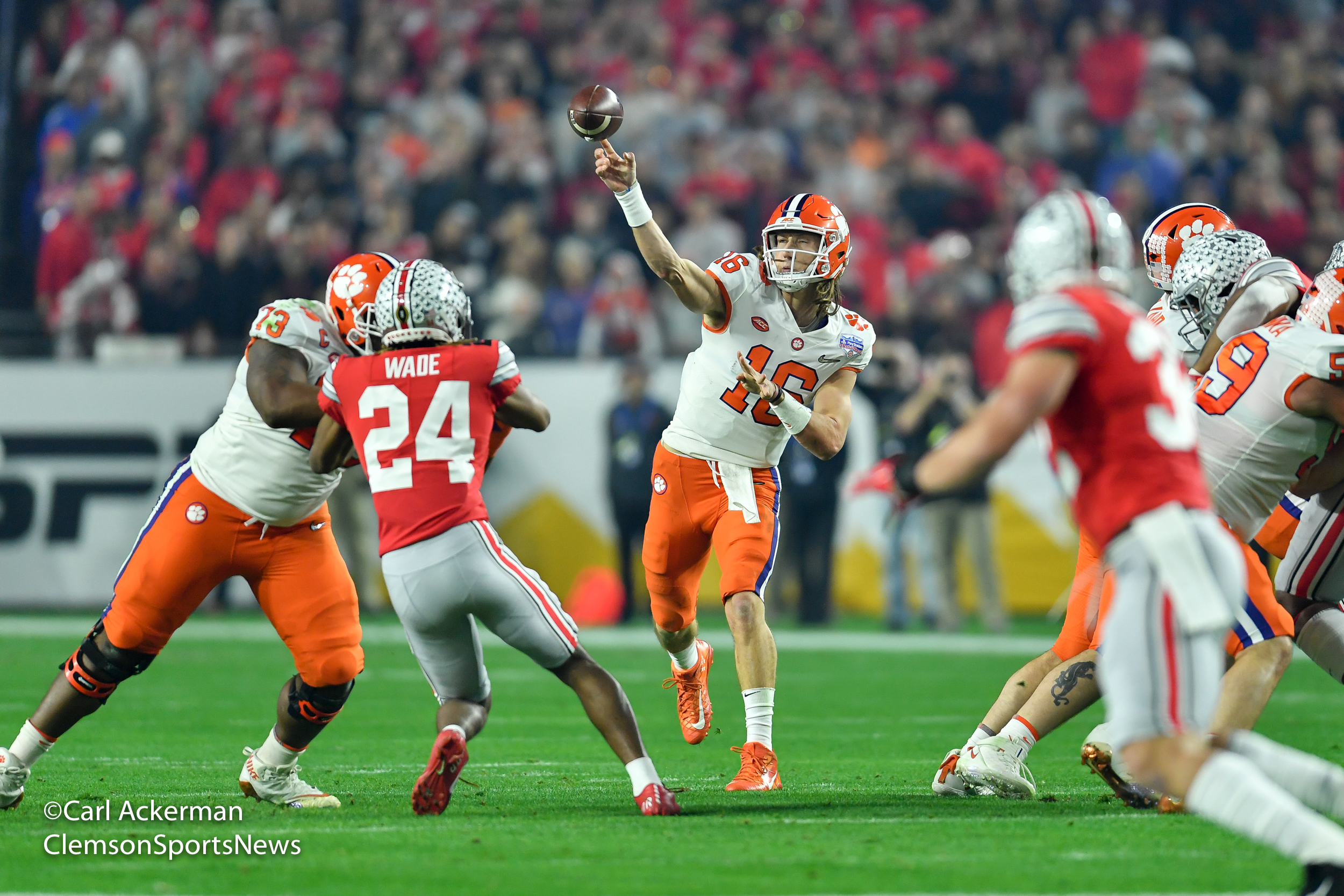 There is zero guarantee how the game would have ended based on that one score. Clemson had nothing to do with the call. Was the hit on Higgins legal that caused him to miss most of the first half? Maybe, but Clemson had nothing to do with that call either. Here is the bottom line; Clemson finished, and Ohio State didn't. Clemson drove the ball 94 yards in 4 plays to take the lead. Ohio State drove the ball 57 yards to the Clemson 23 with the game on the line and Turner's interception ended it. Had nothing to do with the officials.
Next up, LSU.