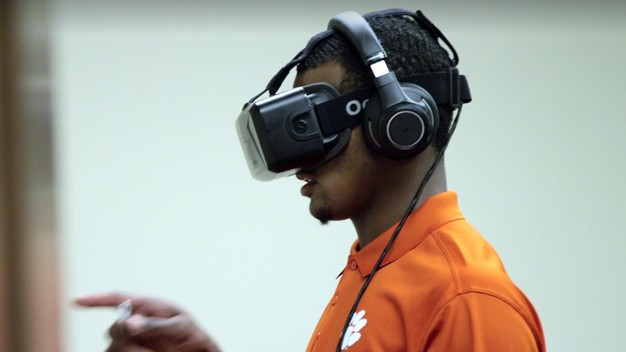 Virtual Reality helps in preparing the Tigers for road match-ups
Clemson, SC
Throughout the Texas A&M press conferences Monday and Tuesday, players and Coach Dabo Swinney alike made mention of the use of a Virtual Reality system that helps to put the player right in the middle of an opponent's field, it gives them a chance to see and hear what it is like to be right in the middle of a game there. Coach Swinney stated in his weekly press conference Tuesday that this is the teams third or fourth year using the system.
However, this football season, the Tigers will have a difficult time using the virtual reality to prepare for what awaits them at Kyle Field seeing that the Tigers have not travelled to College Station since 2004. As they have yet to program the VR system with Kyle Field.
Coach Swinney took the chance to explain what this virtual reality system is and just how the team uses it to their advantage. "Typically for us, what we try to do, is everywhere that we go is that we get our video people to go in before the game and they will try to capture the presence of the stadium. It's a good tool to use, you've got a guy that's an op-ed somewhere, and you can go there, literally, you can put these virtual things on and its like you're standing there." Coach Swinney said Tuesday.
The team also uses the VR to not only prepare for road games, but they also use it as a recruiting tool. "If you ever want to know what it is like to be in Death Valley, we will put it on you. It is not like you are watching a video, you're there. You can turn around and see the crowd and me. It is the craziest thing.
Using the VR is beneficial for everyone, the quarterbacks are able to use it from a 7 on 7 standpoint.
The team has everything loaded up in their library. It allows them to run through a whole script and allows the coaches to create whatever situation they want based on the video that they have available. The running backs are able to run through a blitz pickup reel. The linebackers on the formation recognition and it is used to better a player as an individual.
This feature story brought to you by our Sponsors: