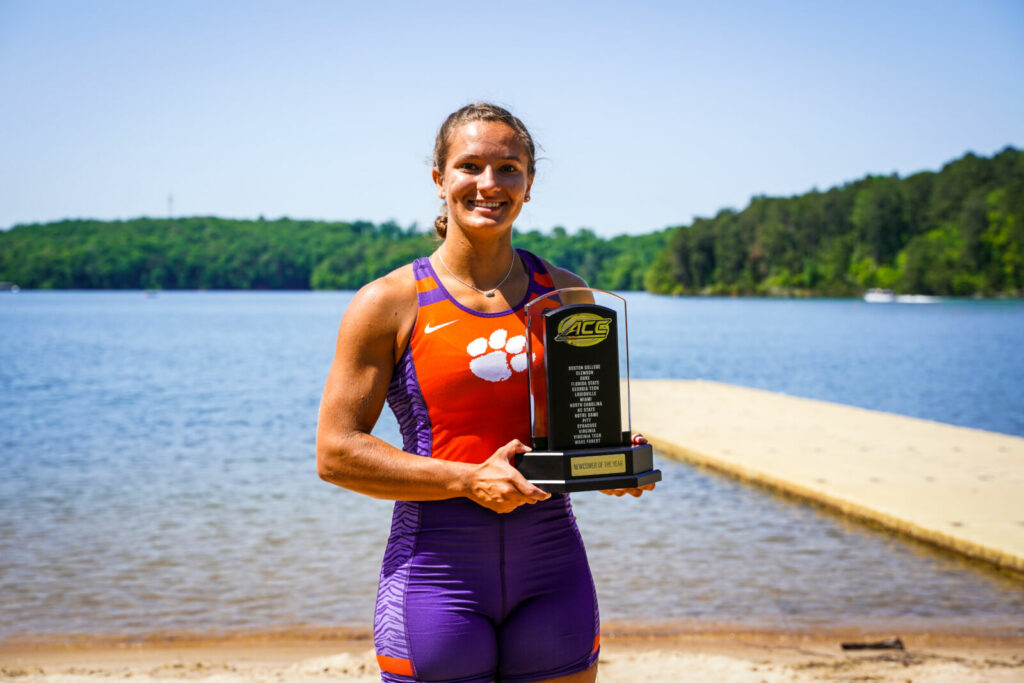 Twitty Named ACC Newcomer of the Year; Two Tigers Earn All-ACC Honors
Clemson, S.C. — Sophomore Rachel Twitty has been named ACC Newcomer of the Year as announced by the conference office following the conclusion of the ACC Championship on Saturday morning. Twitty becomes the first person to win the honor under its new designation and is just the second Clemson student-athlete to earn a major award from the conference office in program history. The last Tiger to win a major conference honor was Liz Robb who earned ACC Freshman of the Year in 2008.
"Rachel's success on this team is a testament to the power of hard work," said Head Coach Stephen Frazier Wong. "Rachel used the lessons about toughness and determination she learned as a cross-fit athlete and applied them to training on the rowing machine when COVID shut us down in March of 2020. As a walk-on with no prior rowing experience before attending Clemson, what Rachel has achieved is astonishing only if you do not know how dedicated she is to improving herself every day. She is not afraid to ask teammates with more rowing experience to train with her so she can learn from them and she constantly asked coaches for advice on improving her technical and competitive skills. I couldn't be prouder of Rachel and what this team has achieved this year."
In addition, senior Cate Schrieber and Twitty were named to the All-ACC team with Schrieber earning a first-team nod and Twitty picking up a second- team selection. Both Tigers competed in the 1V8+ and did not miss a race this season. Schrieber sat in the No. 5 seat for the majority of competitions while Twitty rowed in the eight seat for every race.
This season the 1V8+ defeated North Carolina and Oklahoma in a three-team race on Lake Hartwell with a time of 6:57.5 on April 17. The boat clocked its best time of the season, 6:27.402, on the first day of racing at the Cardinal Invite. At the ACC Championship, the Tigers' top boat completed the course in 6:35.622 to take fourth in the event.
For complete coverage of the Clemson rowing team, follow @ClemsonRowing on Twitter, Facebook and Instagram.